Samsung OLED G9 240 Hz 49" Ultra-Wide Monitor Review
PRICE
$2,200
AT A GLANCE
Plus
State-of-the-art graphics
Great for gaming and productivity
Statement-making design
Packed with smart features
Factory calibrated
Minus
Pricey
Needs a powerful PC for gaming
THE VERDICT
With its combination of quantum-dot OLED display tech and a 32:9 aspect ratio, 49-inch screen Samsung's latest ultra-wide monitor is a gamer's delight while also serving as a reference-quality productivity tool.
The Samsung OLED G95SC is a genuine "world's first" with a 240 Hz, 49-inch QD-OLED screen. The result is an ultra-thin profile and light weight that make it surprisingly easy to assemble and adjust despite its epic dimensions. The $2,200 MSRP may be high but is a reflection of the cutting-edge technology found within.
It was many years ago that gaming surpassed Hollywood and the music industry in size. Today it's not even close, gaming pulls in more than twice the revenue of movies and music combined, perhaps even triple. So it's no surprise we're seeing significant innovation in the gaming monitor market, and this Samsung monitor epitomizes the trend.
Features and Specifications
The monitor's native resolution is Dual QHD (5120 x 1440 pixels). The screen features an 1800R curve, which is not as extreme as last year's G9 that had a 1000R curve. The maximum refresh rate of 240 Hz delivers some of the most fluid and ultra-detailed graphics seen in any context.
This Samsung benefits greatly from a "beyond 4K" horizontal resolution that renders text and graphics with the sort of ultra-high definition you find in modern smartphone screens. Even sitting up close, you can't make out individual pixels. The monitor also features HDR that leverages OLED's 'infinite' contrast and a wide color gamut covering the DCI/P3 space, which is commonly used for most HDR mastering.
This monitor ships with a Samsung programmable smart remote and offers an incredibly deep menu system offering plenty of customization. Its smart features include streaming support for cloud gaming via the Samsung Gaming Hub and it even lets you pair gaming controllers. Plus it offers app-based streaming of all the popular services.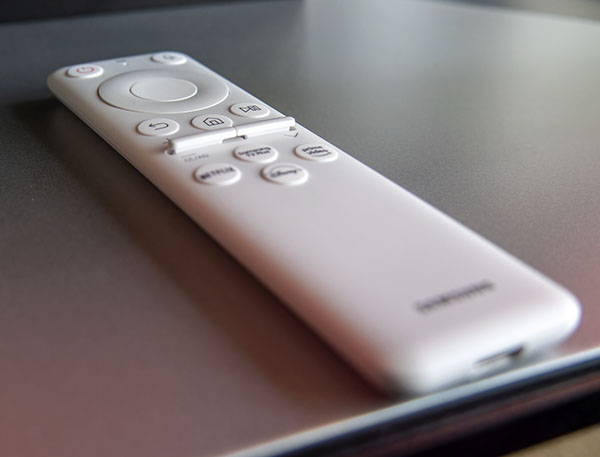 Samsung equips the G95SC with its Neo Quantum Processor Pro. It is tasked with optimizing video quality in near real time for an optimized picture on a monitor that touts a 0.03 millisecond response time (when operating at 240 hertz).
This is a factory-calibrated monitor so it is remarkably accurate right out of the box. Samsung includes a calibration report with each unit.
The monitor itself is made of aluminum and plastic, while the base is pure aluminum. The choice of materials keeps the weight low and gives the monitor an understated modern look. As expected in a gaming monitor, it also features RGB LED lighting. In this case located around the ring where the stand meets the screen, which in turn can light a wall behind the monitor and the desktop area around it. Plus, you can sync the LED colors to the game.
Setup and Use
I want to give credit where it's due, and this monitor's stand is an engineering achievement, because it makes adjustment extremely easy. It doesn't take a lot of force to change the height and the angle of tilt, and yet it stays put once adjusted. The design also cleanly guides connected cables to the rear of the stand so that you don't see them at all from the front as long as they are routed behind a desk.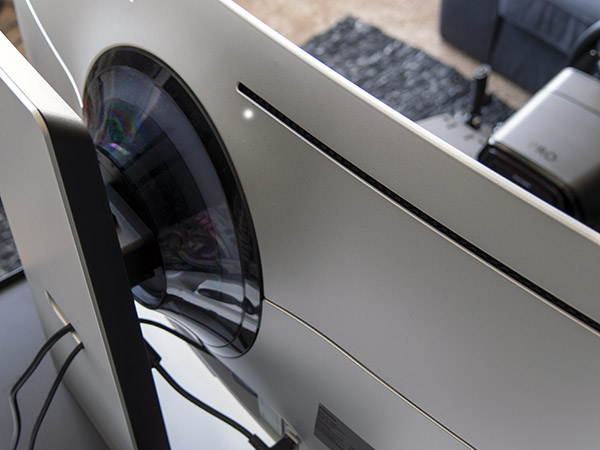 Upon initial setup of this monitor, you'll be prompted to complete the wireless connection wizard, facilitating an easy and hassle-free online connection. If you have a smartphone you're willing to use, that expedites the process, but you can also do it with the remote control.
After setup, you'll land in the workspace, where Samsung offers guides for connecting a Windows PC, Mac, or a phone using Samsung DeX.
On the productivity front, you get apps like Google Meet and Microsoft 365. There's also a complete online manual built right into the monitor, which is immensely helpful considering all its capabilities such as the ability to wirelessly connect to your PC and show the desktop.
The monitor was tested as the primary display for an RTX 3080Ti-equipped 12-core PC. Although I deployed it as a desktop display for a bit, a lot of my time with it was spent using it with my racing sim cockpit (its ultra-wide curved screen makes an ideal display for driving games). Still, when used on a desk, the milder 1800R curve looks and feels natural and does not take up a lot of space.
The PC delivers the full Dual QHD resolution (7.37 megapixels) in SDR or HDR, and at extremely high frame rates depending on game settings. I made the connection using an 8K compatible fiber-optic HDMI cable, partly because it supports long runs. I had zero issues with the HDMI connection for the duration of the review. Samsung does supply a DisplayPort cable as well as a HDMI to Micro HDMI cable (one of the two HDMI inputs is micro HDMI).
The G95SC is a true replacement for a dual-monitor desktop, if that's how you choose to use it. But it looks a lot better, is easier to adjust, and you can use it as a single cohesive screen or literally as dual monitors with separate HDMI inputs. It's really like having three monitors in one.
Hands-On
The extremely high contrast combined with brilliant color rendition offered by the Samsung G95SC is crucial to the overall visual experience. Its quality is immediately obvious in the three-dimensionality of the hyper-detailed graphics.
It doesn't take much time with the G95SC to conclude that QD-OLED is the best display technology for this application. Graphics seen on this monitor possess unparalleled contrast and color and sharpness. There is no perceptible color shift or loss of contrast when viewed off-axis.
The important thing to know about ultra-wide aspect ratio gaming monitors is that they do not crop the top and the bottom to fill the screen. Instead, what you get is an expanded field of view. The 32:9 monitor offers an ultra-wide perspective, essentially twice as wide as a standard 16:9 monitor. With such an all-encompassing view, first-person perspectives take on a "you are there" quality that puts you directly into the action. In car racing and first-person games, the monitor's perspective from the optimal position mirrors our natural vision producing an immersive experience akin to glasses-free VR.
Unfortunately the PlayStation 5 does not support ultra-wide aspect ratios or else I would have used it to play Gran Turismo 7 on the G95SC. On PC, my usual adventures in gaming consist of Grand Theft Auto 5 Online sessions, Microsoft Flight Simulator and Forza Horizon 5, the latter running the Hot Wheels expansion pack.
Performance with the PC was crazy good. With the monitor running in 240 Hz mode the latency is effectively non-existent. I found car racing with the sim rig felt super connected and responsive with no awkward disconnect between what you see and your actions.
Experiencing Forza 5 Hot Wheels races on this monitor fulfills a childhood fantasy of playing a driving game with perfect graphics. For me it all started with the Atari 2600 and the incredibly low resolution monochromatic game Night Driver. Then came Pole Position, a staple of 1980s video arcades, which created an insatiable thirst for ever better graphics and driving physics.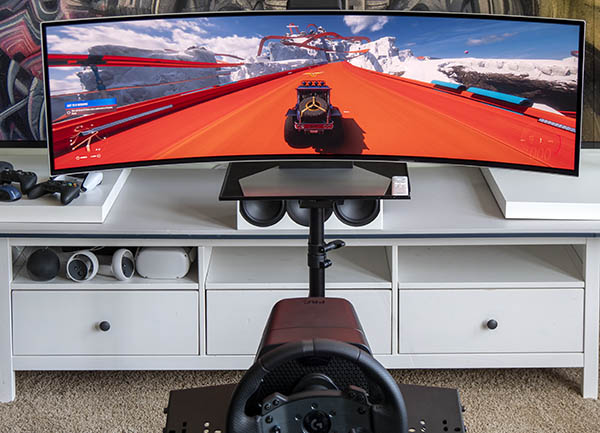 The quality of QD-OLED always impresses, even when simply using this monitor as a single 16:9 display. It may not be fully 4K, but it possesses a visual sharpness that is practically inimitable and is the result of the fine dot pitch combined with the extraordinarily high micro-contrast that OLED emissive pixels achieve. Despite its impressive features, it's still usable as a "regular" 16:9 240 Hz monitor. If you want to hit that high refresh rate, one way to do it is with a powerful PC outputting 16:9 QHD, or 1440p resolution.
You can also choose this resolution and enjoy flawless 120 Hz 16:9 output with gaming consoles. Indeed, for fun, you could even have a PS5 and an Xbox Series X connected concurrently and displayed side-by-side on this Samsung monitor.
I used my PS5 to play Gran Turismo 7 on the G9, which is a highly realistic driving sim, with incredibly realistic vehicles and scenery. While I wished for the expansive view offered by a PC and dual QHD, I've never seen the game look this good before and the feel was exquisite, as connected as I've ever felt.
On the productivity side, whether you're into photography, or videography, or creating artwork or 3D models, this monitor gives you an amazing seamless desktop. And when you are inside a creative application, you get tons of room for palettes and menus, and for the content you're working on. In a video editor, it's almost hilarious to see that you can have a timeline that extends that far. Or you can use part of the monitor for a full-sized preview.
The fidelity is impeccable. It is a top-tier tool for color accuracy because of the intrinsic qualities of quantum dot OLED that uses RGB pixels and is highly linear in nature. If you calibrate this monitor—and it does have Samsung's advanced calibration controls built-in—you can achieve reference-level accuracy.
Conclusion
Granted this is a specialized device and it will really only appeal to hardcore gamers or creative professionals. And not necessarily all gamers, but definitely anyone who sees a benefit from an ultra-wide perspective and blazing fast frame rates. There's simply no other monitor that gives you a 32:9 aspect ratio, quantum dot OLED image quality, 240 Hz, and such an audacious screen size.
I can't unsee the superior visuals delivered by this cutting-edge gaming monitor. It will spoil you in no time flat. All the elements needed for great gaming are there in cornucopian abundance: color, contrast, resolution, aspect ratio, low input lag, viewing angles, and high frame rate.
Before QD-OLED, Samsung's G9 Galaxy monitors were comparatively bulky and had very limited viewing angles, but when set up right they offered similar immersion. In other words, as cool as it was, it was also a bit geeky. However, the G95SC raises the bar by outperforming its predecessors in a much slimmer and lighter form factor. It's still a gaming device, but it's also a productivity tool. Above all, it's a luxury gaming monitor that qualifies as a masterpiece of industrial design.
Specs
Dimensions (WxHxD, inches): 47 x 20.8 x 9.3 (with stand)
Weight (pounds): 28.4 (with stand)
Video Inputs: 1X HDMI 2.1, 1X micro-HDMI 2.1, 1X DisplayPort 1.4
USB: 4X USB 3.0
Resolution: 5,120 x 1,440 pixels
Screen Curvature: 1800R
Maximum refresh Rate: 240 Hz

Company Info
1 (800) 726-7864
Samsung.com