Epson LS500 4K Laser Projection TV Review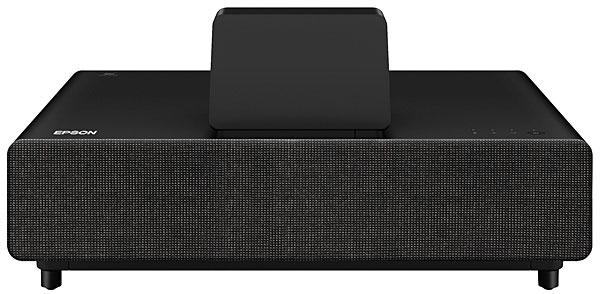 PRICE
$4,999
AT A GLANCE
Plus
Bright, living room-friendly image
Packaged with easy to assemble screen
Plentiful picture adjustment options
Minus
Limited contrast and color space coverage
High fan noise in Normal Light Output mode
Basic remote control
THE VERDICT
With its powerful brightness and impressive overall picture, Epson's LS500 offers a compelling alternative to pricey oversize flat-panel TVs.
Remember the rear-projection TV (RPTV)? RPTVs were big, boxy contraptions housing a projector that beamed an image at the rear of a screen mounted on the set's front surface. While necessarily inelegant compared with the sleek flat-panel TVs that eventually replaced them, the RPTV in its heyday solved the problem of getting a big image—screen sizes topped out around 80-inches—without having to resort to a room-dominating two-piece system with a ceiling-mounted projector and separate screen.
The reason I bring up RPTVs is that ultra short throw (UST) projectors like Epson's new EpiqVision Ultra LS500 remind me of the category, mainly because they deliver maximum image size while taking up a minimum of space. Epson even calls the LS500 a projection TV, most likely because it's sold as a complete solution with 100-inch ($4,999) or 120-inch ($5,999) ambient light-rejecting (ALR) screen included.
While most of the other USTs Sound & Vision has reviewed have used DLP technology, the LS500, in keeping with other projectors from Epson, is a 3LCD design. Also similar to the company's other models, it features 4K PRO-UHD tech that diagonally shifts pixels on the projector's 1080p display chips to double resolution to just over four million pixels. The LS500 supports the HDR10 and Hybrid Log Gamma HDR formats and uses 12-bit video processing to eliminate banding noise and other compression-related artifacts in images. Epson's UST model is also spec'd for an impressive 4,000 lumens light output—a big help toward beaming sufficiently bright images in the well-lit spaces it's likely to be installed in.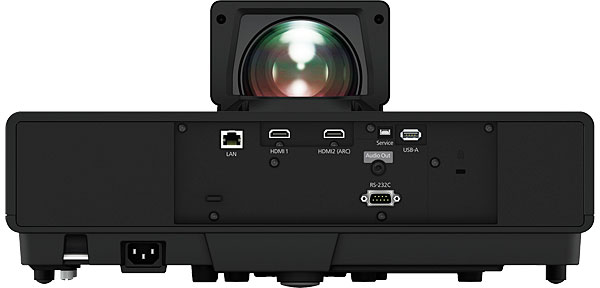 The LS500 comes with an Android TV dongle that connects to an HDMI port under the removable grille on its front panel. The Android TV interface is populated with streaming apps like Netflix and YouTube, and you can download others such as HBO Max, Amazon Prime Video, Hulu, Peacock, Disney+, and Vudu from the Google Play store. Chromecast built-in is also supported for "casting" from an Android or iOS device. A compact remote control included with the LS500 is designed for easy browsing and playback of streaming apps, and it also has a built-in microphone to enable Google Assistant voice searches. To try this out, I pressed the centrally located Google Assistant button, uttered "James Bond," and an array of Bond films, along with a synopsis for each plus links to apps where they were available for streaming or purchase popped up onscreen. (My choice: From Russia With Love, starring the recently departed Sean Connery—the first and best Bond.)
Although Epson's handset simplifies app browsing, with no backlit keypad or direct buttons to access inputs or picture modes and adjustment menus, I found it to be a step down from the excellent remotes the company typically packages with its projectors. Using it made me wish the company had packaged both remote types with the LS500.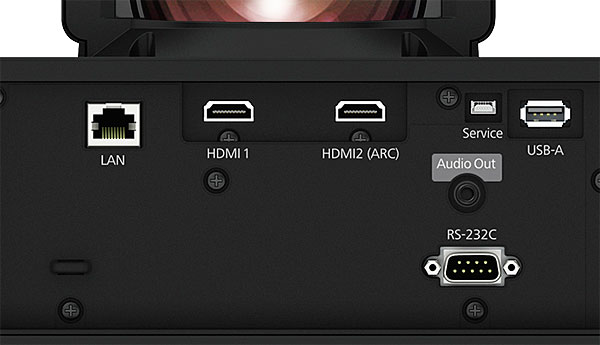 Other features tucked beneath the projector's front-panel grille include a 2 x 10-watt stereo speaker system and a full set of control buttons for switching inputs and navigating onscreen menus should you misplace the remote. There's also a manual lens focus adjustment that's used for setup. The screen-facing rear panel contains two additional HDMI 2.0 inputs, one with ARC for connection to an outboard audio system or soundbar, a minijack stereo audio output, and LAN (Ethernet), RS-232C control, and USB type-A ports.
Looks-wise, the Epson's streamlined form and front-facing mesh speaker grille (both black and white case options are available) make it exceptionally living-room friendly. I simply grabbed an available end table to support the LS500 for my installation, but it would make an elegant match with many low-slung credenzas or media consoles.
Setup
As noted above, the LS500, a product aimed at DIY-inclined home theater enthusiasts, ships with either a 100- or 120-inch ALR screen designed for short throw that you need to assemble and install. Since I already had a 100-inch diagonal Screen Innovations Zero Edge screen with 0.6 gain Short Throw material on hand, Epson agreed to send me just the projector itself to simplify the review process. The one caveat was that I had discuss the LS500's screen—something I will now do.
Epson has a comprehensive video on the Epson America YouTube site that guides you through assembly and installation of its screen. Basically, you need to fit four sides of an aluminum inner frame together, attach screen material to it using tension-creating springs, and screw on the four sides of an outer frame. Once that's done, you attach the included brackets to your room's wall (you'll need to use a stud finder and drill for this step) and then hang the screen on the brackets (wearing the included white gloves and tapping the services of a friendly helper is required here).
The next order of business is to get the projector properly aligned with the screen. Epson's online manual lists the exact distances required for installation, which for a 100-inch image are 15.4 inches from the projector's rear panel to the screen's surface and 13.4 inches from the projector's top surface to the image's bottom edge. Once situated, you then physically shift the projector left or right to eliminate horizontal keystoning, and use its adjustable feet to eliminate vertical keystoning. An onscreen test pattern helps with these steps, and it provides markers in each corner that are used to manually dial in focus. Beyond its manual adjustments, the LS500 has electronic keystone, zoom, and blanking (to eliminate light bleed outside the screen area) settings, though you'll want to avoid using these if possible since they will reduce picture resolution.
Once the screen and projector are installed, it will be time to turn your attention to picture adjustments. Fortunately, Epson provides most of the same settings and menus found throughout its main projector lineup, including fully adjustable picture presets and multiple memory settings to store and load adjustments. Drilling down to specifics, the LS500 provides variable Light Output and Dynamic Contrast, multiple Gamma presets, extensive White Balance settings, a color management system menu, and a 16-step HDR adjustment to compensate for transfers with widely varying brightness levels (a real issue with movies/TV shows produced in 4K/HDR). As mentioned above, accessing these adjustments with the remote requires entering the projector's setup menu and navigating several steps to the item you want to adjust, which unfortunately makes on-the-fly tweaking impossible.