LG HU710PW 4K Laser DLP Projector Review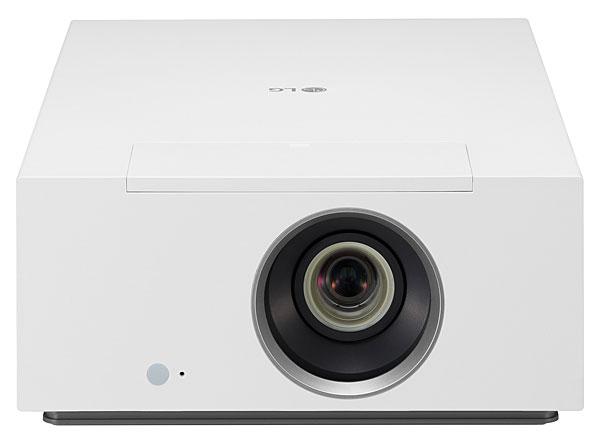 PRICE
$2,499
AT A GLANCE
Plus
Impressive contrast
Flexible zoom and lens shift range
Built-in streaming platform with HDMI eARC
Minus
Limited brightness necessitates dark room viewing
Smart interface not for everyone
THE VERDICT
LG's 4K laser DLP projector delivers impressive picture quality and value, but its limited brightness requires a dark room for best performance.
LG has been at the vanguard in manufacturing "smart" projectors—models that, like more traditional offerings, sit at the back of the room and beam images to a separate screen, but also provide the streaming and voice control features you'd find in any smart OLED or LCD flat-panel TV. In 2021 we reviewed the company's HU810PW ($2,999), a single-chip (0.47-inch) DLP projector that delivered 4K images via pixel-shifting. Now, we have that model's sibling, the HU710PW, a similarly featured projector that arrives with a lower 2,000 ANSI lumens brightness spec, but also a lower price ($2,499 MSRP).
A key difference between last year's model and the new HU710PW is the latter's use of a hybrid LED/laser light source (a single laser to generate green plus individual LED light sources for red and blue). This new design yields notably lower light output than the earlier LG projector (no surprise given the specs), but nearly as impressive color performance: LG cites 94 percent DCI-P3 coverage for the HU710PW, and my measurements confirmed that number almost exactly. Light source life, meanwhile, is specified as 20,000 hours when used in full brightness mode.
LG's HU710PW supports both the HDR10 and Hybrid Log Gamma high dynamic range formats. The projector has no dynamic iris to optimize image contrast on-the-fly, but Dark Room, Medium, and Bright Room iris presets are available and there's also a user-configurable iris setting with 10 adjustment steps. Like the HU810PW, this new model features an Adaptive Contrast setting, and you can enable HDR tone mapping, which does work dynamically to optimize image contrast on a frame-by-frame basis with high dynamic range content.
Having reviewed both the HU810PW and numerous ultra short throw projectors that also provide a smart TV GUI, I've grown used to the concept and even now embrace it. The HU710PW features the company's webOS 6.0 interface (the same one found on LG's 2021 TVs), which to my eye appeared more streamlined and less overwhelmingly busy than earlier webOS versions. Notably, it gains the Netflix and Apple TV+ apps, and also features Amazon Prime Video, Disney+, Peacock, and YouTube. An online store lets you download other apps, though I didn't find the two I was looking for, HBO Max and The Criterion Channel, when I searched its offerings. (Hulu was another no-show.) Fortunately, the HU710PW has Apple AirPlay 2 (and Apple HomeKit for smart home device control) to wirelessly cast content from apps to the projector from an iOS or MacOS device, and it also supports Screenshare for Android devices.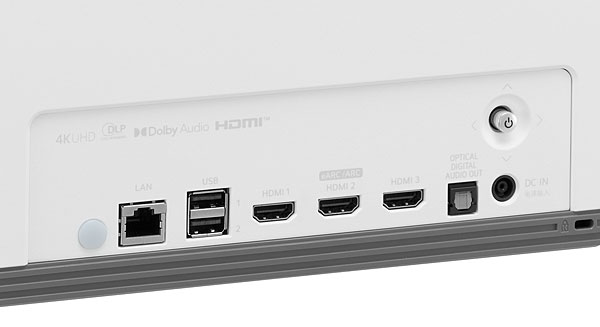 When streaming directly to the LG using its built-in apps, audio can be routed to an outboard receiver or surround sound processor using its HDMI eARC connection. Another choice is to use its Bluetooth output to send sound wirelessly to a soundbar or headphones. (The projector also provides built-in speakers, but I would hesitate to pursue that lo-fi option.) A total of three HDMI ports are provided on the LG's back panel, with the HDMI 1 input spec'd as being HDMI 2.1 with ALLM (Auto Low Latency Mode) support and 24Gbps bandwidth. While that's plenty for Ultra HD Blu-ray and outboard streaming sources, it's not enough to handle a 4K/120Hz output from next-gen Playstation and and Xbox gaming consoles. The other two ports are version 2.0 (with input 2 providing HDMI eARC support), and there's also an optical digital audio output.
The HU710PW comes in a white case with a rectangular shape and is notably compact for a long-throw projector. Manual zoom and focus control rings are located beneath a sliding panel located on top just above the lens and there's a lens shift dial on the side that allows for +/- 60 percent vertical and +/- 24 percent horizontal adjustment. (An Edge Adjusment feature provides up to 15 points to electronically tweak image geometry, but that should only be used for installations where the projector isn't aligned directly with the screen.) A joystick control is located on back for navigating menus and turning the projector on/off when the remote control isn't handy (or goes missing in the sofa seats).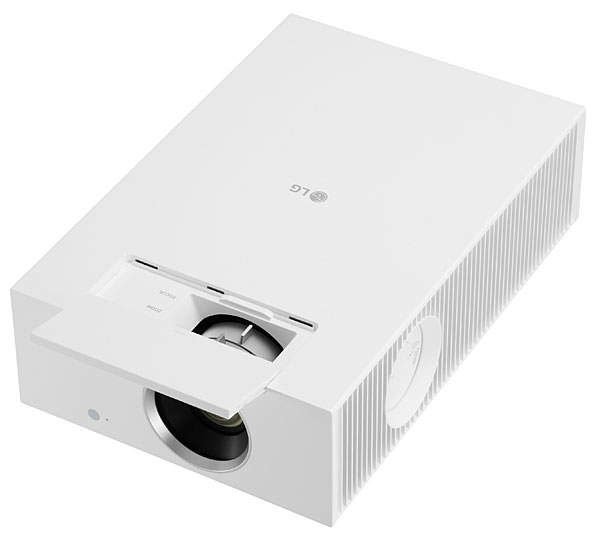 LG's Magic Remote handset is a very different animal than the ones typically packaged with projectors. Lifting it causes a cursor to pop up onscreen, and you then point-and-click on items to activate apps and navigate menus. Arrow buttons and scroll wheel controls are provided that can also be used for navigation/selection, and there are additional buttons—all of them backlit—to adjust and mute volume, activate a built-in mic for voice commands, and directly call up onscreen menus to switch picture modes and video inputs. There are also buttons to directly access the Netflix, Amazon Prime Video, and Disney+ streaming services.
Setup
LG's HU710PW was installed in my usual projector spot 14 feet away from a 92-inch diagonal, 1.1 gain Stewart Filmscreen Cima screen on a high shelf at the back of my home theater room. The projector's 1.6x zoom allowed it to fill the screen from that distance, while the lens shift controls and adjustable legs at the bottom let me tweak image geometry to perfection without resorting to using any of the image resolution-reducing electronic controls. Using the manual focus entailed a few quick trips back-and-forth from projector to screen to ensure the focus was crisp, but I was able to adjust it to my satisfaction.
One thing to note about the HU710PW is that it uses an external, somewhat bulky, power supply. The cord linking it to the projector is around 5-6 feet, so you may have to make allowances for that relatively short length depending on your installation. Connecting the HU710PW to my Wi-Fi network was uneventful. (There's also a LAN port on the back panel for a hardwired Ethernet network connection.) I used the HDMI 2 input, allowing its eARC feature to feed audio, including Dolby Atmos soundtracks, back from to a Marantz A/V receiver when streaming via the projector's built-in apps. I also used both an Apple TV 4K and Roku Streaming Stick+.