Epson LS12000 4K Pro-UHD Laser LCD Projector Review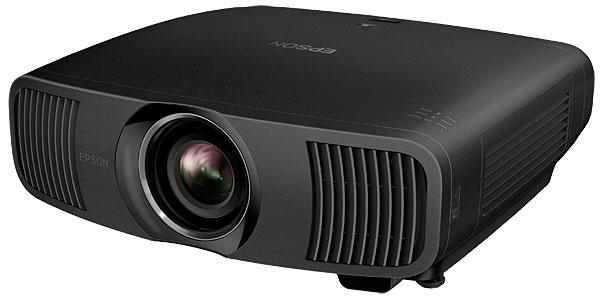 PRICE
$4,999
AT A GLANCE
Plus
Laser light engine
HDMI 2.1-compatible (4K/120Hz)
HDR10, HDR10+, and HLG support
Minus
Not native 4K
No frame-by-frame adaptive processing for HDR
No 3D Support
THE VERDICT
Offering great image punch, clarity, and good contrast, Epson's LS12000 impresses with most content, though its HDR performance is hindered by the lack of dynamic tone mapping.
After what felt like a lifetime since its last new home theater projector announcement, Epson recently launched the LS12000 4K PRO-UHD laser model. Selling at the surprisingly low retail price of $4,999, the new Epson boasts serious chops when it comes to features and specifications, and I felt fortunate to have a review sample sent my way. Let's dive in and see what this new projector brings to the home theater game.
The LS12000 has a nicely textured all-black chassis along with a detachable back cover plate that can be used to hide the back panel after you've made all your hookups. Connections include a pair of 48Gbps HDMI 2.1 inputs (HDCP 2.3) with one supporting eARC/ARC. Both inputs also support a 4K/120Hz refresh for full compatibility with the latest gaming consoles—currently a rare feature in the projection world. You'll also find two USB Type-A ports, a mini-USB for service, an Ethernet port, RS-232 for control systems, and a 12-volt trigger output. Interface buttons are provided on the back to navigate Epson's onscreen menus without a remote control. Surprisingly, the LS12000 does not support 3D, so there's no connection for a 3D receiver.
Up front you'll find Epson's 15-element all-glass "VRX" lens, which is fully motorized for zoom, focus, and lens shift and has a 1.35-2.84 throw range. When the projector is shut off, a powered door cover slides out to protect the lens. The LS12000 also has a large number of lens memories, making it easy to store multiple presets for those wishing to use the projector with wider aspect ratio screens. On the chassis' bottom you'll find two adjustable feet up front and a single bumper on back. This can make proper alignment difficult if shelf-mounting the projector. (I prefer adjustable feet at all corners.)

The LS12000 is not a "native" 4K projector—Epson continues to use 1,920 x 1,080 LCD panels for imaging duties and combines these with a shifting optical element to produce an "on screen" equivalent of 3,840 x 2,160 pixels with a dual-axis shift. This means the projector will not fully resolve single-pixel 4K patterns, but does provide near 4K quality from a normal seating distance on most screens. It is a bit disappointing that we haven't seen Epson jump into the native 4K display space yet with its consumer projectors. That said, there are no other projector makers currently offering native 4K models at this price point.
Epson's laser light engine uses a new laser diode array with a claimed brightness of 2,700 lumens. That's a lot of light to work with for most consumer-size screens. Light output is controlled from the main menu, with the ability to dim the laser from 100 percent output to 50 percent in 5 percent increments. Even so, I wish Epson would have included an aperture for the lens, which would have allowed for tuning the light output through a combination of laser and iris control to achieve higher contrast levels.
The new laser light engine is a traditional blue laser diode type, so it still comes up short in color gamut coverage compared with dual- or three-laser designs. It also lacks any type of color filter to increase its native gamut size. While this isn't a problem for HDTV's REC.709 gamut, it falls short of even the DCI-P3 portion of the now-standard BT.2020 gamut used for 4K HDR content. In my opinion, DCI-P3 coverage (in the BT.2020 container) should be the minimum color gamut a projector is capable of without the need for any type of filter that will compromise light output.
The Epson does a great job with overall noise in operation. It's extremely quiet at up to 75 percent output. At 80 percent and up I started to notice an air-rushing sound, but it was hardly intrusive and would be nearly imperceptible with any other noise source in the room.
Setup
Setting up the Epson will be fairly straightforward if you plan on using its preset picture modes for the bulk of your viewing. The LS12000 has an extensive menu system (that may be putting it lightly), with more adjustments than just about any projector I remember looking at in recent memory. Menu options cover just about every facet of adjustment from picture settings to operation, with nice info pop-ups that appear to the right of each setting as it is highlighted. Like all Epson models, picture modes can be tuned to your liking and then saved to picture memories that can be called up via the remote control. This makes it easy to create customized picture modes for different room lighting conditions, content types, or viewing preferences.
The LS12000's brightest mode was Dynamic. This offered an uncalibrated light output of approximately 2,600 lumens in the projector's shortest throw, which is very close to the advertised spec of 2,700 lumens. But the highest output I could measure with a calibrated white point (again in short throw with the laser at full output) was 1,680 lumens. Bottom line: The Epson's usable calibrated lumens are much lower than the advertised spec, and that should be taken into account when looking to pair the projector with an appropriate size/gain screen.
Regular S&V readers may know that I work full-time as a professional video calibrator. As a result, I am a bit more critical of some aspects of projector design than the average user. As a calibrator, I find Epson's menu design and implementation very frustrating. For one, it uses very large text and pop-ups that prohibit you from taking measurements at the same time you are manipulating values. (Most projectors let you select a setting for adjustment and then present only that slider near the bottom of the screen, leaving the main screen area clear for measurements.)
Another complaint is the completely random and arbitrary labeling of key image setup parameters such as gamma and color temperature. Rather than using known labeling that represents industry standards (like a color temperature of 6,500K or a gamma of 2.2), Epson uses generic labels like –1, 0, 1, making you guess what they are supposed to be based on subjective impressions. Epson's gamma adjustment also requires you to use onscreen patterns with arbitrary adjustment points. I hope they can move to industry standard labeling and allow for calibration without onscreen interference in future designs.
Note: The Where to Buy link below is an affiliate link. If you purchase through the link, we may earn a small commission at no extra cost to you. Thank you for your support!