BenQ V7050i 4K DLP Laser TV Projector Review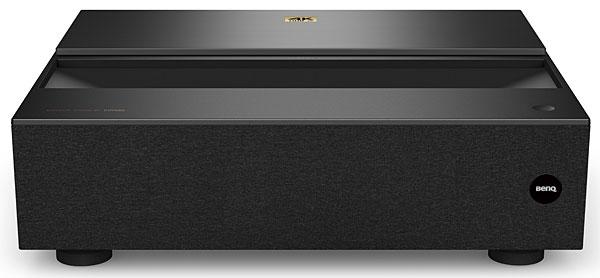 PRICE
$3,499
AT A GLANCE
Plus
Ample brightness
Contrast-boosting HDR-Pro feature
Vivid color and detail
Living room-friendly design
Minus
Wide Color Gamut filter dramatically reduces light output
Relatively high fan noise in Normal Light mode
No integrated Netflix streaming
THE VERDICT
BenQ's first ultra short throw projector is a winner on many fronts, offering compelling brightness, vivid color, and a dynamic presentation of 4K/HDR sources.
Is there a projector maker that hasn't yet come out with an ultra short throw (UST) model aimed at viewers who want a theater-size image in their living room, but without the usual ceiling-mount and dark room baggage that accompanies it? If you asked me that question one year ago, I would have replied "BenQ." But now, with its V7050i 4K DLP Laser TV, BenQ has joined the UST projector fold, adding its name to the ranks of Sony, Epson, Optoma, Vava, Hisense, LG, Samsung, and others.
BenQ's specific take on the category is to deliver a model capable of the high light output needed for daylight sports viewing, but to add features that optimize picture quality for sources such as 4K movies on Ultra HD Blu-ray disc and streaming services. To that end, the V7050i offers a Filmmaker Mode for both standard dynamic range (SDR) and high-dynamic range (HDR) viewing. It has several HDR-specific features, including a wide color gamut filter to thoroughly convey the DCI-P3 color space used to master content in HDR (BenQ claims 98 percent coverage) and an HDR-Pro feature to dynamically enhance the look of 4K/HDR images.
Like other projectors from BenQ, the V7050i is a DLP model, one that uses XPR pixel-shifting tech to achieve true 4K display resolution. Light output is spec'd at 2,500 lumens, and the V7050i achieves that using a 6-Segment (RGBRGB) color wheel. (Many DLP projectors use a white segment in their color wheel to achieve high brightness, though at the expense of color intensity.) The projector's fixed lens delivers images up to 120 inches diagonal depending on placement. A built-in 2 x 5-watt speaker system can be used for sound, though you'll get better results by connecting a soundbar or external audio system using the V7050i's HDMI ARC or optical digital connections.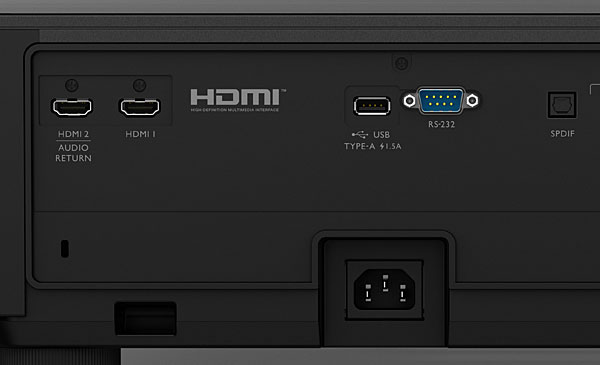 The V7050i uses the Android TV interface, with the system software residing on a USB dongle that plugs into into one of the projector's HDMI ports. Streaming apps featured here include Amazon Prime Video, HBO Max, Apple TV, Peacock, YouTube and YouTube TV, Disney+, Paramount+, ESPN, Starz, Showtime, Discovery+, and many others. A notable omission is Netflix, though you can get around that limitation by "casting" Netflix from a computer via the Google Chrome browser (Netflix casting over Wi-Fi via smartphones is not supported).
While it's not exactly compact, BenQ's UST has a sleek, low-profile design with a home theater-friendly black case and a dark gray fabric covering its front-facing built-in speakers. A dust cover automatically slides open to let the projector's laser light engine do its work when powered on, and then slides neatly back into place when powered off. A/V connections on the rear (wall-facing) panel include a pair of HDMI 2.0b (one with HDMI ARC) and optical digital audio. There are also three USB type-A inputs for connecting drives and powering the included Android TV stick and you can stream to the V7050i from supported apps via Chromecast built-in and Bluetooth.
BenQ smartly packs two remote controls with the V7050i: a small, basic one for everyday use, and a larger version with wider assortment of control buttons to access more esoteric setup functions like color temperature, gamma, light mode, and 3D display (3D glasses a $59 option). The big remote has a backlit keypad, which makes it easy to tweak settings in a dark viewing environment.
Setup
I evaluated the V7050i in two separate settings: a finished attic space using a 100-inch diagonal Screen Innovations Zero Edge screen with 0.6 gain ambient light rejecting Short Throw material, and a light controlled home theater room using a 92-inch diagonal, 1.1 gain white Stewart Filmscreen Cima screen. Most of my attic viewing was done casually via the included Android TV dongle, with room lights left on. In the home theater, I used an Apple TV 4K streamer and an Oppo UDP-203 Ultra HD disc player as sources.
With a fixed lens and 0.25:1 throw ratio, the BenQ's positioning options are limited, though I found there was more setup wiggle room than with other UST models I've tested. Furthermore, the projector has four adjustable feet, with each one providing almost two inches of additional installation height. In the home theater setup, the V7050i ended up positioned on a low table with its back panel 6 inches out from the wall and its top surface 9 inches below the screen's bottom edge.
Once you've aligned the BenQ's projected image with your screen (a built-in grid test pattern is provided for this purpose) you tweak focus electronically using the remote control. A keystone adjustment is available for situations where manual setup doesn't fully optimize image geometry, though using that feature will reduce image resolution.
The V7050i provides an in-depth set of picture adjustments. As mentioned earlier, there's a Filmmaker mode for 4K/ HDR and standard HD sources that defeats certain image processing features like motion enhancement. There are also Bright, Bright Cinema, and User Modes, along with DCI-P3 and HDR10/HLG modes for 4K/HDR viewing. Color temperature can be adjusted using 2-point RGB gain/offset sliders, and there are multiple gamma presets and a color management system adjustment. As with other DLP designs, a Brilliant Color setting lets you tweak color vibrancy. Finally, there's a Wide Color Gamut setting that lets you view HDR sources in full DCI-P3 color space, although I found it reduced image brightness by nearly 50 percent (measured) when enabled.