JVC DLA-RS1100 4K D-ILA Projector Review
PRICE
$7,000
AT A GLANCE
Plus
Deep blacks
Exceptional resolution
Dynamic tone mapping
Minus
So-so remote control
Dense owner's manual
THE VERDICT
With its exceptional overall performance, JVC's DLA-RS1100 projector defines the law of diminishing returns where increasingly subtle improvements command dramatically higher prices.
True native 4K projectors have only been widely available — and reasonably affordable — for the past few years. Prior to that, most home projectors used a process called "pixel shifting" to produce 4K images: A 2K imaging device first presents half of the pixels in each 4K frame, shifts the image by less than the distance of a single pixel, and then displays the other half of the pixels. All of the pixels in the 4K source appear on screen — just not at the same time. The shift takes place so rapidly that it is undetectable to the human eye.
Projectors that use pixel shifting are still available because the process works surprisingly well and helps keep the cost of projectors down. I've been using JVC's pixel-shifting DLA-X790R (a.k.a. RS540) for the past three years and have never been disappointed. Even so, I welcomed the opportunity to swap it out with a true 4K projector — JVC's new DLA-RS1100. At $7,000, the DLA-RS1100 (also available as the DLA-NP5) is the second least expensive model in JVC's D-ILA projector lineup, which as of mid-year included 10 models ranging in price from $4,000 to $26,000; six of which are pixel-shifting 8K projectors (JVC calls the technology 8K e-shift and 8K e-shiftX), including the $26,000 DLA-NZ9 we reviewed in 2021.
Weighing in at just over 42 pounds, the RS1100 is a beast compared with many home projectors, so if you're planning a ceiling mount, it's a two-man job. In classic JVC fashion, the projector's all-glass 65mm (2.6-inch) lens is flanked by two exhaust ports — one on either end of the front panel, which also has a remote sensor and three tiny power on/off indicators along the top edge. Around back there are buttons for power on/off, menu (with a back button), and input selection plus two HDMI 2.1 inputs (both 4K/120p and HDCP 2.3-compliant), the power connection, an RS-232 jack, an Ethernet port, a USB service port, a remote on/off trigger (for connection to an AVR or pre/pro), and a 3D Synchro jack for connecting the optional wireless transmitter you will need if you plan to watch 3D programs (3D glasses are also sold separately).
For this review, I used only the HDMI ports and power connection (of course!). I didn't test the projector's 3D abilities (my old 3D glasses have long gone missing!), though my experience with the older DLA-RS540 suggests it should be fine, apart from the inevitable dimness of projected 3D. Due to the current lack of 3D activity, the RS1100's 3D innards aren't likely to be much different than those in the RS540, except for what might be needed to accommodate the change from pixel-shifting to full 4K.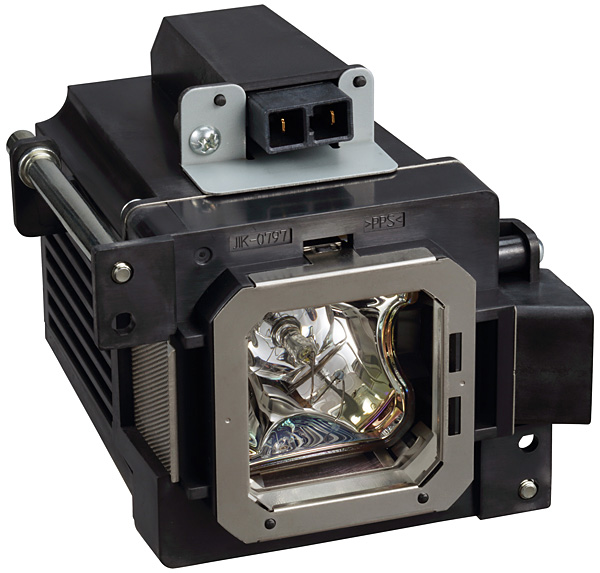 The RS1100 is covered by a limited three-year warranty offering replacement up to one year and another two years for parts and labor. It uses a 265-watt lamp to deliver a rated peak output of 1900 ANSI lumens and includes a removable plastic lens cover; unlike some of JVC's earlier designs, the cover is not automated. The lens provides powered zoom and focus in addition to accommodating a wide range of vertical (±80%) and horizontal (±34%) lens shifting. JVC rates the lamp life at 4,500 hours in the Low lamp mode, though I suspect fussy users will want to replace it much sooner than that to maintain optimum brightness, particularly for high dynamic range (HDR) content. (Lamps lose brightness gradually with age and eventually reach their rated life, which occurs when light output has dimmed to half the lamp's original brightness).
The JVC has an aperture (iris) that can be set to one of two dynamic settings or an adjustable (but fixed) point. Its three D-ILA imaging devices have a native resolution of 4096 x 2160, a carryover from theatrical production that is slightly higher than the 3840 x 2160 standard adopted to match the 16:9 aspect ratio of consumer displays. So why not develop dedicated chips for consumer 4K? Simply because redesigning the 4096 x 2160 professional imagers would increase the cost of consumer projectors. There's also no downside to using slightly higher resolution chips in consumer projectors, apart from a small overscan of 125 unused pixels on each side of the picture — pixels that will be hidden in the screen's black masking anyway.
Consumer video projectors (and many flat-panel TVs) are unable to reproduce the highest peak brightness levels included in most HDR sources. These displays step around this limitation by using a process called tone mapping. Tone mapping minimizes hard clipping of bright highlights while still getting some benefit from the detail in the source (particularly color) that would be lost without the mapping.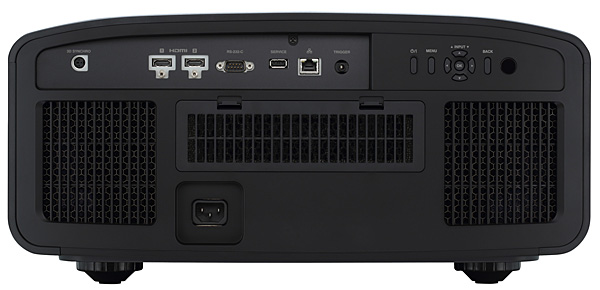 Three high dynamic range (HDR) formats are supported by the RS1100: HDR10, HLG (Hybrid Log Gamma) and, HDR10+. HLG is used mainly for real time program material such as sports. HDR10+ and Dolby Vision are similar in that they both support dynamic tone mapping, which will adjust the mapping as needed by the program, often responding frame-by-frame. Dolby Vision is the most widely used of these two formats, but no home projector we know of can process Dolby Vision. When a projector receives a Dolby Vision source it strips it down to its HDR10 base layer and, in effect, treats it like a plain HDR10 source. Without further processing, both standard HDR10 and stripped down Dolby Vision can produce only static tone mapping that remains constant throughout the program.
The RS1100 makes up for this limitation with its own selectable dynamic tone mapping system, Frame Adapt HDR, which analyzes peak brightness in an HDR10 (or stripped down Dolby Vision) source frame-by-frame or scene-by-scene (selectable by the user). It then adjusts the tone mapping in real time to optimize the picture. The RS1100 also includes a "Theater Optimizer" that helps it adapt to the size and gain of your screen (selectable only on HDR sources). There's also a separate setting for use with Panasonic disc players that have their own adaptive tone mapping (it overrides JVC's tone mapping).
The JVC offers a wide range of other controls, some of them obvious and others less so. To engage the Frame Adapt HDR function, for example, you must first select HDR10 or Auto (enables the projector to switch automatically to HDR or SDR, depending on the source). With Auto engaged, lamp power will then also switch automatically to Low for SDR (standard dynamic range) sources or High for HDR content (you can also change it manually).
White-balance adjustments (Gain and Offset) can be found in the Color Temp menu and you'll find a Color Management System (CMS) under Color Profile. Other useful controls adjust the zoom, shift, and focus of the powered lens system with the ability to store multiple settings (16:9 and widescreen, for example) in memory presets for instant recall. And for content that doesn't fill the entire screen, you can adjust the masking (such as the black bars on widescreen films). There's also a Pixel Adjust control for fine-tuning red, green, and blue convergence, though I never felt the need to use it because the projector's out-of-box alignment was excellent. There's also an image adjustment control for those who plan to use an add-on anamorphic lens.