Sony VPL-VW915ES 4K LCOS Projector Review
PRICE
$20,000
AT A GLANCE
Plus
True 4K resolution
Laser light source
Excellent out-of-box color accuracy
Minus
Some limitations with HDR
Steep price for feature set
THE VERDICT
Sony's new projector is capable of delivering dazzling images, though it lacks some cutting-edge features and components expected at this price point.
Three years ago, Sony introduced the VPL-VW885ES, a 4K LCOS projector with a laser light engine. I found the 885ES to be capable of throwing high-quality images when I reviewed it, but in the end wasn't fully enamored with the new projector. Basically, I felt it had obvious shortcomings that were hard to ignore at the premium $25,000 price. And while the company issued a firmware update in 2019 that directly addressed some points I had complained about in my review, the 885ES is now being replaced in Sony's projector lineup with the VPL-VW915ES, a model that builds on the successful aspects of the previous design while coming in at a lower $20,000 price point.
Same Look, New Thrills
It didn't take very long to figure out that the 915ES is nearly identical in every way to the 885ES from a hardware perspective. The new projector's chassis, dual blue laser light engine, native 4K SXRD (LCOS) panels, remote control, and onscreen menus are essentially identical to that previous model. At first, I had trouble trying to figure out exactly what was different. During a talk with a Sony rep, I learned that the main difference from the 885ES is an update to the projector's X1 video chip. The 915ES features a revised version called X1 for Projectors that provides a higher level of processing granularity—something I'll touch on later in this review.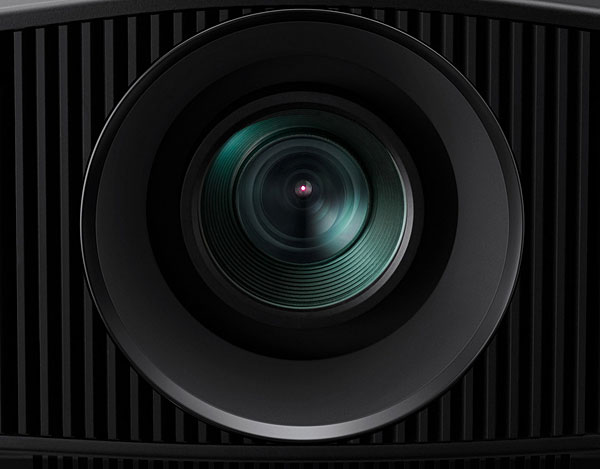 The 915ES uses the same lens as the 885ES, one that's fully motorized for zoom, focus, and lens shift and includes a range of memory slots for different positions and settings. I'd be remiss to not mention that I find this to be a shortcoming: At this price point, Sony really should add the ARC-F lens from the company's higher-end 995ES/5000ES projectors to provide greater value separation between the 915ES and lower-priced models that use the same lens assembly (715ES/295ES). The chassis of the 915ES is wider than most projectors I've had in my room, but it's also shallower than many larger designs. From remote commands to HDMI synching, the projector's operation is very responsive, and I found it to be on the quieter side even at the highest laser output level.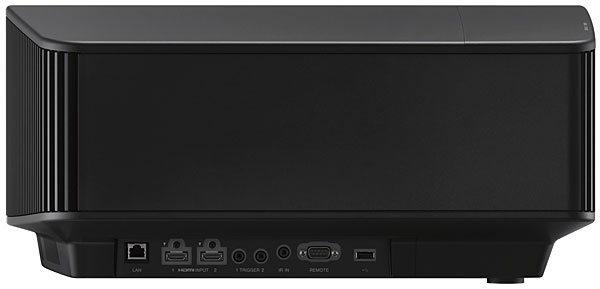 The 915ES features two full-bandwidth HDMI 2.0 inputs on its side panel. I was hoping this design would get HDMI 2.1 connections in anticipation of Sony's upcoming PlayStation 5 console that supports the new spec, but new HDMI 2.1 input chips unfortunately haven't hit the projector world yet. For Sony, that's a bit of a missed cross-promotion opportunity, but HDMI 2.1 support, which largely benefits only the gaming community, is still limited even on new flat-panel TVs at this point.

Setting Up
Going through the setup menus on the 915ES, I was glad to see that Sony now provides independent image settings for HDR inputs—the same feature that was brought to the 885ES in a 2019 firmware update. When I originally tested that model, only the contrast adjustment could be set differently compared with an SDR signal for the same input when you fed the projector HDR. This adjustment showed an HDR label next to it in the menu and would set the upper clipping point for the projector's tone map. But in my testing, I found that other settings needed different adjustments for HDR as well, specifically the Brightness and Laser Level settings. Thankfully, that has all been addressed in the new 915ES with independent adjustments for most settings.
Sony's Reality Creation system also gets an update on the 915ES and now includes the Digital Focus Optimizer I evaluated as part of my review of the company's VPL-VW995ES in 2019. This feature is a detail and contrast enhancement tool similar to Darbee processing that provides a sharpness uptick across the screen but can also add unwanted artifacts with some motion images. Artifacts were few and far between for the most part during casual viewing, but I also didn't feel that the projector needed sharpness enhancement following careful setup. Digital Focus Optimizer makes more sense for this model given its optics limitations compared with Sony's 995ES and 5000ES projectors, but the lens on the 915 does a great job overall with pixel focus.
Another complaint I had with the 885ES was the lack of any iris support. The dynamic laser dimming system in that model did help with contrast, but it wasn't as effective as a dynamic iris, a feature included in Sony's lamp-based projectors. The iris/laser dimming solution provided in the 915ES does help its contrast performance a bit, but I would prefer to have a way to manually adjust the iris to set maximum light output rather than relying on the Laser Level setting. The reason: by stepping down the laser level to lower peak white level, you get a decrease in overall dynamic range since it doesn't also lower black level—something an iris control would do.
Given the limitations of the iris/laser dimming solution in the 915ES, its overall contrast performance was still quite good. Sony continues to make some of the best projectors at any price point when it comes to dynamic range, with only JVC's lineup delivering better performance, and even then, only when you get extremely close to absolute black. You can read my full report on the 915's contrast performance in the Test Bench section of this review.