CEDIA 2023 Expo Is Off and Running
And they're off… CEDIA Expo 2023, North America's largest showcase of smart home and AV entertainment technology, is underway at the Colorado Convention Center in Denver. With an estimated attendance north of 18,000, the expo is the place where custom integrators and professionals engaged in the home technology test drive the latest products and services from more than 350 brands spanning 150,000 square feet of exhibit space. Marquee brands like LG, Samsung, and Sony are joined by video projection specialists Barco, Epson, EPV Screens, JVC, and Stewart Filmscreen and home audio stalwarts GoldenEar, JBL, JL Audio, MartinLogan, NAD, PSB, Paradigm, and SVS, to name a few. Here's a peek at some of the products AV-focused exhibitors are introducing at this year's gathering. More show coverage can be found
here
.
Origin Acoustics Previews 'Invisible Speaker'
Origin Acoustics, a leader in the in-wall/architectural speaker space, is previewing a series of "invisible speakers" developed in partnership with Amina Technologies it calls BLENDS. Though the name is an acronym for "Boundaryless Listening Experience with Natural Depth Sound," it also suggests how these sound-producing panels can disappear into a home décor.
Together the companies have produced a super-thin in-wall panel speaker based on Amina's patented Distributed Mode Listening (DML) technology that is easy to install and capable of delivering "high-clarity, room-filling sound."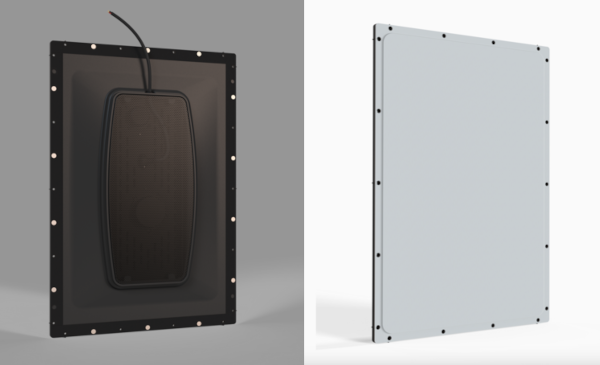 Slated to hit the market in 2024, the BLENDS series will launch with two models featuring tapered edges so they can be attached directly to studs, integrated into drywall, and painted, making them visually undetectable, though sonically alive when the music starts playing. The series will also include Amina's new Edgei/S200 speaker for applications where screw-to-stud installation won't work and is compatible with Amina's ALF100SM direct-to-stud, in-wall subwoofer, which features a thin, slotted port that is easy to conceal.
BLENDS speakers will be offered in 70-volt and 8-ohm versions and will be the first such speakers to carry a 60-minute UL fire rating, according to Origin.
McIntosh Gets High on Bass with $50K Subwoofer
McIntosh is making a bold statement at CEDIA 2023 with the unveiling of an unusual product: A tower-style subwoofer featuring four 13-inch carbon-fiber woofers, each of which is powered by a dedicated 500-watt Class D amplifier. Instead of using a single carbon-fiber layer that is prone to flexing, each driver boasts an extremely rigid multi-layered design built to withstand extended excursions and flexing that can have a negative impact on sound.
Slated for release in October for the princely sum of $50,000, the PS2K is described as an uncompromising design that produces unparalleled bass. At its core is McIntosh's patented Low Distortion High Performance (LD/HP) magnetic circuit design, which is said to significantly reduce distortion while increasing driver power handling and efficiency. Each amplifier is further "calibrated to minimize distortion and produce clear, tight bass with astonishingly low distortion in even the most expansive listening spaces," according to the company.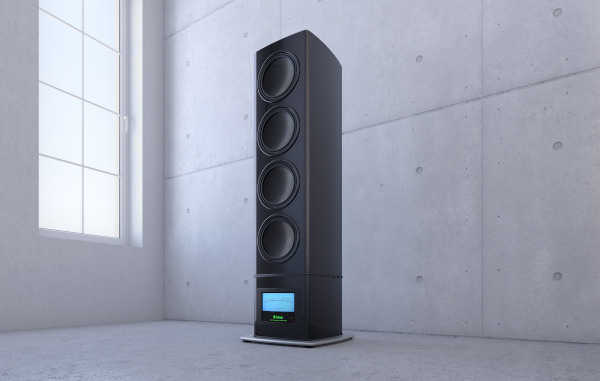 The system is dually protected by McIntosh's long-standing Power Guard technology, which monitors and adjusts the incoming audio signal in real time to prevent clipping, and Sentry Monitor, a fuse-less short-circuit-protection circuit that automatically disengages the amplifier's output stage to avoid unsafe operating levels.
The PS2K's stereo and subwoofer inputs and outputs are available in both balanced and unbalanced form for installation flexibility and, for those who want to get really crazy, multiple subwoofers can be daisy-chained. In keeping with the brand's classic design motif, the subwoofer boasts a high-gloss black finish with carbon trim and an aluminum base that can be fitted with glide feet for hard floors or spikes for carpeted spaces.
No specs were provided but we're thinking this baby can probably dig deep and play mighty loud.
Bang & Olufsen's Latest Speaker Directs the Sweet Spot to the Listener
Bang & Olufsen, the Danish company that once dominated the lifestyle audio category, has re-emerged in the U.S. after a long quiet period with small yet stylish — some might say elegant — streaming speaker designed to create an immersive listening experience.
The Wi-Fi-based Beolab 8 is an effort to distill the essence of the company's high-end Beolab series into a sophisticated three-way speaker that automatically adapts to the acoustics of the room in which it is placed and uses ultra-wide band (UWB) tracking technology enabled via an app to direct the acoustic sweet spot to the listener (actually, the location of the listener's phone).
In addition to being able to direct sound toward the listener, the app controlling the speaker includes a "beam width" control with narrow and wide settings, the latter to create a more diffuse sound throughout the room.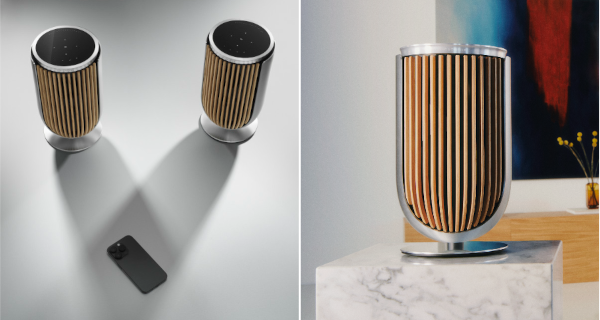 At just under a foot-tall, the Beolab 8 incorporates B&O's Mozart platform, which supports Bluetooth streaming and provides access to B&O Radio plus Spotify, Tidal, Deezer, QPlay 2.0 streaming services. The speaker mates a 0.6-inch tweeter, 3-inch midrange driver, and 5.25-inch woofer in an enclosure featuring a polished aluminum frame/stand with an oak slat (shown) or fabric grille and a glass control panel on top.
The Beolab 8 is slated to ship at the end of October and will sell for $5,498/pair with a black fabric grille or for $6,598 in one of three versions with a wooden slat grille: oak slats with an aluminum frame, light oak slats with a gold-tone frame, or black oak slats with a black frame. All models include the integral table stand which doubles as a wall mount. An optional floor stand will also be available.
For more information, visit bang-olufsen.com.
Hisense Pegs Fall Delivery for 100-inch 4K Mini-LED TV
Hisense today joined the ultra-big-screen revolution with the announcement that it will ship a 100-inch 4K LCD TV featuring quantum-dot color and mini-LED backlighting this fall.
The U8K ($10,000) is the latest addition to the brand's U8 Series, which tops out with a 75-inch model Best Buy is currently selling for the discounted price of $1,500. The new TV is built around the Google TV smart platform and boasts a game-ready 144-Hz panel featuring more than 1,600 local dimming zones and a rated peak brightness of 1500 nits in addition to supporting Dolby Vision high dynamic range (HDR) and IMAX Enhanced video playback.
The TV supports Wi-Fi 6E for more robust streaming and includes a built-in NextGen TV (ATSC 3.0) tuner plus game-centric features, including variable refresh rate (VRR), AMD FreeSync Premium, and auto low-latency mode (ALLM) for smoother gameplay with reduced input lag and screen jitter.
Audio features include an onboard 2.1.2 sound system with support for Dolby Atmos surround plus eARC (enhanced Audio Return Channel) and WiSA SoundSend compatibility for wireless hookup to an outboard speaker system.
"Popularity and consumer interest in big screens continues to grow. Hisense's 75-inch plus segment experienced a 500% increase over the last three years, so we wanted to lean into that success by offering even more options this year," said David Gold, president of Hisense USA. "We're the only brand offering Mini LED at the 100-inch size, at this performance level, with this feature set, and a value package."
JVC Drops Price of Laser Projector, Rolls Out Free HDR Upgrades for D-ILA Models
Feeling the pinch of ever-increasing TV screen sizes, JVC today announced that it has reduced the price of its DLA-NZ7/RS2100 laser projectors in an effort to make its BLU-Escent laser projection and proprietary 8K/e-shift technologies available to a wider audience. The new price for both models is $9,000.
The company also announced plans to roll out a free firmware update for its current line of D-ILA projectors. Slated for release in in mid-November, the update will include the second generation of JVC's Frame Adapt HDR tone-mapping technology, which analyzes the peak brightness of HDR10 content for each scene or frame and uses a unique algorithm to adjust and optimize dynamic range for improved picture quality and a "more three-dimensional appearance."
The update will also increase light-source adjustment from three steps to 100 steps for projectors equipped with JVC's BLU-Escent laser to enable more precise light control; this update, which also makes it possible to back up all stored settings on a USB flash drive, applies to the DLA-NZ9/RS4100, DLA-NZ8/RS3100, and DLA-NZ7/RS2100 models.
Click here for more show coverage.