CEDIA Expo 2023 Video Roundup: Epson, LG, MadVR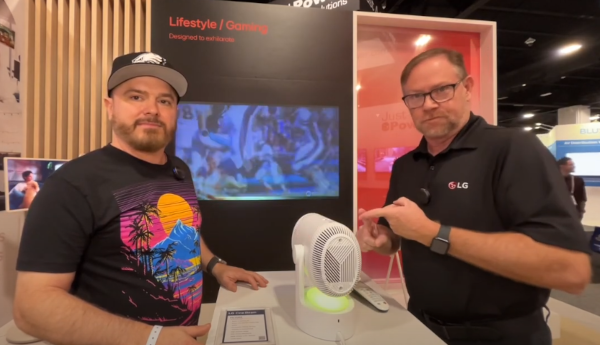 Video projection and the various ways to achieve a near perfect image were touchstones of last week's
CEDIA Expo 2023
in Denver. Check out our booth visits with Epson, LG, and the video purists at MadVR Labs.
Epson Touts Extreme Racing Simulation and a Short-Throw Projector You Can Mount on the Wall
Extreme racing was front and center in Epson's CEDIA booth in the form of a racing simulation setup featuring an over-the-top cockpit/motion-traction platform and an EB-PU1008B 3LCD laser projector with a rated brightness of 8,500 lumens beaming images on a 200-inch Severtson Screen. Epson product manager Melvin Diaz described it as an "amazing audio/visual and motion experience" and noted that the cockpit is fitted with a Thrustmaster Direct Drive steering wheel and Alpine car audio sound system to enhance the thrill of driving at insane speeds.
The other highlight was a new wall-mount bracket for the EpiqVision Ultra LS800 ultra-short-throw 4K projector. With the bracket you can flip the projector upside-down and mount it on the wall, allowing it to project a large bright, TV-like image high on the wall just a few inches below the projector. Click on the video below for more detail.

LG Puts Portable 4K Smart Projector in the Limelight
CEDIA has traditionally been the home of conventional ceiling mount video projectors but at this year's expo LG was featuring the CineBeam PU700R, a portable 4K projector you can use almost anywhere — indoors or outdoors. You can even project images on the ceiling.
Priced at $1,500, the projector boasts a rated brightness of 1,000 ANSI lumens, which was put to the test under unforgiving showfloor lighting, and is built around LG's Wi-Fi-based webOS smart platform with onboard apps for convenient streaming. One of its coolest features is auto-setup, which automatically focuses the image and adjusts its geometry based on the projection angle. Watch the video below for more on this amazing little projector.

MadVR Labs: The Pursuit of Video Perfection
In an interview at CEDIA 2023, S&V's editor Mark Henninger and madVR Labs co-founder Richard Litofsky delved into the company's flagship madVR Envy Extreme mk2, a powerful, pro-caliber video processor designed to make images look as close to real life as possible. At $16,000, the MK2 doesn't come cheap but it aims to use AI-based algorithms to revolutionize the concept of motion interpolation and a sub-category of it known as "judder cancellation."
Litofsky explained that the company's Motion AI algorithm allows for a fine-tuned approach to resolving issues caused by the sample-and-hold technology commonly used in modern displays. Instead of coarse low, medium, and high settings for motion interpolation, the algorithm provides nuanced control, allowing viewers to maintain cinematic quality while reducing motion blur.
Given the rise of 4K sports broadcasting, Motion AI can also fine-tune the fast-moving images to make the overall viewing experience more lifelike. The company offers a lower-tier version of the processor, dubbed the Envy Pro MKII, which sells for $9,495. Click on the video below for more on this amazing processor.
Click here for more show coverage.