Sony VPL-VW915ES 4K LCOS Projector Review Page 2
Like other Sony projectors I've tested, out-of-box color temperature and color point accuracy (both for the REC.709 and BT.2020 gamut) was exceptional on the 915ES, particularly in its Reference picture mode. The only difference I found from my review of the 885ES was its gamma tracking. That projector closely tracked a 2.4 target with the 2.4 setting selected in the menu, but the 915 for some reason tracked the same target better using a 2.2 preset. Unfortunately, the projector's menus lack fine controls for gamma tracking, though Sony does offer software to calibrators and enthusiasts to make those adjustments.
I was disappointed to see that Sony did not include the ability to provide a wider color gamut in the 915ES— a complaint I also made in my 885ES review. The projector's BT.2020 mode measured about 90 percent of the P3 Digital Cinema color gamut within the BT.2020 range. Adding a color filter to expand that gamut has been shown to deliver full P3 within BT.2020, although that typically also results in a hit to peak brightness. A color filter is a feature we regularly see on projectors from other manufacturers that cost a fraction of what you'll pay for the 915ES, so I don't feel like it's a big ask.
Performance
When I first reviewed Sony's 885ES, HDR was still in its infant stages, but nearly three years later it has become commonplace. The 885ES employed a static HDR tone mapping system that was designed to emulate the image seen on Sony's professional monitors, and its performance left a bit to be desired. For the 915ES, Sony offers two HDR tone mapping curves: HDR10 and Reference. The new projector also has a Contrast Enhancer function that I previously covered in my 995ES review which enhances perceived contrast by adjusting EOTF tracking (Electro Optical Transfer Function, or gamma for HDR) to brighter levels to help offset darker images and possible room conditions. A more refined version of that function called Dynamic HDR Enhancer is present in the 915ES.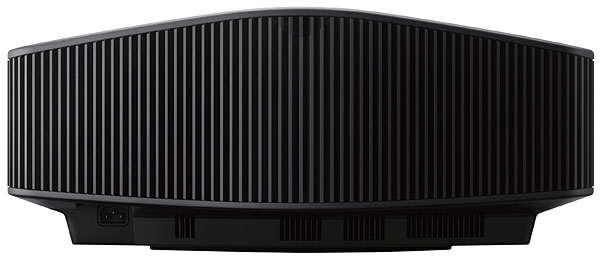 The projector's HDR picture modes include an Auto function that lets you choose which of two PQ-based EOTF curves the projector will follow: Reference (designed for content mastered at 1,000 nits) or HDR10 (designed for content mastered at a level higher than 1,000 nits). There's also an HLG (Hybrid Log Gamma) option for the rare HLG input signal. Looking at my measurements, the projector's Reference mode tracks nearly perfectly to 1,000 nits while the HDR10 option has a roll off near the top end to accommodate higher-nit titles with less clipping artifacts.
You set the peak white level of the tone map on the 915ES using its Contrast HDR adjustment. (I found the Spears & Munsil UHD Benchmark disc helpful to ensure a proper setting here.) Since the adjustment doesn't use the metadata present in the HDR video stream, it is up to the user to optimize the setting for specific content. I also used the Benchmark disc to adjust the Brightness setting (digital black level) and got bizarre results. In its default setting (50), the 915ES clips black more than I would prefer, resulting in a potential loss of low-level shadow detail in images. And when making adjustments to the Brightness control, the projector would strangely go from clipping to no clipping and then back. I got the least amount of compromise with Brightness at just a few clicks from the default, but never found a setting that I felt was perfect.
For the 915ES, Sony has adopted a second-generation update of the X1 processor used in the 885ES that improves video processing for HDR by increasing the level of granularity for frame analysis of contrast and tone mapping changes. I was hoping this new Dynamic HDR Enhancer feature would include something akin to the frame adaptive tone mapping available in newer JVC projectors. At minimum, I expected functionality that either uses source metadata to eliminate clipping or analyzes peak levels frame-by-frame for the same end, but Sony's Dynamic HDR Enhancer unfortunately requires user intervention to work properly across a wide range of content. Still, when applied properly, the new feature can provide a pretty significant improvement in perceived image quality when viewing HDR content.
Dynamic HDR Enhancer has Low, Medium, and High settings. When I evaluated my measurements of each setting, it became clear that each one increasingly boosts overall EOTF tracking, making images brighter while also adding a small amount of clipping to the upper and lower ends of the range to enhance perceived contrast. And the increase in color vibrancy is due to luminance values being higher at any point across the color gamut, while overall color saturation actually gets decreased. Such results are typical with tone mapping on projectors, where an HDR source is compressed into a more usable range to accommodate the lower light output compared with a flat-panel TV.
Due to the changes created by Dynamic HDR Enhancer, viewers will need to tinker with the settings as the more aggressive Medium and High presets can introduce significant clipping on content with higher average picture levels. The projector's Contrast HDR settings will also need to be modified when switching from content mastered at lower or higher nit levels or the image will appear too dark or overly clipped even with Dynamic HDR Enhancer engaged. Basically, these are drawbacks that result from using an HDR tone map that's not frame adaptive. As I mentioned in my review of Sony's 995ES projector, you will likely get more satisfying results when using an outboard tone map solution like those found in Panasonic's Ultra HD Blu-ray players or in video processors from Lumagen or MadVR.
I'm not completely sure if the new X1 for Projectors processor was directly responsible for other changes I noted compared with my tests of the 885 and 995ES, but there were two areas I found noticeably improved on the 915ES. The first was image contouring (banding), which appeared much better when tested using the Spears & Munsil UHD Benchmark montage, particularly the windmill sequences. Subtle transitions in skies in these sequences created obvious contouring with the other Sony projectors, but the same was barely detectable on the new 915ES. I also found color and white field uniformity—one of my chief complaints with past Sony projectors—to be significantly better.
During my time with the 915ES, I used it for lots of daily viewing of pre-recorded and streamed sources. The projector did a superlative job upconverting 1080p content on Blu-ray and from services like Netflix, with Sony's Reality Creation feature enhancing images while keeping artifacts to a minimum when used judiciously. The 915ES's impressive color accuracy and contrast also helped deliver breathtaking images from my normal go-to high-definition evaluation discs like the Oblivion Blu-ray. I was extremely impressed with the performance of the dynamic laser dimming combined with the dynamic iris in the difficult interrogation sequence. This has long been one of the most challenging scenes for a dynamic contrast system, and the 915ES handled it without any noticeable side effects or artifacts. Blacks looked impressively deep, but even better was the shadow detail that was revealed as Morgan Freeman's character sat in utter darkness with only a hint of his face and the reflection from his glasses visible. Very few projectors on the market could come anywhere close to this level of performance on a scene this dark.
I also really enjoyed watching a mix of 4K content on Netflix that was not available with HDR. For example, I watched several episodes of the twisty sci-fi thriller, Dark, which features captivating camera work and images with rich contrast, detail, and color. (The first season of Dark also has one of the most engaging Dolby Atmos sound mixes I've heard.)
As I mentioned above, I was disappointed to learn that this new Sony model did not feature a true frame adaptive solution for HDR. While you can get a great-looking image when you fine-tune the Dynamic HDR Enhancer and Contrast HDR settings for a specific source, this adds a level of tedium and frustration over time. It probably won't be as much of an issue if you do a lot of streaming, because streamed sources tend to have a fairly balanced overall picture level; for that application I found using the Dynamic HDR Enhancer at a Low or Medium level produced good image quality while avoiding the more obvious clipping. But watching Ultra HD Blu-ray discs, or shuffling through the HDR titles on my Kaleidescape, quickly revealed limitations compared with a frame adaptive HDR solution, which provides more consistent results by optimizing images not just for a specific nit level, but for each individual scene in a movie. Watching my go-to discs for HDR testing, including Blade Runner 2049, The Revenant, and The Meg, I found myself needing to make pretty massive changes to the Contrast HDR setting to deliver an image that wasn't either too dark overall (Blade Runner/Revenant) or completely blown out (The Meg). Let's hope that Sony moves to a frame adaptive solution for future updates to its projector lineup.
Even without frame adaptive tone mapping, the 915ES delivered HDR images that far surpassed most of what I've seen from many current projectors on the market. Its combination of powerful contrast, rich color, and razor-sharp detail proved anything but disappointing. Watching recent releases of classics like Jaws and the anime masterpiece Ghost in the Shell proved that even older films can take on a new life with a 4K/HDR remaster. My setup has a 140-inch scope screen and I tried different combinations of zooms with the 915ES. When framed for a 16x9 image, the Sony delivered excellent brightness and punchy images similar to what you'd see from a large flat-panel TV. But even with the projector zoomed out to deliver the full width of my scope screen, images looked fantastic. I didn't use an anamorphic lens with the 915ES, though it does provide native support for the popular Panamorph DCR lens system, which accommodates the projector's 4,096-pixel-wide panel.
Conclusion
Sony's new VPL-VW915ES may represent only a slight update of the company's recently upgraded (via a free firmware update) VPL-VW885ES, but it's a sizable improvement over the original version of the 885ES that I reviewed three years ago. The 915ES also showed significant improvement in color uniformity and contouring, two artifacts that I found particularly distracting on previous Sony projectors I've tested. This new laser-based 4K model's out-of-box color accuracy and contrast performance contribute to an image that will no doubt dazzle even the most discerning videophile. While there is room for further improvement when it comes to HDR playback, that's something I can also say that about the majority of projectors on the market. The Sony 915ES ranks among the top projectors you can buy today and easily earns its Top Pick rating.