Optoma UHD35STx Short-Throw UHD Gaming Projector Review
PRICE
$1,749
AT A GLANCE
Plus
Bright image with proper screen pairing
Low gaming lag
Portability
Quiet Operation
Minus
Placement woes with short-throw lens
Throw-away audio
Manual Focus
HDMI 2.0 only
Ineffective CMS
THE VERDICT
It may be difficult to wrestle it away from the kids when they are gaming, however, for serious movie watching, that may not bother you. Big and bright for gaming, there are better options from Optoma for cinema-centric viewers.
Note: This review contains affiliate links. If you purchase through the link, we may earn a small commission at no extra cost to you. Thank you for supporting the site.
Optoma boasts of being both the top 4K UHD projector brand globally and the number one Digital Light Processing (DLP) brand in the United States for 2022, citing the PMA Research Worldwide Projector Census, making the company no stranger to the world of projected light.
Hopes for continuing that streak and contributing to this year's DLP tally is the Optoma UHD35STx, a short throw design that when operational, does not fit the mold for projector placement, at least in the traditional consumer sense. So where and how does Optoma anticipate the UHD35STx will slot into the marketplace? I have a hunch…
Throwing Light Around
Currently, a growing and widely accepted trend positions Ultra Short Throw projectors directly below a specialized screen (ideally) and by design aims the lens upward at a sharply raked angle, scarcely more than a foot from the wall. This makes for a (relatively) simple installation, consolidating wiring to a localized minimum. In long throw guise, and what is considered a traditional projector, the image is pitched from across the room, often twenty feet or deeper, with the lens perpendicular to the screen.
Unless pre-planned during construction, one caveat is high-voltage wiring is seldom available unused in ceilings or high on walls, making the task of supplying power and signal cabling to a long throw projector far more cumbersome for the unambitious. The UHD35STx, and its unusual, specified throw ratio of 0.5.1, poses a different challenge if a "clean" permanent room arrangement is desired installation-wise.
Design, Features, And Connection Options
Somewhat diminutive in stature at 12.4" x 10.63" x 4.65" (W x D x H) and conveniently portable with a weight of only 7.72 lbs., the UHD35STx is neither over nor under-styled, perhaps simply described as utilitarian. A (mostly) gloss white is the only available color, always a minor criticism of mine when a unit will remain prominently in the line of sight when operational, to annoyingly reflect screen content from its casing.
For ceiling mounting white makes sense, however, the UHD35STx's short-throw ratio, described in more detail below, forces the unit into hovering well forward of a conventional seating area, at very near the top of the viewing surface. This would appear largely unorthodox in residential settings, almost classroom-like. While capable of it, I do not envision this machine to be affixed to ceilings with any frequency.
The seemingly oversized lens dominates the otherwise plain front fascia, set back into a slightly sculpted recess, well off-center to the right side of the chassis when looked at from the front (something to keep in mind when interfacing the projected image with the screen – center the lens to the screen, not the projector chassis). There are a host of correctional setup features including zoom, image shift, and geometric corner adjustment, however, the best practice is to physically position any projector as best as possible and avoid all digital Band-Aids.
The only interruptions to the front's spartan appearance are an IR receiver at the one o'clock area outside the lens recess, and to the extreme left, the beginning of the series of ornate louvers for exhaust fan ventilation. While effective for heat extraction, this area inadvertently allows a significant amount of leakage from the 3600 lumens lamp and the pixel shifting, 4-axis, 0.47 DLP DMD (Digital Micromirror Device) with Xpanded Pixel Resolution (XPR) light engine package.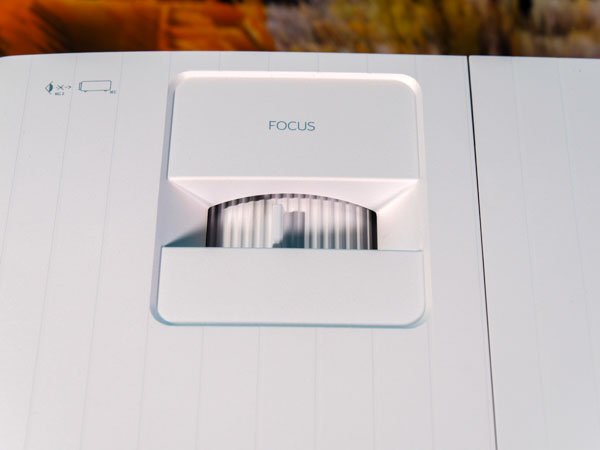 Recessed into the top, centered over the lens, is a tab-controlled adjustment ring for manual focus. Behind this lies a control and information keypad which emulates many of the key functions found on the illuminated remote control. Three LEDs indicate power, lamp status, and temperature. In normal operation, the power LED is ice blue. All three may flash or remain red to indicate a lamp or thermal issue. A second IR receiver is incorporated into the keypad location.
Input facilities on the rear panel include two HDMI 2.x ports labeled 4K 60Hz, HDCP 2.2 compliant, a Type A USB 5V-1.5A power port that doubles up for servicing duties, a male DB-9 RS-232 port, plus a 12V output trigger. Audio provisions include a 3.5 mm analog audio output jack, a S/PDIF digital port, and an onboard speaker of unknown size driven by ten nebulously specified watts. Unlike many UST projectors I have reviewed, whose speaker systems and audio quality compete favorably with entry-level soundbars, what you'll hear provided by this unit underwhelms.
Setup
Something I have found invaluable with UST machines is thumbwheel-adjustable feet that allow 4-way pivoting of the unit without disturbing placement. With feet merely screwed into the bottom, the moment occurs when perfectly matching the image to the screen border necessitates lifting the machine to access a foot, and invariably, you are nearly forced back to square one. With the UHD35STx positioned three to four feet away from a screen, the shimmied, millimeter movements do not render as wide of an error as with UST devices, but the process remains unnecessarily painstaking and frustrating. As mentioned, precise physical setup negates punitive digital corrections.
Like many projectors designated as "highly portable", menu adjustments for wall color exist for use minus a screen. In an emergency there may be a pragmatic benefit, however, I see a teen taking the unit to a friend's for gaming, pointing the PJ at a wall, and likely not even giving a thought to those options. Even a color scientist would have to contemplate wall color/RGB image interactions.
An Elite Screens Aeon AR103H CLR is my UST reference screen. I favor how the microstructure of its serriform optical light-rejecting surface delivers truthful, flawless performance from the UST genre of devices reflected off the StarBright CLR material. I have detailed the screen design elements for a particular reason, as you will see a bit further below.
Using Optoma's excellent online projection calculator for the UHD35STx (and I mean truly superb – in my opinion, the best projector distance configuration tool devised) the throw ratio for my 103" diagonal, 1.78:1 Aeon designates the lens to be 44.53" from the screen surface, with the center of the lens offset (below the bottom of the reflective material) at 5.15". The UHD35STx was placed on a small table at that distance, with a bit of vertical help to match the offset.
During an interim wear-in period of 100 hours in ECO mode for the lamp, as I monitored the image, I continued to make visual preference adjustments to the Optoma on the Aeon CLR, arriving after a few weeks at Eco+ for the Brightness Mode setting, with Brightness set at -10 to get a better semblance of black in darker image areas. I reduced Color saturation to 32, and in the Color Settings Menu, left Brilliant Color™ at 10, reducing RGB green gain to -10, and blue to -25. These were not calibrated settings, only corrections made by eye to achieve realistic facial hues and a natural-appearing image the way a reasonably knowledgeable user, minus calibration gear, might acclimatize a video system.
Screened On The Shot
I first tried the Optoma with my UST screen, as the thought was to review it as front-facing, floor-mounted, but with a UST screen, to determine if such a combination was viable for consumers. It may not have been precisely in the wheelhouse of the Aeon screen, but it met a good deal of the criteria due to placement. However, even with its 3600 lumens rating, the UHD35STx didn't particularly generate the picture "pop" as this screen does with various UST machines. Viewing the Formula 1 Belgium Grand Prix, under a cloud-dotted but uncharacteristically dry blue sky, the normally effervescent SKY Sports 4K to ESPN 720p transcoding came across as somewhat restrained with colors muted.
As alluded to above, the screen's microstructure is designed to collect light from immediately below the screen as it is aimed upward and steers it at the viewer, while the micro-optical lens elements reject unwanted overhead light. With the UHD35STx and its lens positioned at the bottom of the reflective surface, while the trajectory of light leaves the lens in an upward path, the incident angle of reflection generally illuminates the screen but a fair amount of light is also simultaneously absorbed in the manner that the screen would do with ambient overhead light. The subtraction takes its toll.
Game On, But A Lot Of Other Stuff Off…
During the F1 summer break, what's a, ahem, kid to do? Why, EASports™ F1→23 on Xbox ONE, naturally. I took a few laps in User mode, and then measured for lag using a Murideo SEVEN 8K generator. Lag was noticeable in 4K/30Hz, measuring 52ms. Switching the Enhanced Gaming mode to On, lag all but went away, and at 4k/60Hz, it locked in at 17ms. When selecting this mode, however, items on this menu page were grayed out and inaccessible, including Aspect Ratio, Zoom, Image Shift, and Geometric Correction. I had not used any digital image corrections, as mentioned above, however, I intentionally adjusted the last three to excessive settings to verify whether they changed when Game mode was selected. Indeed they do…something to keep in mind if they are required for, say, an adventurous ceiling mount setup. Game mode, though, does not change colorimetry settings. Gaming is bang on with the UHD35STx, totally complaint-free (well, the audio is wholly anemic, but pick your poison).
Calibration
I measured the light coming directly from the lens and off of my Spectralon→ Lambertian reflectance target placed directly in front of and against the screen, comparing it to the full-field white pattern coming from screen center (see Test Bench for more details). Off the Spectralon→, the calibrated image was 85.7 foot-Lamberts (ft-L), and from the Elite Aeon CLR, it was massively reduced to 13.3 ft-L, illustrative of how the light not striking the Aeon's material at the correct incident angle was being tamped down.
I moved the unit to an Elite Prime Vision ISF with EPV's ChromaWhite ISF material, perhaps a more congenial pairing for the front inclined, short-throwing, UHD35STx. I tuned in to a Tampa Bay Rays game from indoor Tropicana Field. Having attended numerous games, as "The Trop" is barely a mile from my office, I know how the beige-colored dome creates a difficult-to-get-accustomed-to atmosphere. On the Prime Vision ISF, however, the game was as easy to watch as any outdoor contest. The Rays' uniform details boldly stood out with the prominent blue TB logo splashed across the screen in close-ups. While this review is not about screens, as important as they are, keep in mind that the Elite Aeon CLR is not designed for front projection and the takeaway should not be that it underperformed. It did what it was designed to do, just as the ChromaWhite ISF would have a similar less-than-optimum effect with a UST projector, bouncing the light toward the ceiling and not at the viewer.
A brief look at HDR10, courtesy of Hulu's Only Murders In the Building season 3 finale, demonstrated what a generous amount of lumens compared to other similarly priced projectors does to enhance the viewing experience. Black level was not rendered flat-panel deep on the ChromaWhite ISF, as with other units it has been paired with, as calibration measurements confirmed. As described in Test Bench, the UHD35STx yielded substantial grayscale improvement with calibration, but Color Management System adjustments proved futile.
Conclusion
So where does the Optoma UHD35STx lay claim as its playground? As I mentioned above, placed on a stand almost four feet from the screen wall, as the HDMI cable and power cord serpentine across the carpet from another cabinet filled with equipment, the look does not bode well to accommodate the spouse acceptance factor or to likely be tolerated long-term by anyone.
Additionally, the short-throw design may not be the ideal candidate for permanent mounting compared to other Optoma offerings.
For the price, it might better serve as something teens tuck under the bed when not in use, pulling it out to aim at a blank wall for fighting off dragons and blowing past Ferraris, or with its compact size, toting to a pal's house. With a fair amount of light leakage through the heat extraction louvers, less than ideal black level for a dual-purpose projector, and merely acceptable calibration performance, the UHD35STx will underwhelm cinematically on movie night, and if that is its sole purpose, other Optoma options will serve you better.
But hand one to your kids and tell them to have fun, and from strictly that perspective, I'm guessing the low game lag and the large, bright image will garner two paddle-pressing, school-aged thumbs up.
Test Bench
For measurements, I used a Labsphere USRT-99 Spectralon Reflectance Target placed on a tripod directly in front of the screen center. (Many screen manufacturers use Labsphere targets as a baseline parameter for a color-neutral, Lambertian reference with 99% reflectance at any measurable angle.) The UHD35STx was a bit of a calibration puzzle.
The Color Management System was often more deleterious to the final result than contributory and was best left at default. I only adjusted gain and bias, and in those areas, it felt unnatural to adjust all three bias color channels. On flat panels, I never touch bias, and for gain, I always leave one channel as an "anchor". The rest is typically handled perfectly with multipoint correction.
Whether on the Labsphere, the Elite Aeon CLR, or the Elite Prime Vision ISF ChromaWhite ISF, the UHD35STx demanded some finagling to make a marked improvement. With grayscale, the results were acceptable, though they played havoc with gamma. Having features like Wall Color and the portability aspect, this model may not prompt many calls to calibrators.
The results below are on the Elite Screens Aeon CLR 103, the original target of the review. With CMS essentially ineffective, other than the white point, all primary and secondary colors missed their targets with a substantial degree of luminance errors.
Without an iris, the only means to control light output is through mode selection. With a rating of 3,600 lumens, reducing contrast reduces dynamic range.
Display Mode: User
Wall Color: Off
Dynamic Range: Auto
Brightness: 0
Contrast: 0
Sharpness: 10
Color: 32
Tint: 0
Gamma: 2.4
Color Settings:

BrilliantColor™: 10
Color Temp: D65
CMS: Default

RGB Gain/Bias:

Red Gain: 0
Green Gain: -7
Blue Gain: -17
Red Bias: -10
Green Bias: -8
Blue Bias: -6

Color Space: Auto
Brightness Mode: Eco+
Aspect Ratio: Auto
Zoom: 0
Image Shift: None
Geometric Correction: None
" width="600" height="450">