Epson Home Cinema 3800 4K LCD Projector Review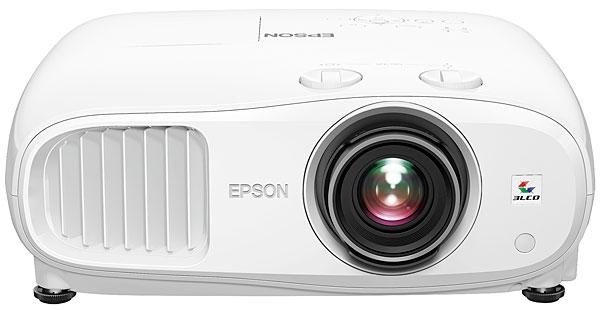 PRICE
$1,699
AT A GLANCE
Plus
Very good contrast and light output
Low input lag
Generous lens shift range
Fully backlit remote
Minus
Limited DCI-P3 color space coverage
THE VERDICT
Epson's latest 3LCD projector goes easy on the wallet while delivering performance and features typically found in more expensive models.
Epson's Home Cinema LCD projector lineup ranges from basic, inexpensive beamers designed for portable use to high-end models meant for serious home theater installations. Of these, we typically devote space to the company's premium UB (Ultra Black) offerings such as the 5050UBD one our 2019 Top Picks of the Year, along with mid-range models like the 3800 under evaluation here. A big plus of the Epson projector family is that the costs usually top out at $3,000, with mid-range offerings priced about one-third to one-half that amount while providing many of the same features found in the high-end offerings.
To provide one example of the above, the Home Cinema 3800 ($1,699) features the same 4K PRO-UHD technology and HDR10/Hybrid Log-Gamma display compatibility found in the 5050UB ($2,999). Epson's 4K PRO-UHD tech diagonally shifts the pixels on the projector's red, green, and blue 1080p display chips to double resolution to just over four million pixels. While this process doesn't deliver the four-times onscreen resolution boost (to 8,294,400 pixels) of competing pixel-shifting DLP models, Epson combines it with 12-bit video processing to enhance detail and eliminate banding and blocking noise.
Other notable 3800 features include a "Precision Lens" with up to ±60 percent vertical and ±24 percent horizontal lens shift and 1.6x zoom capability. While lens adjustments were motorized on the 5050UB, those same features are manual on the 3800. Epson's newest model also provides dual HDMI 2.0 inputs with 18Gbps bandwidth for full compatibility with sources that output 4K/60Hz signals and also supports 3D display (optional glasses are sold for $99).
The 3800 sports the same family look of other Epson projectors, though its 16.1 x 6.5 x 13-inch (WxHxD) white case is more compact than other models I've handled in recent years. With light output specified at 3,000 lumens (color and white brightness), the 3800 is a good candidate for use in a mixed-use room where rigid control over ambient lighting isn't possible. Rear-firing 10-watt stereo speakers deliver decent sound quality for a built-in projector audio system and Bluetooth aptX audio output also lets you link the 3800 with an outboard wireless speaker or soundbar.
Along with the dual HDMI 2.0 inputs, a mini-jack stereo audio output and two USB type-A ports (one power-only, one for viewing photos from an attached thumb drive) are located on the 3800's back panel. There's also an RS-232 control port, a 12-volt trigger output, and a mini-USB port for service.
Epson's remote control is the same super-awesome, full-sized version that's packaged with all of the company's projectors. Along with being big, it has a backlit keypad with sizeable buttons that can be easily located in a dark room. Buttons located at the bottom permit direct access to menus for advanced features including Auto Iris, grayscale, and color management system adjustments. There's a button to call up the Memory presets where you can store multiple picture and other settings, and another for the HDR menu, which provides quick access to a convenient 16-step adjustment for tweaking the presentation of 4K/HDR programs.
Setup
For my evaluation, I installed the 3800 at my regular projector location on a high shelf located 14 feet away from a 92-inch diagonal, 1.1 gain Stewart Filmscreen Cima screen. Many "budget" projectors wouldn't be able to accommodate such a high projector-to-screen distance, but the Epson's 1.6x zoom capability put it well within reach. Horizontal and vertical lens shift adjustments were carried out using individual manual dials located on the projector's top surface, while a set of adjustable feet allowed for fine picture geometry tweaks.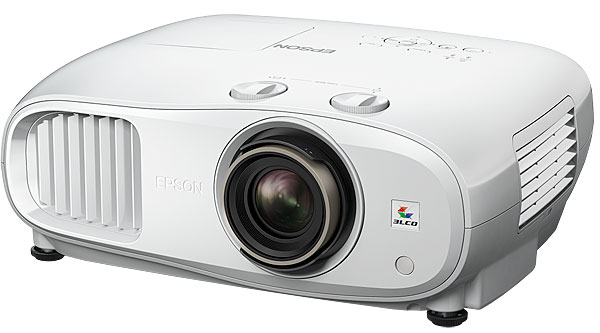 Out of the box, the default settings of the 3800's Cinema picture mode delivered an image with a pronounced reddish bias, though it was easily corrected through calibration (see Test Bench). Along with Cinema, Bright Cinema, and Natural presets, the projector provides 12 Memory presets for storing adjustments. Using these, I created a set of unique picture modes for viewing in my dark theater room: one for HD/standard dynamic range, and a second for 4K/high dynamic range.
Settings used for HD/SDR viewing included Eco Power Consumption and High Speed Auto Iris. The former delivered a satisfyingly bright image (45 footlamberts) in my room, while the latter setting managed to squeeze out optimal picture contrast without adding distracting iris "pumping" artifacts. (I did note an occasional contrast jump during viewing, but it was so infrequent that 99 percent of viewers wouldn't even have noticed.) Along with virtually artifact-free performance, the 3800's Auto Iris delivered a full-on/full-off contrast ratio of 11,287:1—an exceptional result for a budget projector, though well below the 34,700:1 CR I measured when reviewing Epson's 5050UB.