Viewsonic X10-4KE Portable 4K DLP Projector Review
PRICE
$1,500
AT A GLANCE
Plus
Portable
Auto-focus feature
Good-quality built-in audio
Minus
Below-average contrast
Poor HDR performance
Somewhat pricey
THE VERDICT
ViewSonic's X10-4KE is a cool- looking portable projector that delivers underwhelming performance given its $1,500 price tag.
The portable video projector market is packed with options for anyone seeking a convenient, compact beamer to carry from room to room, indoors to outdoors, or home to vacation home. Most portable models top out at 1080p resolution, however, and feature only basic, and usually far from adequate, built-in audio capabilities. With its X10-4KE, ViewSonic is targeting a more discerning portable video viewer—one who expects 4K resolution and high dynamic range, along with better-than-average audio from the projector's built-in speakers.
I've handled many portable projectors in the past, and most of those had a toy-like quality. The ViewSonic X10-4KE, in contrast, is not a toy, and with a $1,500 street price, you wouldn't expect it to be. (The X10-4KE is a replacement for the company's previous X10-4K model, with upgrades including an enhanced remote control and front IR sensor and improved lens with optimized autofocus.) ViewSonic designed its flagship portable with a dark gray case and leather carrying handle that give it a sleek and substantial look and feel. The projector features a 0.47-inch Texas Instruments DLP chip that uses XPR tech to achieve 4K resolution via pixel-shifting. It's rated for 2,300 lumens light output, and since the X10-4K uses an LED light source specified to last for up to 30,000 hours in Normal brightness mode, there's no need to replace lamps during the projector's lifetime.
On the audio side, the X10-4KE's built-in speakers were designed by Harman Kardon and are Bluetooth-capable for music streaming. An included Wi-Fi dongle lets you set the projector up to stream from Netflix and YouTube among other apps that can be downloaded directly from the Aptoide app store. Along with streaming via Wi-Fi, the X10-4K works with Amazon Alexa and Google Assistant to control features including power on, input selection, and volume adjust, and it supports screen mirroring from a phone or tablet (vacation photo slideshow, anyone?).
The X10-4KE's short-throw lens has a throw distance of 1.6 - 11.5 feet, allowing for an image size ranging from 30 to 200 inches. Since the lens has no zoom capability, you'll need to situate the X10-4KE at a specific, fixed distance from the projection surface. While the X10-4KE is 4K- and HDR10-capable, ViewSonic doesn't list a P3 color space spec, though it does cite Rec. 709 color coverage at 125 percent.
Frame interpolation processing is onboard to smooth out motion in sports and other programs, and the projector can display 3D (ViewSonic's optional PGD-350 DLP-Link active shutter glasses are sold for $66). The X10-4KE also has an eye protection motion sensor that automatically mutes the projected image when someone walks in front of the beam. Since most installations are likely to be on a coffee table in the middle of a living room, this feature will prevent an unsuspecting child (or dog!) from being temporarily blinded by the light.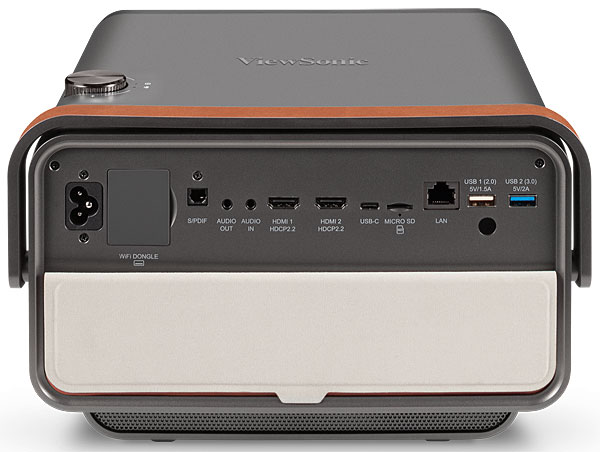 Rear panel connections on the X10-4KE include a pair of HDMI 2.0b ports, analog stereo mini- jack audio input and output jacks, and an optical digital output to send signals to an outboard audio system when using the projector's built-in streaming apps. There are also a USB type-C and type-A 2.0 and 3.0 inputs, with the latter two able to supply power to a Roku, Fire, or other-type media streaming stick plugged into one of the projector's HDMI jacks. A LAN port and MicroSD card slot round out the connection options on the X10-4KE's rear, which can be covered up for transport with an included leather panel that attaches magnetically to the projector.
ViewSonic's handset lacks the backlighting that we expect to see in a projector remote control. It's also a bit on the flimsy side, and even though it only has a few buttons, finding a specific one in the dark wasn't easy. Fortunately, another option is provided by the ViewSonic's vCastSender remote app, which is available for both Android and iOS devices.
Setup
Filling up a 92-inch diagonal, 1.1 gain Stewart Filmscreen Cima screen in my home theater with an image from the X10-4KE required placing the projector on a low table at a fixed 65-inch distance from the screen. Because the projector has no vertical or horizontal lens shift adjustments, the center of the lens needs to be aligned exactly perpendicular with the screen's bottom edge to avoid image keystoning. With its Auto Vertical Keystone and Auto Focus and features enabled, the X10-4KE can automatically align and focus the image after you've roughed in placement. Auto Focus worked well, but I found that making keystone adjustments manually delivered better results.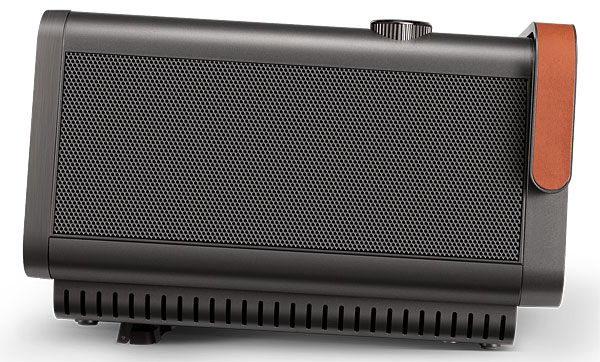 The X10-4KE's preset picture modes include Brightest, TV, Movie, Gaming, and two User-adjustable modes. For my evaluation, I calibrated the User 1 preset for high-def, standard dynamic range viewing, and User 2 for 4K/HDR. The projector's 6500K Color Temp preset yielded the most accurate grayscale, though it still showed a slight blue bias at that setting. I was able to improve performance by using the red, green, and blue gain adjustments in the setup menu (RGB offset controls, which would have allowed for a more precise grayscale calibration, are not provided). I also selected the projector's 2.2 Gamma preset, which delivered accurate tracking. The projector's color management system controls also proved useful in adjusting the image for accurate Rec.709 color.