Vava VA-LT002 4K Laser DLP Projector Review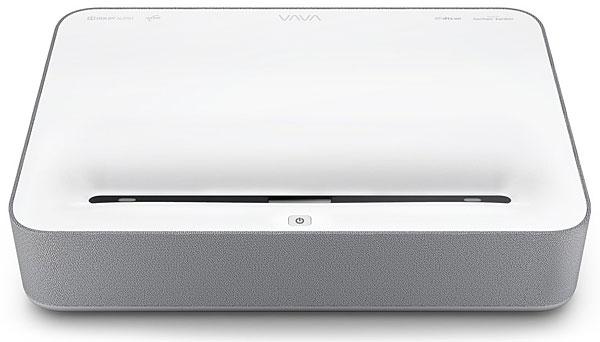 PRICE
$2,800
AT A GLANCE
Plus
Easy installation and setup
Built-in soundbar
Plentiful connectivity
Minus
Limited picture setup options
Limited brightness and contrast
App store lacks popular apps
THE VERDICT
Vava's 4K ultra short throw laser projector provides a simple solution for getting a large image plus sound in your living room, but requires a specific screen for best performance.
Vava's VA-LT002 4K Laser DLP projector is the first product of its kind to arrive from a company that offers a range of lifestyle-type electronics such as camera/DVRs for your car's dashboard and baby monitors to check on junior. At the 2020 CES, the VA-LT002, an ultra short throw model with built-in streaming apps and a 60-watt Harman Kardon stereo audio system, was the centerpiece of the company's suite. Paired with a 100-inch projection screen and playing 4K nature footage, I found the image it beamed absorbing—enough so that I was able to focus and block out an overexcited YouTube tech personality in the room recording a segment.
The subsequent arrival of Vava's projector at my home for testing coincided with the start of pandemic-related stay-at-home orders, and to be honest, the timing couldn't have been better. Working from home alongside bored kids who were regularly invading my domain, it was clear that a secondary entertainment space (my home theater is mine! ) where videogames could be played, and YouTube videos consumed, would benefit us all. Accordingly, I arranged a space in my finished attic, set up a 100-inch screen, placed the Vava VA-LT002 on a low table in directly in front of it. Voilà: instant home theater, multiple problems solved.
Features
Vava's ultra short throw projector uses the Appotronics ALPD 3.0 laser engine paired with a three-segment color wheel and 0.47-inch DLP XPR chip to beam images from 80 inches up to 150 inches diagonal. When installed with a 100-inch screen, the projector's 0233:1 throw ratio allows for it to be positioned 7.2 inches away from the screen. HDR10 high dynamic range is supported, brightness is specified at 2,500 ANSI lumens, and Vava's website also specifies maximum contrast at a whopping 1,500,000:1, though the projector's manual states a more modest 3,000:1 (full-on/full-off). Color gamut coverage is stated as "85%+" for NTSC, meaning it's not designed to reproduce the extended color contained in Ultra HD/HDR sources, and also can't hit the full color range in regular HD ones.
The projector features an Android-based smart TV interface and uses the Aptoide app store to download streaming apps. I found the selection here disappointing: no YouTube, Netflix, Hulu, HBO Max, or any other app that I would regularly use was available. Also, some apps that I downloaded to try out such as the recently released NBCUniversal Peacock repeatedly failed to launch. Fortunately, the set has ample HDMI inputs to plug in a streaming stick (a powered USB port is also provide for that purpose) or box. Bluetooth is provided for streaming audio from a phone or other device, and it can also be used to stream audio out to a Bluetooth speaker or headphones.
Vava's projector has an appealing, streamlined design, with a gently curved white case (a black option is also available). A gray mesh masking the built-in Harman Kardon stereo speaker system helps to tone down the starkness of the white case and make it more living room-friendly. (Basically, it looks like what you'd expect a projector from Apple to look like if that company made a projector.) A total of three fans are used for cooling, allowing for efficient ventilation and low overall fan noise, and there's a motion detection feature that automatically dims light output to prevent eye damage if a child or pet ventures too close.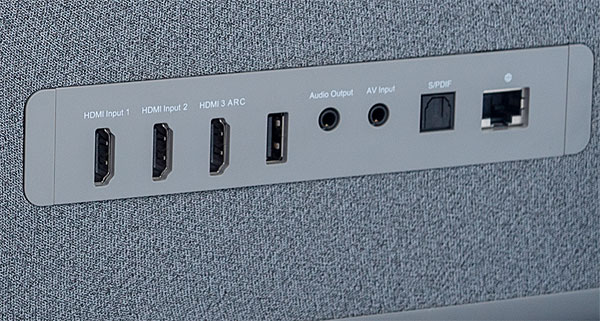 Connections on the VA-LT002 include a trio of HDMI 2.0b inputs, one of those with ARC, plus a minijack input for composite video. There are also optical digital and analog minijack stereo outputs for connection to an external audio system. Network links can be made via 802.11AC Wi-Fi or hardwired Ethernet, and the powered USB port can be used to access stored media files.
Vava's remote control mirrors the white/gray look of the projector and features only a minimal set of control buttons used to navigate the smart TV interface and menus and adjust volume. The keypad isn't backlit, though that won't be much of a problem if you install the projector in an environment with moderate-to-high ambient lighting. Also, since functions such as input switching, Image Parameter (picture mode) and audio processing mode selection and adjustment, and general setup all happen onscreen, you'll mostly use the central cursor controls to carry out all operations.
Setup
As with other ultra short throw projectors I've tested, getting good image geometry was largely dependent upon precise physical setup. Vava's user guide (a printed one, not an online version!) has a table providing precise height and distance data for a specific screen sizes, and once the projector is installed there are rear right and left adjustments to make further manual tweaks. Menu adjustments include electric focus and a "keystone correction" that's more of a warping-type feature to compensate for distortion in 8 image zones. Using these, with the projector's back approximately 7 inches from the screen surface, I was able to achieve good overall geometry and focus, though having the ability to make those adjustments with external test patterns—something many other projectors can do—would have been appreciated.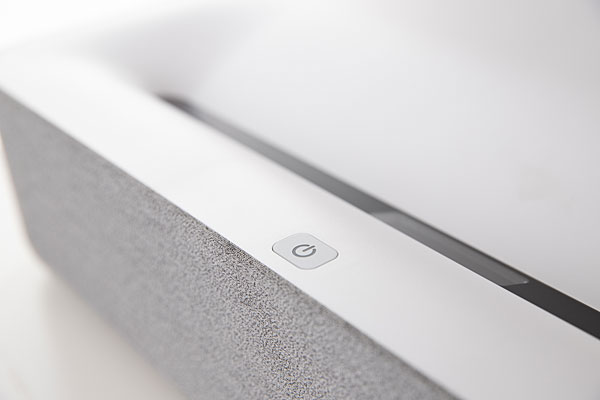 Although I initially paired the VA-LT002 with a 1.1 gain Stewart Filmscreen Cima screen, the image had a fairly washed-out look, particularly when the overhead lights in my finished attic space were turned on. Switching over to a 100-inch diagonal Screen Innovations Zero Edge screen with 0.6 gain Short Throw material provided a notable boost in picture contrast and color saturation when viewed in the same projector-challenging lighting conditions. This material, which is specifically designed for use with ultra short throw models, amplifies light coming from directly below the screen where the projector is located while reducing light arriving from other directions. And while the screen's negative gain results in a reduction of maximum image brightness, the image quality benefits it offers make it highly recommended for environments with moderate-to-high ambient light levels—in other words, the kind of spaces where a projector like Vava's would typically be used.
A number of ergonomic shortcomings made setup of the VA-LT002 a challenge. First, the Image Parameter (picture mode) menu would overlay a large section of the screen, making it impossible to evaluate the effect of any adjustment until the onscreen menu was removed. While the projector offers a range of Image Parameters, including Movie, Standard, Colorful, and Sport, the only one that can store adjustments is the Customized mode, and there is only one Customized picture memory available for each input. Customized also extends to color temperature adjustments, which on the Vava are limited to red, green, and blue gain settings, with no equivalent offset adjustments to balance out the darker grayscale range. Furthermore, any Customized color temperature adjustments that you make are global and carry over to all of the projector's inputs. Finally, picture and audio adjustment menus can't be accessed when streaming using the projector's built-in apps, though for me the poor selection in the Aptoide store made this last limitation a non-issue.