BenQ V7050i 4K DLP Laser TV Projector Review Page 2
For my home theater room viewing adjustments, I selected User for HD/SDR and HDR10 for Ultra HD/HDR. The BenQ's Cool Color Temperature setting delivered the most accurate grayscale, while the 2.5 Gamma setting resulted in a gamma curve that mostly adhered to the 2.4 target for dark room viewing. The projector's brightness proved to be more than sufficient with the Economic Light Mode selected, and I generally preferred it over the Normal Mode since it reduced fan noise by around 5dB—an audible difference. Measurements revealed that the Wide Color Gamut setting delivered 94 percent of DCI-P3 color space, but I found the brightness hit to be extreme enough that I preferred to leave it switched off for HDR viewing.
Ultra HD-capable DLP projectors are known for having average or below-average contrast performance. And while BenQ claims a staggering 2,000,000:1 contrast ratio (full on/full off) for the V7050i, I measured 1,046:1 with an SDR source and an only slightly higher 1,098:1 with HDR. But those contrast measurement sets don't nearly tell the whole story here. When the projector is in HDR10 mode, the company's HDR-Pro tone mapping kicks in and helps considerably to punch up the vibrancy of HDR content—something I'll address below in the Performance section of this review.
HD/SDR Performance
During the "casual viewing" phase of my testing in the attic with the 100-inch Screen Innovations
ALR screen, I was impressed with the brightness and clarity of the BenQ's image even when watching with overhead lights on and blinds open on a sunny day. This is not the environment I'd recommend for movies, but it worked out perfectly fine for YouTube, sports, and TV news viewing. Videogames played on my Xbox One also had a crisp, dynamic look, though with a best- case measured input lag of 78ms (in Filmmaker mode), the V7050i would be considered a below-average option for serious gaming.
With the BenQ moved to the home theater and fully calibrated (see Test Bench), colors looked natural, with the projector's Brilliant Color setting (set here to maximum) helping to add a welcome touch of vibrancy. Taking advantage of my new Disney+ subscription (acquired specifically to watch The Beatles: Get Back), I streamed a few Disney and Pixar classics like Sleeping Beauty and Wall-E, and in both cases, images were nothing less than crisp and satisfying.
Turning next to a Criterion Collection edition of The Elephant Man on Blu-ray disc, the BenQ's rendering of the black-and-white film's fine range of gray tones was impressive, and I saw no sign of tinting or other uniformity issues across the screen. Black-and-white material is usually a torture test of sorts for DLP rainbow artifacts, and I can't say I noted these at any level that could be considered distracting. The projector's merely average contrast with SDR sources was revealed here, however, with shadows in a scene where Dr. Treves (Anthony Hopkins) descends into a shadowy basement space for a private showing of the Elephant Man (John Merrick, played by John Hurt) coming across as a murky dark-ish gray instead of a deep black.
Ultra HD/HDR Performance
According to BenQ, the V7050i's HDR-Pro feature uses both "Enhanced" tone mapping and light source dimming (when SmartEco Light Mode is selected) to optimize image quality with HDR. Switching over to Ultra HD Blu-ray, I watched the first few chapters of 2001: A Space Odyssey. In the cave scene where the pre-hominids huddle together for the night, shadows looked noticeably darker and the image had greater overall punch in 4K/HDR than when I had watched the same scene on regular Blu-ray on the BenQ. And in the subsequent scenes where ships are shown floating through space to the strains of Johann Strauss's The Blue Danube, the background of space also displayed better black depth here and the starfields had an increased sense of "pop." Clearly, HDR-Pro in HDR10 mode was having a visible impact, serving to boost contrast over what I had measured on static test patterns.
To further test out HDR-Pro, I watched the demonstration montage section from the Spears & Munsil UHD HDR Benchmark disc, tapping the disc's ability to switch on the fly between different HDR mastering levels (options range from 600 up to 10,000 nits). The BenQ did an impressive job adapting to the different dynamic range levels of the images, with difficult content such as clouds and mist remaining uniform and detailed through most brightness levels. Another HDR-related feature of the V7050i is its HDR brightness adjustment, which can work alongside HDR-Pro to further optimize image quality. Unfortunately, HDR brightness is buried in the Advanced section of the Picture menu, making it difficult to tweak levels on the fly.
Wrapping up my critical HDR viewing, I watched the Spider- Man: Into the Spider-Verse on Ultra HD Blu-ray and Guardians of the Galaxy via Disney+. Even with the projector's WCG filter switched off, the color range in the early scene in Spider-Man where Miles is spray painting in an abandoned subway station and gets bitten by a spider came through with all its expected psychedelic intensity intact. Picture detail here was also fantastic, with the fine textures embedded into the film's animated frames helping to create a vivid sense of 3D depth.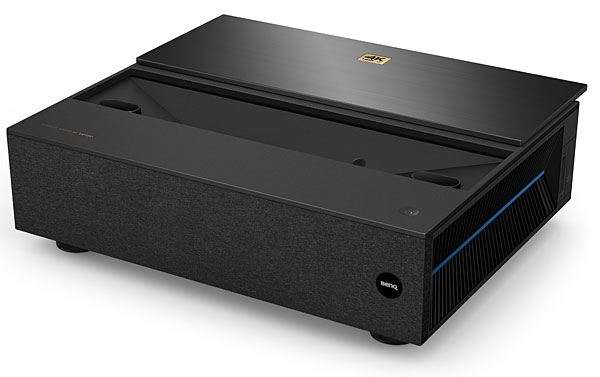 Guardians of the Galaxy was another knockout on the BenQ, and a testament to the visual quality of the 4K/HDR movie offerings on the Disney+ service. Shadows in dark scenes appeared very solid, and the image had a consistently dynamic look with engaging highlights. Gamora's green and Yondu's blue skin both came across vividly, as did the red lines in Drax's furrowed flesh. This was one film that looked so good that I ended up watching it in its entirety, which really was about time since I'd already long ago watched its follow-up, Guardians of the Galaxy Vol. 2.
Conclusion
BenQ has made an impressive entry into the UST projector category with the V7050i. It has
a living room-friendly design, integrated Android TV for easy setup and wire-free streaming, and delivers a bright, engaging picture with up to 120-inch screens even in high ambient light conditions. But the V7050i's benefits don't end there, since the projector's HDR-Pro processing lets it deliver rich-looking 4K/HDR images that hold up extremely well for dark theater room viewing. On the flipside, picture contrast isn't as good with standard HD sources, and a relatively high input lag makes the V7050i a below- average option for serious gamers. But considering its $3,499 price, BenQ's UST holds up extremely well against the competition, and is a recommended option for any room where you want both a big picture and the ability to enjoy with the lights both on and off.