LG Adds Luna Cloud Gaming to its Smart TVs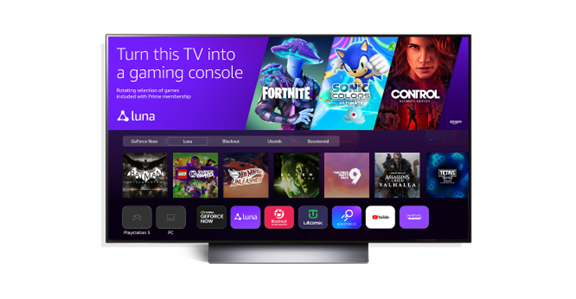 LG today announced new gaming options that owners of its smart TVs in the U.S. can access from the home screen.
The popular cloud-based gaming service Luna is now accessible directly from the home screen of LG's 2021-2023 model-year TVs built around the webOS6.0 (or later) smart TV platform. Gamers can click on the Game Card icon or, in the case of 2021-2022 model-year sets download the Luna app from the LG Content Store.
LG has also entered into an agreement with Amazon that enables Amazon Prime members to play a rotating selection of games including Fortnite for free. And Ubisoft PC gamers can now connect to their account through LG smart TVs to play games they already own.
Popular titles on Luna include Resident Evil 2, LEGO DC Super-Villains, The Jackbox Party Pack 3, and Assassin's Creed Valhalla. The service also offers subscription options, including Luna+, which unlocks games across genres. Ubisoft's Multi Access plan, for example, includes fan-favorite AAA titles, while Jackbox Games provides access to popular quiz-based party games.
To start gaming, owners of compatible LG smart TVs can log into their Amazon account on the Luna app and connect to a Bluetooth-enabled Luna Controller or Luna Phone Controller app. The app is available as a free download in the iOS, Android, and Amazon app stores.
The move to highlight gaming on its smart TVs bolsters the brand's commitment to gamers, which started in 2018 with the UltraGear line of displays. At CES 2023, LG introduced the gaming focused Flex, its first bendable 42-inch OLED display console, and nabbed an S&V Editor's Pick for the UltraGear 45GR95QE high-end gaming display featuring 240-Hz support, an ultra-fast refresh rate, stunning picture quality, and support for G-Sync technology.