Naim Mu-so QB 2nd Generation Wireless Music System
PRICE
$900
AT A GLANCE
Plus
Compact
Built like a tank
Elegant fit and finish
Excellent sound quality
Minus
Sound can be a little bright
App isn't always intuitive
Pricey
THE VERDICT
U.K.'s Naim Audio has made the awesome Mu-so QB even better with expanded streaming options and streamlined operation.
I loved Naim's Mu-so QB when I reviewed it a couple years ago so I couldn't wait to try out the "re-engineered" second-generation QB, which except for a new gray-aluminum top and slightly different grille fabric looks pretty much the same as the original — which is to say as compact and sexy as ever. (As of this writing, the original QB is still available on amazon.com at the discounted price of $569.)
So what else is new?
For starters, you can now illuminate the system by waving your hand over its large volume ring/touch panel, which itself has been "reimagined" to expand control options and improve functionality. A neat feature and decided conversation starter. Naim has also redesigned the compact remote control — it's now squared off instead of slightly rounded — and added buttons that let you toggle through external inputs, adjust the brightness of its illuminated base, and go directly to Spotify or multiroom playback. A step up in functionality for sure but in terms of ergonomics…not so much. The main thing is, the remote provides basic control for those who don't want to rely solely on the app, especially for adjusting volume and toggling through internet radio presets (up to five), though I found the latter to be less than certain; advancing to the next preset wasn't consistently smooth, often requiring two or more button presses.
Among its other improvements are upgraded Wi-Fi connectivity and "extensive software and hardware upgrades," including a digital processor it says is 10 times more powerful than the one in the original Qb, and expanded streaming options that go beyond direct access to Tidal, Spotify, and internet radio. The system is now equipped with Chromecast, which makes it easy to "cast" (stream) from apps on your phone, tablet, or PC. You can also stream the same song to multiple Chromecast-enabled speakers around the house. But before you can take advantage of the feature, you have to use the Google Home app to configure Chromecast — a quick and simple process.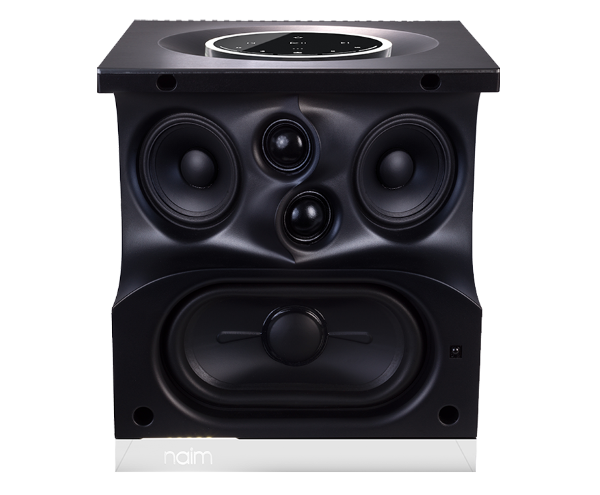 Once it's set up, you simply tap the Chromecast icon in the Naim app and a list of available apps appears on screen. In my case, I had immediate access to the Pandora and Google Play apps on my phone but not Amazon Music. Chromecast supports hundreds of apps but in the case of Amazon you have to stream directly from the Amazon Music app. The addition of Chromecast is huge and goes a long way toward addressing a concern I had with the original Qb — that it's streaming options were too limited.
The new Qb is also now certified as Roon Ready, meaning it is fully compatible with the Roon music-management system favored by many audiophiles. The system has also been upgraded to support AirPlay 2, the latest version of Apple's Wi-Fi-based streaming platform.
Back to those software and hardware updates: Naim promises a "significant performance boost" over the original QB and, while such claims are all but impossible to verify, I found operation via the new-and-improved Naim app to be extremely smooth and responsive and had no issues with Wi-Fi connectivity. I loved being able to browse vast repositories of music by artist, genre, or album with album art and info readily available.
Naim recommends installing the app on phones running Android 5.0/iOS 9.3 or later for reliable operation. I bring this up because trying to set up and operate the system with a five-year-old Samsung Galaxy S5 was fraught with frustration. It wasn't smooth sailing until I (finally!) upgraded to a new Galaxy S10+ phone. I should really thank Naim for nudging me along that path.
While the driver layout in the second-generation Qb is the same as the original, with angled pairs of 1-inch tweeters and 2.5-inch midrange drivers plus a 5.7 x 3-inch woofer and two passive radiators (one per side), the drivers themselves have been upgraded with the help of the speaker specialists at Focal. The tweeters, for example, are now made of silk instead of the "micro-fiber" material used in the original Qb and the midrange driver and woofer have been "highly optimized…to deliver superior performance."
Features that carry-over from the original Qb include streaming from Bluetooth and UPnP (Universal Plug and Play) devices such as a PC or external NAS (network-attached storage) server, three room-compensation modes (Near Wall, Near Corner, and No Compensation, the latter for when the speaker is in open space), a loudness mode that boosts bass and treble at low volumes, an alarm clock, and a sleep timer with six auto-turn-off settings, ranging from 5 minutes to 2 hours. The Qb is also equipped with USB, optical digital, and analog (3.5mm) minijack connections for when you want to play music stored on USB thumb drive or make a hard-wire connection to an eternal hard drive, TV, or other audio source.
Wireless multiroom streaming is another staple feature of the Mu-so Qb. As with its predecessor, you can stream to compatible Naim devices — including first and second generations of the Qb and its big brother, the outstanding Mu-so — but streaming is limited to eight rooms (up from five in the original Qb), which is more than enough for most of us. You can play different internet radio stations on different speakers around the house at the same time with independent volume control. There's also a party mode for streaming the same music to multiple speakers. You can control the volume of each speaker independently or use the Group volume slider to adjust them all at once.