The Ultimate Guide to Smart Speakers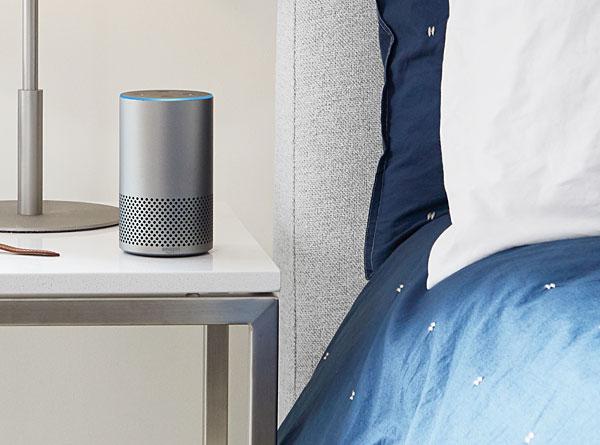 The smart speaker is about to change the way you live. Are you ready?
It's not every day that a new consumer electronics category comes along that has an adoption rate projected to be faster than that of any other device, including smartphones, computers, TVs, and radios.
Some 56.3 million smart speakers are projected to ship this year, nearly twice as many as last year and 10 times the number shipped in 2016, according to Canalys. In the first quarter of 2017, only 7 percent of U.S. households had smart speakers. By the end of 2020, 75 percent are expected to have them, according to Gartner and Edison Research.
Electrified speakers, the type that put out sound but didn't listen to users' marching orders, have been with us for a century. Maybe because they've been around so long and been relegated to second-class status behind big screens and powered bling, there's now a sense of sweet revenge as a new kind of speaker— but a speaker nonetheless—is suddenly the belle of the ball.
What differentiates a smart speaker from a conventional one is the built-in array of microphones, typically about a half-dozen, and far-field voice-recognition technology used for processing human queries and commands from a variety of directions, all while discarding ambient noise. The speaker is connected through Wi-Fi to the internet and remote supercomputers steeped in artificial intelligence that translate our utterances into machine-understandable language. Although a smart speaker looks like a standalone device, it is in fact attached to a global well so broad and deep that no physical library could hold all its knowledge.
Today's voice recognition technology is impressive, though speech-to-text conversion used to get a bad rap. In the 1990s, computer dictation programs had to be trained to "type" a particular person's speech to the screen—and even then, the resulting typos hardly made the effort seem worth it.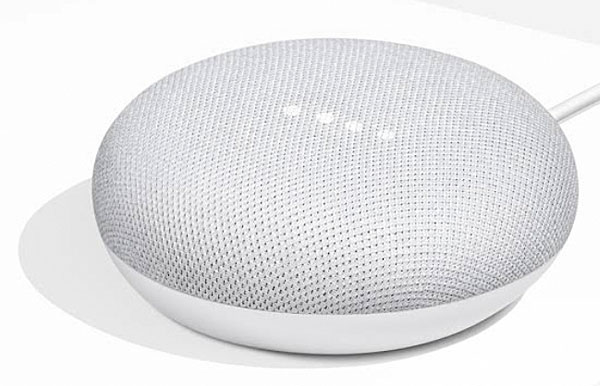 That may be one reason why the consumers embracing smart speakers most quickly are millennials. Weaned on smartphones, they're at ease with dictating a Facebook response, and when they call an airline, they expect the automated prompt to ask them "to say in a few words what you're calling about" rather than a human to pick up. According to eMarketer, millennials are the most prolific digital-assistant users, with 35.8 million of them in the U.S. this year versus 16.7 million members of Generation X and 9.9 million baby boomers. (Note to boomers: There will be 19.1 million of you using a digital assistant in 2019 versus only 17.2 million Gen Xers, though both generations will pale by comparison to the 39.3 million millennials conversing with their assistants.)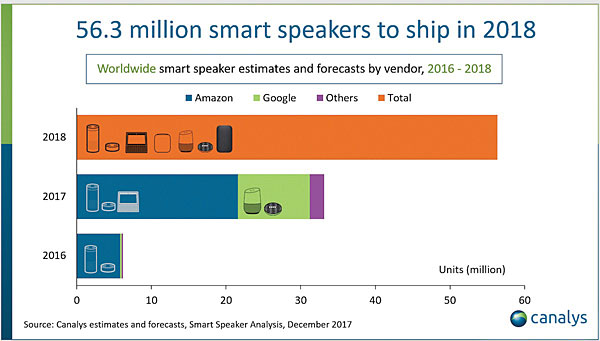 Much of the credit for the growth of smart speakers goes to Amazon, which, just in time for the 2014 holiday shopping season, unveiled the Echo speaker—home to Alexa, an intelligent personal assistant. While other companies have since introduced speakers of their own, often licensing Alexa or Google Assistant (first released in 2016 as part of the Google Home speaker), Amazon-branded Alexa products have continued to be the most popular. According to the Statista Global Consumer Survey, for which more than 10,000 internet users were contacted between November 2017 and January 2018 (before Apple's HomePod came out), ownership of smart speakers in the U.S. was led by Amazon Echo at 15.4 percent and Google Home (running Google Assistant) at 7.7 percent. These were followed by the Lenovo Smart Assistant (Alexa), 2.5 percent; Panasonic SC-GA10 (Google Assistant), 2.3%; Sony LF-S50G (Google Assistant), 2%; Harman Kardon Invoke/Allure (Microsoft's Cortana/Alexa), 1.9 percent; JBL Link series (Google Assistant), 1.4 percent; and Sonos One (Alexa), 1.2 percent. Not mentioned in the survey are the growing number of homes with newer Samsung TVs compliant with the company's Bixby voice assistant for control of TV viewing and home automation. (Note: 79.5 percent of the respondents did not yet own a smart speaker.)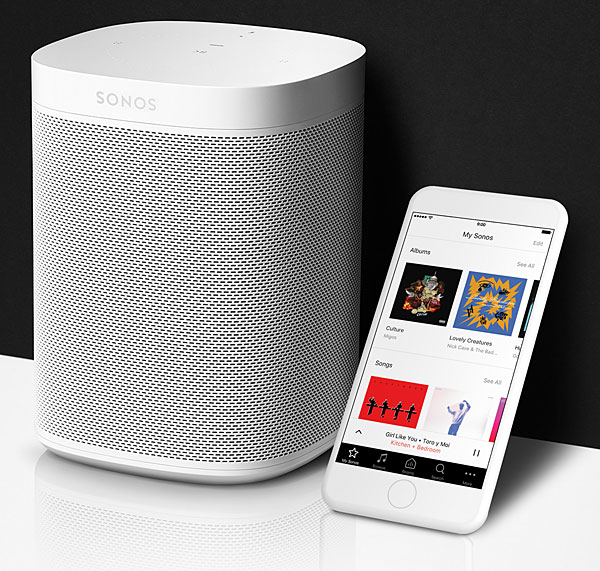 Where are those speakers going? In households with just one smart speaker, the majority (52 percent) of respondents said they put it in the living room, a family room, or a den, according to the Smart Audio Report from NPR and Edison Research. The next most popular locations were the kitchen (21 percent) and the master bedroom (19 percent). It went on to say that the top reasons for owning a smart speaker were to listen to music and to ask questions without needing to type.
Interestingly, the top three activities indexed by certain parts of the day (in order) were getting traffic, weather, and news reports (5 to 9 a.m.) and finding restaurants/businesses, requesting recipes/cooking advice, and ordering food (5 to 7 p.m.).