The Ultimate Guide to Smart Speakers How to Educate Your Speaker
How to Educate Your Speaker
A smart speaker is dumb until you connect it to your wireless network and use a smartphone or tablet app for setup.
For example, the Alexa app is a companion to your Amazon Echo, Tap, Echo Dot, and Echo Show (and other Alexa-enabled speakers) for setup, remote control, and enhanced features. With the Google Home app, you can set up and control your Google Assistant speakers. Depending on whether you're using an iOS or Android phone or tablet for setup, you download a free app from the Apple App Store or Google Play Store. Setting up Apple's HomePod requires the Apple Home app, usually found on iPhones by default.

From the app, you'll be able to name the speaker and set defaults, such as your loca- tion and music provider, as well as link compatible devices like smart lights and thermostats. (The HomePod not withstanding, which only works with Apple's own Apple Music service for voice control.)
Beyond such simple commands as asking it to tell you the weather or tune into NPR, a smart speaker can be deployed to control connected devices in your home from what is now thousands of options. To bridge the gap between your vocal cords and the smart lock on your front door, though, you'll need to set up what Alexa calls skills and Google Assistant calls actions. Skills and actions add more capabilities, such as ordering a pizza from Domino's, requesting a ride from Lyft, tracking your condition with Fitbit, controlling your Dish or TiVo DVR, turning on a particular ceiling fan, or dimming the lights.
When a device is already smart, meaning a Wi-Fi transceiver is built in, you won't necessarily need additional hardware. So, for example, after stating your speaker's wake word, you can simply say "TiVo skip" to leapfrog a block of commercials without having to pick up the TiVo remote and then either press its Skip but- ton or hold down its microphone button while saying "Skip." In the instance of a remote-controlled fan that wouldn't know Wi-Fi from hi-fi, however, you'd need to plug in a Wi-Fi-compatible hub like the Bond to send the appropriate RF or IR signals to the device you plan to operate. (See the "Apptitude" column in our May issue.) Some smart home devices might work on other industry wireless standards, such as Zigbee or Z-Wave; third-party hubs that can act as intermediary between your Dot or Google Home Mini are available for these as well. The Alexa-friendly Samsung SmartThings Hub opens your home to voice control of SmartThings-connected devices.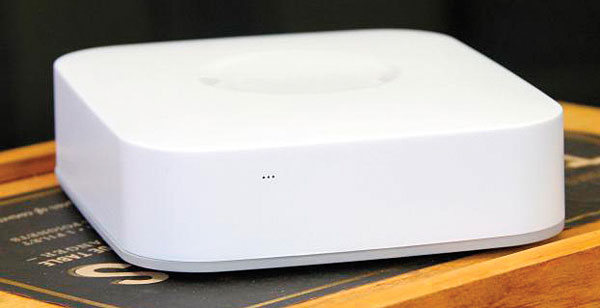 One of the benefits of controlling appliances in the smart home using your vocal cords is less clutter. Once you've added a skill or an action to your speaker, you'll be able to control a ceiling fan without its battery-powered remote or your smartphone run- ning a dedicated app. Similarly, you'll find yourself reaching for your TV remote a lot less. Several of Logitech's popular Harmony universal remotes are now controllable via Alexa, opening up some degree of voice control of your home theater system as well as home automation. And A/V receiver manufacturers, including Yamaha and Denon, now offer modest Alexa control with the addition of a smart speaker on the shared network to take in the voice commands.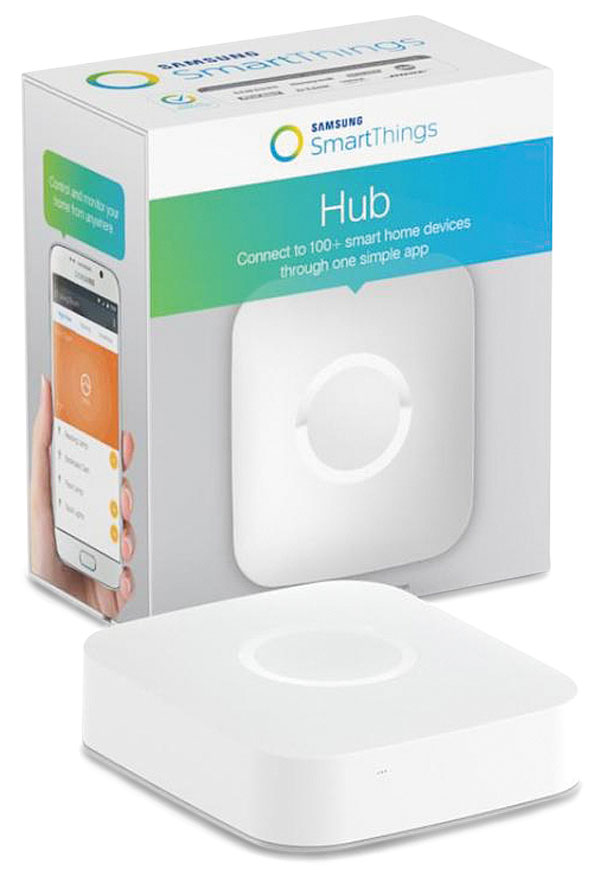 Beyond a just adding a skill or action is something that both Alexa and Google Assistant call a routine. Think of it as a macro command that strings together a series of orders you issue to achieve a larger result, typically something you do routinely. So, for example, you could create a "movie night" macro that might involve turning on the Blu- ray player or switching the TV to Netflix, turning on the external sound system, closing the motorized curtains, launching the connected coffee maker, putting the air conditioner into quiet mode, switching on the ceiling fan, and turning down the overhead lights while turning up night lights near the floor leading to the kitchen and bathroom. Unless you had to get up off the couch to insert a disc, you'd be able to accomplish all these tasks with- out budging. Just announce to your smart speaker that it's movie night.
By the way, you're not alone as you teach your speaker to be smarter. Manufacturer and user forums that focus on the expanding capabilities of voice assistants and the ease (or lack thereof) of setup have sprung up all over the internet. So, doing a little online homework before trying to add a skill, an action, or a routine can save you time and frustration later on.—MA