Soundcast VG7 Outdoor Wireless Speaker Review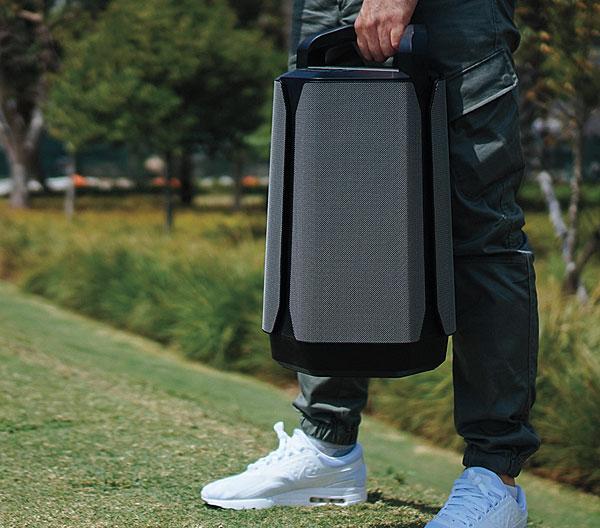 PRICE
$800
AT A GLANCE
Plus
Superb sound quality
Impressive, weather-resistant build quality
Bluetooth stereo pairing
Minus
Pricey
THE VERDICT
Soundcast's new flagship outdoor Bluetooth speaker carries a substantial price tag, but if you're headed for the backyard or a tailgate party, you'll get what you pay for in sound quality, ease of use, and reliable operation.
Ever since the introduction of the first battery-driven transistor pocket radio, we've been taking our music outside and on the go. (By the way, that was the Regency TR-1 in the fall of 1954; visit regencytr1.com for a retrospective maintained by Don Pies, son of Regency cofounder John Pies.) Of course, any conversation today about "outdoor audio" needs to be placed in modern context. We've gone from being grateful for a tinny AM broadcast of "The Roy Rogers Show" played back over a tiny, underpowered speaker to expecting potent, high-quality audio in our backyards, at the beach, or in the parking lot as we tailgate before the big game.
There are different ways to achieve an outdoor music experience, of course. For an at-home installation where you're just outfitting your backyard for sound, wired systems have been the norm. But this option is arduous and costly, involving wire runs from electronics inside the house to speakers mounted outside under eaves or on the siding, or, in many cases, to weatherproof speakers dropped into the landscaping and fed by cables buried underground. Besides the cost of the gear, there's the potential cost of installation with a custom integrator. It's easy to see how someone lusting for serious outdoor sound quality might be scared off. On the other hand, if you just want the convenience of plopping down a powered speaker or need true portability, you can find plenty of battery-powered, wireless speakers today, even waterproof and weather-resistant models, but few that will deliver a truly big audiophile experience.
This is where Soundcast comes in. If you don't know the name, the San Diego–based company has been around since 2006 when some speaker industry vets saw wireless as a potential game changer and developed their own long-range 2.4gigahertz audio transmission technology. From this sprang up wireless adapter solutions for simply moving audio signals around, then high-end weather-resistant, portable speakers intended for the backyard, tailgate, and boating crowds— first the 26-inch-tall, 24-pound, cylindrical-shaped Outcast, and then the slightly smaller Outcast Jr. As Bluetooth came about, the company transitioned and had its biggest success yet with the squat little Melody, a heavy-duty, tote-around portable with a handle on top that originally retailed for $449 (now $400) and borrowed some of the Outcast's best attributes—such as drivers all around the cylinder to deliver 360-degree sound. Darryl Wilkinson auditioned it for Sound & Vision in 2014 (review at soundandvision.com) and called it "a fabulously designed and engineered speaker that absolutely trounces other speakers in its price range that can't do even half of what the Melody does."
What all the Soundcast speakers have shared to date, besides remarkable build quality, is truly outstanding sonics. That's something the company is trying to carry now into the VGX lineup formally debuted earlier this year at the 2017 CES. VGX replaces not only the Melody but also the original Outcasts. Five announced models include the VG1 launched late last year, a rugged, $150 shock- and water-resistant portable box speaker that fits nicely in a backpack and responds to Siri voice control. The weather-resistant VG3 ($300), VG 5 ($500), and VG10 ($700), scheduled for introduction later this year, are successively larger cylinders, but still relatively compact portables, each featuring capacitive touch controls on top. The VG10, in addition to having Bluetooth, is also expected to be the first portable, outdoor speaker to feature Wi-Fibased Play-Fi for full high-resolution audio and multiroom capabilities.
The new flagship, in terms of sound quality and size, is the VG7 reviewed here, which should be available when you read this. Unlike the Outcasts, Melody, and the midline VG models, the VG7 shuns a cylindrical design and takes the essential shape of a truncated pyramid—a frustum, to be perfectly geeky about it, though the narrow panels separating each main side technically make it an irregular octagon. In any event, each of its four primary sides is adorned by a single mid-high-frequency driver in its own sealed compartment. In this case they're 3-inch aluminum cones with butyl rubber surrounds, materials chosen for their sonic attributes, their durability, and their contribution to the VG'7s IP64 weather-resistance rating (which makes it dust- and splash-proof). In the speaker's usual configuration, the two drivers on the front-facing baffles and those on the rear baffles each constitute a stereo pair, so you get sound radiating both outward and upward in a stereo image from either the front or back. However, the VG7, along with all the other VGX series models, features Qualcomm's TrueWireless Stereo (TWS) Bluetooth technology, which allows two VG7s to be mated in a stereo pair with left or right channel only from each speaker, and for the controls on either one to be utilized for power, volume, mute, and track control.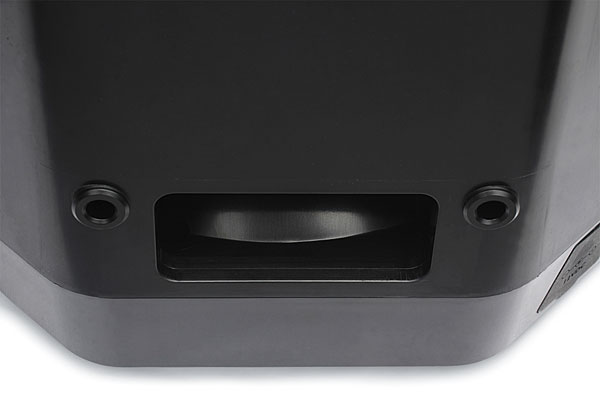 Below the main driver cavities rests an internal, down-firing woofer in its own sealed, acoustic-suspension compartment utilizing a 7-inch cone made from injection-molded polypropylene and also attached with a butyl rubber surround. The woofer's output emerges from a series of small rectangular holes hidden behind each grille that ring the speaker just above the base. The speaker's body is made from extra-thick ABS plastic reinforced with mica to add rigidity, and the cabinet is further reinforced with internal bracing. All told, the VG7 stands just under 19 inches tall and weighs in at 21 pounds. It's a satisfyingly solid beast. Its mass might be prohibitive for some situations, but you'll know that going in.
The speakers are driven by three Class D amplifiers, with one pumping 30 watts RMS into the woofer and two stereo amps delivering 15 watts RMS to each of the four upper-range drivers. Onboard 24-bit digital signal processing (DSP) assists with electronic crossovers, EQ, and limiting, with the result being a frequency response rated down to 55 hertz ±3 decibels. There is absolutely no spatial processing of any kind applied. Rubberized pushbuttons on top offer control of power; Bluetooth pairing (NFC touch-pairing is also provided); TWS stereo pairing; volume up/down, mute, Indoor/Outdoor EQ modes (about which
I'll say more later); and forward, backward, and play/pause track movement. There are LED indicators to denote power state, TWS status, Bluetooth pairing mode, battery condition (the unit charges in 3 hours from the supplied AC charger and provides 15 hours of average listening), and the presence of a device plugged into the rear-panel 3.5mm analog Aux input. Also, the musical note in the Soundcast logo above the control panel glows amber when the Outdoor EQ mode has been activated. One minor gripe: In bright sunlight, it's virtually impossible to detect when it's lit, though you'll probably know from the sound when the Outdoor mode is on.
As noted, the back of the speaker sports an Aux input, as well as a USB port for charging your phone—both under a protective rubber flap near the top. The proprietary brick for main power/charging connects at the base of the speaker below a similar flap.
In and Out
I was fortunate enough to evaluate the VG7 as the New York winter gave way to spring, teasing the cabin-feverish into the outdoors with some sunny and unseasonably warm days that allowed me to set up my home office on the backyard patio. I began with some casual listening as I worked, first syncing the speaker to my iPhone by pressing and holding the Bluetooth button on the top panel until its blue light began flashing quickly to indicate pairing mode, then selecting it from the phone's Bluetooth menu—nothing unusual. I placed the speaker on the stone pavers about 8 feet away, pointed the front stereo array toward my seat so I could face it head on with a turn of my head, and booted up my Pat Methany Radio jazz station on Pandora.