Sonos Move Portable Wireless Speaker Review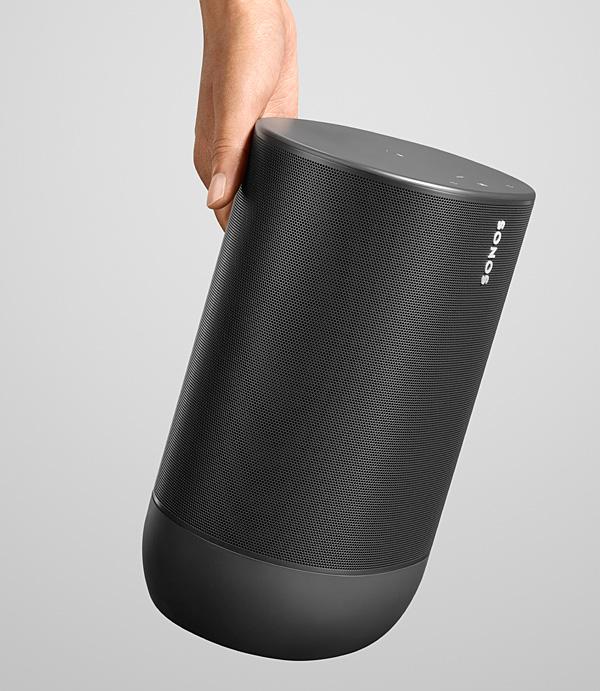 PRICE
$399
AT A GLANCE
Plus
Fabulous sound quality
Replaceable battery
Supports Alexa and Google Assistant
Convenient charging base
Minus
Mono playback
Audio input limited to wireless
No phone capability
THE VERDICT
The waterproof/dustproof Move is one of the best-sounding and full-featured portables available. It may just be my new favorite speaker.
Sonos is no stranger to compact speakers that play without wires, but the new Move ($399) is the first truly portable, battery powered model to come from the company. The Move's connectivity options let you tote it around the house and even outside when using Wi-Fi; beyond that, as long as it's charged up, you can take it anywhere and stream music via Bluetooth. The Move comes with a dedicated (and dare we say, stylish) charging base that eliminates fumbling around with connecting cables, and it can also be charged via USB-C (cable not included).
The Move seems almost too big to be portable—at 10 inches high and 6.6 pounds, it can't be slipped easily into a backpack. But there's a reason for that heft. The Move's rechargeable battery provides up to 10 hours of playback and, unlike the battery provided in most portables, it can be replaced. Sonos claims the battery should last for 3 years or 900 recharges. (The price for a replacement is unavailable at this time.) Extra bases are available for $80 so you can easily charge the Move from multiple rooms in your home.
The Move's IP56-rated weatherproof/dustproof case is wrapped with metal mesh around the sides and has a rubberized rounded bottom and a sturdy, well-balanced grip opening on the back panel. Sonos claims the Move is crash-resistant and able to withstand up to a 6-foot drop. While I didn't test that ability, I did note that it comes with a nice fabric carrying bag.
Back panel features of the Move include a power on/off button, a toggle switch to select Wi-Fi or Bluetooth, and a button used for pairing during setup. The top has capacitive touch controls for volume, track play, pause, and skip. Four far-field microphones are used for voice control and an Auto Trueplay mode that calibrates the playback EQ curve based on a real-time frequency analysis of the listening space. The microphones can be turned off, which will also turn off both voice control and Auto Trueplay calibration. The Move currently can't be used for phone calls and it lacks an audio input jack—you can only connect via Wi-Fi, AirPlay 2, or Bluetooth. While I found the lack of a physical input to be a glaring omission, that's also the case with the company's other compact speakers, the Sonos One and One SL.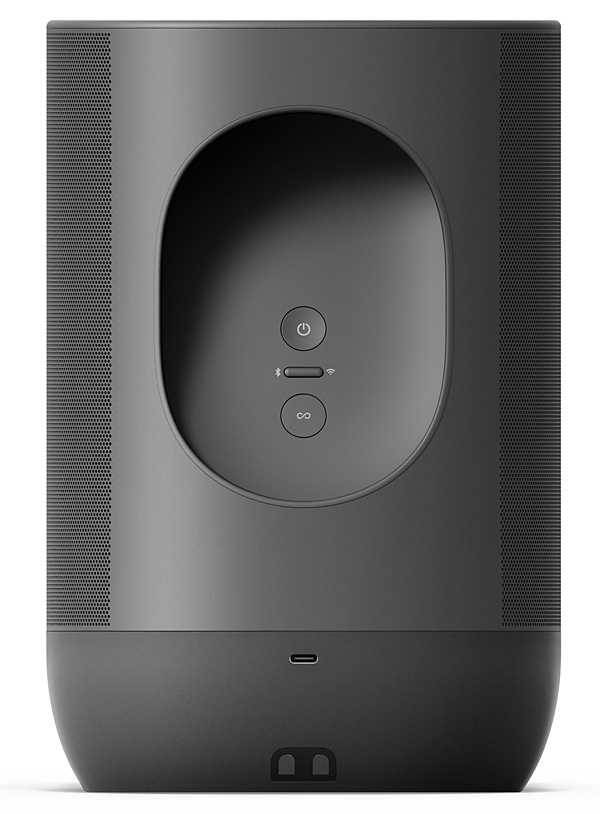 Setup
The Move can be controlled by voice, AirPlay 2, or the Sonos app. Using the app, you can choose your preferred music streaming services, select between Amazon and Google voice assistants, turn Auto Trueplay feature on or off, and more. If you already own other products from the company, it's easy to add the Move to your Sonos wireless environment.
Performance
The Move is powered by two class-D amplifiers that feed a downward-firing tweeter and a single mid-woofer. To be honest, I was disappointed that at this price point the Move doesn't provide stereo playback. You can pair two together over Wi-Fi, but that's an expensive work-around. For a mono system, the sound was quite impressive, however. Once I got over the lack of a soundstage, the Move's tonal quality proved to be among the best I've heard from a portable speaker.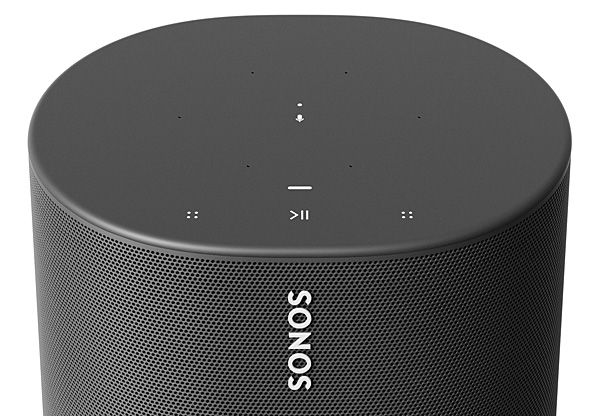 After connecting my Spotify Premium account to the Sonos app, I streamed Maisie Peters' "Feels Like This." Her voice on this track is recorded without much processing, and the sound was pure and natural, without any of the coloration often introduced by small speaker cabinets. The backing piano also sounded natural, and when her vocals were doubled, each layer had clear separation. Bass was accurate and full, but not overwhelming, while higher treble notes had good clarity without sounding harsh or brash.
Vance Joy's vocals on "Lay it on Me" also had a clean, natural presence. The acoustic guitar in this track sounded transparent and bright, but again lacked any artificial coloration. When the kick drum kicked in, it sounded tight and full, with more punch than I expected from a relatively small speaker.
The Move started to hit its limit when I played bass-heavy tracks such as Post Malone's "Saint-Tropez." I missed the lower octave range that a subwoofer would provide, but for a portable, it was impressive, with more than enough bass to feel an impact. I was also impressed when I moved the speaker outdoors and let the Auto Trueplay feature adjust the bass response. The sound was loud and clear enough to hear every detail from 100 feet away. Needless to say, my neighbors weren't happy with me.
Conclusion
The Sonos Move lived up to every expectation I had for the brand's first portable. It's convenient, easy to use, offers a choice of voice assistants, supports plenty of streaming options, and, bottom line, sounds great. The rest of my portable speakers will have to move out of the way, because the Move is moving in.