Naim Mu-so Qb Wireless Music System Review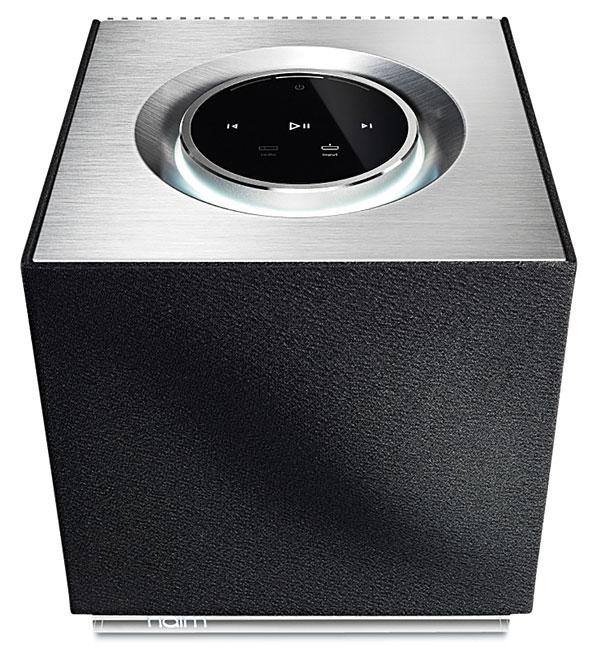 PRICE
$900
AT A GLANCE
Plus
Elegant design
Impeccable build quality
Compact form factor
Terrific sound quality
Minus
Limited streaming options
Expensive
THE VERDICT
The Mu-so Qb is pricey, but it's impeccably built, offers a number of wired and wireless playback options, and is one of the best-sounding compact wireless speaker systems I've heard.
I was trolling for high-bit-rate internet radio stations when I stumbled upon Incubus performing "Love Hurts" on Alternative Times Radio out of Prague. I'd never heard the song before but was immediately captivated by the richness of Brandon Boyd's voice and how realistic the kick drum and snare sounded. And the stream was only 128 kilobits per second…
Seeking higher ground, I continued scrolling until I found Radio Paradise, a delightfully eclectic station streaming out of Northern, California at 320 kbps. It's not every day you hear the 1971 Yes masterpiece "Long Distance Runaround" followed up by Willie and Lobo's "Sultan Dream." Both were revealing: "Runaround" for Chris Squire's signature Rickenbacker bass, which sounded just right, and "Dream" for the convincing hall acoustics surrounding its rollicking flamenco guitar and playful violin.
All that from an 8-inch cube dubbed Mu-so Qb, little brother to the all-in-one Mu-so music system (recently dropped to $1,400) that made our 2015 Top Picks of the Year list. Like its sibling, Qb is a technical tour de force that hails from Naim Audio, one of the U.K.'s most respected names in high-end sound. The Salisbury-based company has been building audiophile gear for 44 years and even partnered with Bentley Motors in 2008 to make ultra-high-end sound systems for its luxury cars. [Editor's Note: The Naim for Bentley audio system I auditioned with Automobile magazine in early 2016 proved among the best sounding of the eight we tested.—RS]
A Class Act
I knew the Qb was special the moment I lifted it out of its shipping carton. The ultra-modern cube is heavy and finely appointed with a clear acrylic base, a large backlit volume ring/touch panel centered on a brushed-aluminum top plate, and an anodized aluminum heatsink that consumes the back panel. The remaining sides are removable black fabric grilles. (Naim offers replacement grilles in blue, burnt orange, and red at $99 apiece.)
When you power up the Qb, the volume ring and Naim logo etched into the base light up and the touchpanel comes to life, displaying icons for on/off/standby, play/pause, (internet) radio, and input. A series of short segments around the edge of the panel light up sequentially as you turn up the volume; the five forming an arc along the top double as indicators for internet radio presets (up to 40 are possible through the app) and local inputs: analog audio, optical digital, USB, and Ethernet for those who prefer a hard-wired network connection. Adjacent to the connectors is a pinhole reset button and a status indicator that turns white when Wi-Fi setup is complete.
The Mu-so Qb is a three-way system with left and right midrange/tweeter complements mounted in angled cutaways above a "racetrack" woofer whose output is reinforced by a similarly sized passive radiator on each side. All of the drivers are mounted in a molded enclosure made of glass-filled polymer, chosen for its strength, rigidity, and dampening characteristics. No corners have been cut here—design and build quality are first class all the way.
Borrowing from its big brother, Naim has equipped the Qb with 32-bit digital processing that controls the "flow of music information" to each speaker and 300 watts of power—more than enough to get this cube a-rockin'. Each driver is powered by its own 50-watt amplifier, except the woofer, which gets 100 watts.
The Mu-so Qb supports wireless streaming via Wi-Fi in up to five rooms, Bluetooth/aptX (great for on-the-fly streaming at parties), and AirPlay (for Apple devotees). In addition to the Mu-so and Mu-so Qb, Naim sells more than a dozen wireless products that will work in a multiroom setup (a list is available at naimaudio.com). If wireless is not your thing—hard to imagine in this day and age—you can use one of the hard-wire connections, with the USB and optical inputs offering the best fidelity. That's not to say you won't use the analog minijack for an impromptu hookup to that iPod buried in your sock drawer.
The Qb is UPnP (Universal Plug and Play) compliant so you can stream from your personal music library, whether files are stored on a PC, Mac, or server; once playback is initiated, Previous and Next icons magically appear next the Play/Pause "buttons" on the touchpanel. The system supports a range of files, including WAV, FLAC, and AIFF at up to 192-kilohertz/24-bit resolution. ALAC, AAC, OGG, WMA, and MP3 are also supported. The Naim website says the maximum sampling rate for all formats is 48 kHz or less over the wireless network, though.
Onboard music sources include Spotify Connect (Premium sub- scription only), Tidal, and the usual vast selection of internet radio stations through vTuner. With a system of this caliber, I honestly expected a few more choices—at least Pandora and maybe Amazon Music. Come on, guys.
Ready, Set, Go
Setting up the Mu-so Qb was easy. I placed the stately cube on a filing cabinet in my office, turned it on, downloaded the Naim app (first on my Samsung Galaxy S5 phone and then on my iPad), and followed a series of prompts that guided me through Wi-Fi setup. In both cases, I was up and running in short order and encountered only a couple of minor hiccups where I had to go back to a previous screen or wait longer than expected for the speaker to enter setup mode (flashing purple on the indicator).