Naim Mu-so Qb Wireless Music System Review Page 2
My colleagues in Los Angeles were kind enough to ship a
Mu-so system
they had on hand so I could check out the apps' multiroom functionality and compare the Qb with its big brother—a serious piece of audio engineering that combines six drivers and 450 watts of power in a low-profile, soundbase-like enclosure that weighs 30 pounds. I set up Mu-so on a cabinet in my living room and repeated the Wi-Fi setup procedure. The app found it right away.

As with many of today's wireless systems, the proprietary Naim app is your primary controller. You can operate the system from its touch- panel, but control is limited (volume, play/pause/previous/next, input selection), and there's no visual feedback. Come to think of it, a status window would be a welcome addition, making it possible to control the Qb without being tethered to the app. Naim offers a basic mini-wand-style remote as an optional accessory but, like the main unit, it offers no visual feedback.
The app puts many additional features at your fingertips, including a loudness mode (great for late-night listening), two Room Position settings that adjust tonal balance based on the system's proximity to a wall (or other boundary), an alarm clock, and a dimmer, to name a few. I found the app well laid out and easy to use. Creating a multiroom setup was a simple matter of tapping the "grid" icon at the bottom of the screen and adding Living Room (my assigned name for Mu-so). Seconds later, the internet radio station playing in the Office (the name I assigned to the Qb) was also playing on the Mu-so in the living room. I was able to control the volume of each system independently or together, using the Group volume slider.

If I wanted to stream music from my phone to the living room while internet radio continued playing in my office, all I had to do was uncheck Living Room in the app, select Living Room from my phone's Bluetooth menu, and hit play on whatever app I wanted to stream from.
I should have been able to stream from my PC just as easily by switching to the UPnP input (on either system), but I ran into a glitch: The music files showed up in the app but wouldn't play. Naim tech support suggested a couple of troubleshooting routines and advised me to download a dedicated UPnP audio server (Illustrate's Asset UPnP) at a cost of $26. That fixed the problem…sort of. My 44.1-kHz WAV and 96/24 FLAC files played fine—and sounded awesome—but 192/24 FLAC files were effectively unplayable, cutting in and out every few seconds. These same files played fine from a USB thumb drive. But as noted, Naim doesn't guarantee wireless playback of files with sampling rates above 48 kHz, so they can't be faulted for that beyond some disappointment at the lack of wireless hi-res capability.
Unfortunately, that wasn't the only frustration I experienced with the app. Over the course of a couple of weeks, I found it to be sluggish and unpredictable at times, leaving me longing for the good old days when pressing a button produced immediate results. I found myself dumping out of the app and restarting it all too often. Sometimes that restored playback; sometimes it didn't. On a few occa- sions, the app became unresponsive while in multiroom and was unable to "find" the Mu-so (Living Room) or Mu-so Qb (Office). My newfound buddies at Naim tech support advised me to switch bands on my router from 5 gigahertz to 2.4 GHz. This may seem counterintuitive, but the 2.4-GHz band, which is typically more crowded with traffic and trans- mits at lower speeds, has longer range. That seemed to solve the problem. In response to an e-mail query, Naim's experts suggested that the issues might also have been related to a series of updates that were being executed at the time. I spent a few additional days with the Qb afterward to verify that the app was still working correctly, and every- thing seemed A-OK.
The Sound of Music
Naim's Mu-so Qb is without question one of the best-sounding compact speaker systems I've heard. Its natural tonal balance and ability to play loud and clean with solid bass will surprise and delight you. From acoustic folk and jazz to classical to all hues of modern and classic pop/rock, the Qb handled everything with aplomb, easily filling my 13 x 25-foot living room with robust, well-defined sound.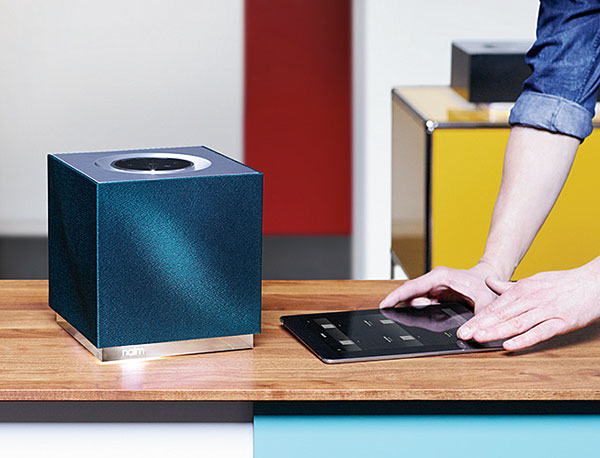 Standouts included the rich tone of Laurence Juber's guitar on his brilliant acoustic rendition of "Strawberry Fields Forever" from 2003's Guitar Noir (96/24 FLAC), the ambience and in-room presence of the alto sax and xylophone on the recording of a jazz quartet performing in a small club from 2xHD's Audiophile Hi-Res System Test (192/24 WAV), and the lush, breathy quality of Norah Jones' voice on "Easy" from Anoushka Shankar and Karsh Kale's 2007 album Breathing Under Water, streaming at 192 kHz. On the harder side, I was spellbound by the immediacy of the dueling guitars and raw grit of (what was left of) Steven Tyler's voice on "Evil Twin" from Buddy Guy's 2013 album Rhythm & Blues, streaming at 256 kbps.
So how'd the Qb stack up against its big brother? Surprisingly well. As I switched back and forth between the two systems, the Qb held its own against the original Mu-so, revealing a sonic signature in the mid/high region that was very similar. Of course, everything was bigger and bolder when played over the Mu-so—more volume, a wider soundstage, and deep, palpable bass that the Qb just couldn't touch. Is the Mu-so worth the extra coin? Maybe. If you're going to spend nearly a grand, what's another 500 bucks? On the other hand, the Mu-so weighs 30 pounds and takes up quite a bit more space, so the Qb will fit a much wider range of situations.
Naim's Mu-so Qb is a highly capable music system. Yes, it is expensive, but it's superbly crafted and has a lot to offer in terms of playback options and, most important, sound quality. It would be hard to find a compact tabletop speaker that sounds as good as the Qb at any price.