Naim Mu-so Music System Review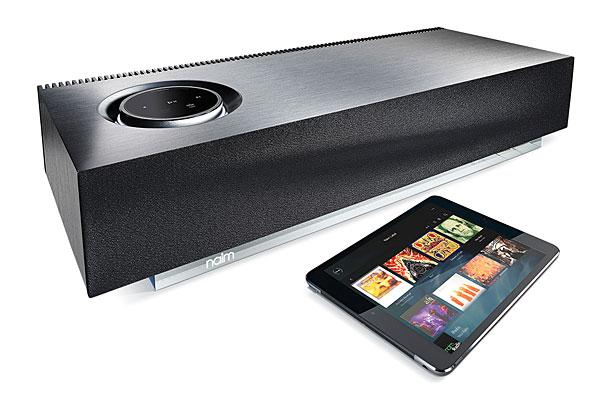 PRICE
$1,499
AT A GLANCE
Plus
Powerful and dynamic
Faithfully reproduces acoustic instruments and vocals
Extremely well built
Minus
Expensive, to be sure
THE VERDICT
Unbelievable sound quality for a one-piece music system.
How proud are the English of the English? Pretty damn. It's why Bentley chose Naim for their "in-cabin" sound systems. (They don't even call it automotive sound. How cool is that?) I asked that an appropriately equipped Bentley be sent along for comparison to Naim's one-piece Mu-so music system, but alas, no review samples were currently available (or so I was told). That's OK, I'll just sit in my easy chair and use a calf's-leather-scented plug-in air freshener to re-create the ambiance while I listen to the Mu-so.
Pardon Me, Would You Have Any Grey Poupon?
If you're an established audiophile, you'll doubtless recognize the British company Naim as a longtime purveyor of high-end two-channel products. Philosophically, Naim has always traveled the minimalist path, marching to a different drummer in their approach to both features and design. Eschewing more conventional RCA and XLR connectors that carry one channel per cable, Naim loved to use DIN connections (which paired channels with a common ground), ostensibly on sound engineering principle—but coincidentally, they also sold the cables. 'Nuff said. Today, Naim continues to offer a full line of electronics and speakers dedicated to two-channel sound, but they've upped their game with DACs, network players, and hybrid devices to create refined sound for a new generation. The Mu-so is both as minimalist and as modern as you can get.
The Mu-so (odd Naim, er, name) is a single-box, six-speaker, two-channel, Bluetooth- and Wi-Fi-enabled music system. Under the eccentrically deformed front panel (available in Burnt Orange, Vibrant Red, and Deep Blue, if basic black isn't your thing), there are two racetrack woofers, two midrange drivers, and two tweeters, each powered with a 75-watt Class D (switching) amplifier for a claimed total of 450 watts. There are two down-firing slot-shaped ports on the left and right sides to augment the amount of bass you get from the two woofers—which, in the end, is considerable. And while Class D amplifiers aren't known for running hot (quite the opposite, actually), the entire rear of the Mu-so is one big anodized-aluminum heatsink!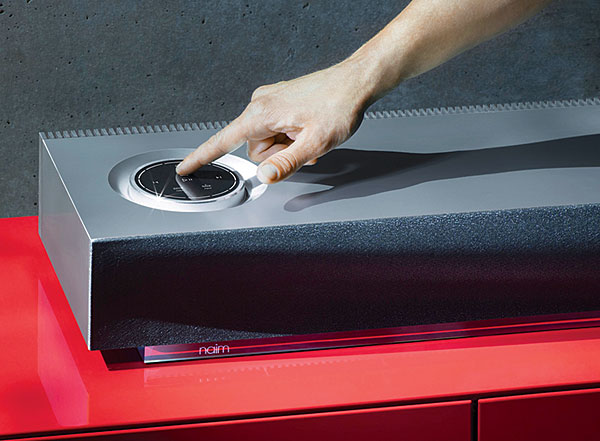 The top panel is dominated by a large knob, taken directly (it seems) from Naim's uber-expensive Statement line of separates. The knob is actually a ring that surrounds a circular touchpanel, from which you can change inputs, pause and resume play, skip tracks, and power the unit on or off. The circular ring itself is infinitely rotatable as it raises and lowers the volume, and operation is as smooth to the touch as the leather in my imaginary Bentley.
Naim designed the aluminum-clad, wood-bodied Mu-so to sit on a piece of clear acrylic about an inch high, running most of its width. The effect is to make it appear that the Mu-so is floating, while allowing the bass ports on either side some space to breathe. Along the right side, there is a cut-in on the bottom for the power cord, an Ethernet connection for hardwiring your Naim to the router (as an alternate to wireless connection), and an optical digital input. The power cord is just that— a cord. Naim has wisely chosen to house the power supply in the Mu-so itself, instead of birthing yet another ugly power-supply brick on the planet.
Along the right side are the two remaining physical inputs, a USB connector and a 3.5mm analog line input. There is also a small pin-hole for access to the reset button, as well as a multicolored LED used for setup. Following instructions in the quick-start manual and using an official pin-hole tool (you can also use a paper clip), I started the wireless connectivity setup. The Naim will work with both Apple iOS devices (like iPhones or iPads) and Android devices. Using the AirPlay setup page, I instructed my iPhone to recognize a new AirPlay speaker. You don't have to struggle with getting your wireless network's name and encryption key (password) into the Naim. The iOS device will whisper it to the Naim. The blinking LED on the side gives you an idea of where it is in the process. For some reason, it does take about five minutes to complete setup once you get the process going, but I got it in one attempt.
After the wireless network setup was complete, I was immediately able to access any of the music-streaming apps on my iPhone. I fired up "music" from the phone's pull-up menu, then simply selected AirPlay, then Mu-so, and my music started streaming seamlessly to the Naim system. If you switch between apps (such as jumping between Pandora and Spotify), you won't have to redirect AirPlay. But if you, say, leave your domicile and have to reconnect to your wireless network when you get home, you'll have to re-establish AirPlay by pointing to the Naim.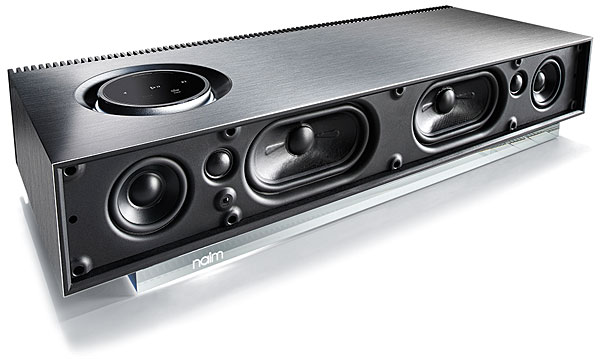 As mentioned, besides wirelessly streaming over your home network, you can choose to stream via Bluetooth, but I wouldn't recommend it. With a Wi-Fi connection, you have access to the Mu-so's entire volume range from an iPhone's side-mounted volume buttons. With Bluetooth, you can still change the volume with your phone, but your maximum volume is limited by where the Naim's big knob was last set. Another downside of Bluetooth: If you wander 20 or so feet away, the music goes off. Great way to announce to your party guests that you're off to the loo.
The World at Your Fingertips
One feature that I didn't get to use was Universal Plug and Play (UPnP), which would have allowed me to stream my music library in iTunes on my iMac to the Naim. To do so would have required installing third-party software on my iMac, which has other duties I couldn't risk compromising. I also didn't get to try the recently added multiroom feature because, of course, I only had one Mu-so. But let's be honest: Most people will want to stream music wirelessly right from their phone. That's why Mu-so is sold in "select" Apple stores and will no doubt be a hit with the financially elastic crowd.
The Naim Mu-so has a built-in Internet radio receiver. It can access the Internet via the wireless network or, if you're close enough, hardwired via its Ethernet connection in the base. You'll want to download the Naim app first, and once you've selected your specific Mu-so, you can peruse the world with your fingertips. The app's display tells you both the sampling rate and the bitstream rate of the selected station. Most stations offer abysmal audio—128 kilobits per second is the lowest I'll listen to—but Naim also includes two presets that get you to some 320-kbps stations that sounded very natural to me. Strangely, you can't control the volume of Internet radio from the same buttons on your phone you use to control streaming music, but you get a volume bar along the bottom of the app that you can use to adjust the volume.