Sony CAS-1 Compact Audio System Review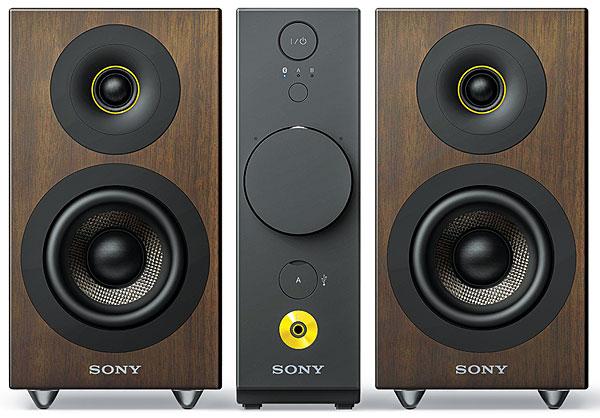 PRICE
$1,000
AT A GLANCE
Plus
Small-footprint amp and speakers
Streaming app
Hi-res capable
Minus
No analog line input
No S/PDIF input
No sub output
THE VERDICT
The Sony CAS-1 is a sleek and simple desktop system, optimized for input from computers and mobile devices, with sweetly addictive near-field imaging.
It's been 21 years since the MP3 audio file format made its debut, 17 years since Napster revolutionized the distribution of digital music, 15 years since the iPod brought that music to a pocketable device, and 13 years since Apple made downloads legit with the iTunes music store. Computerized audio is now enjoying a vigorous middle age—old enough to support lots of audio products and system configurations, young enough for some of those products to be innovative. Outfitting your desktop with an audio system can cost as little as $13.99 for a pair of AmazonBasics powered speakers or as much as several thousand dollars for the highest-end speakers and integrated amps recommended by our sister site AudioStream.com. The Sony CAS-1 system falls somewhere in the middle. At $1,000, it's a substantial investment, but far from the most expensive desktop audio solution. And unlike a lot of cheaper systems, it's designed explicitly for high-resolution audio.
Economical Footprint
The CAS-1 consists of a skinny amplifier and two compact speakers. The amp, just 2.2 inches wide, can hug one side of a computer monitor without calling attention to itself. Says its designer, Kasumi Miyamoto: "We figured that the CAS-1 [amp] should be about the same size as a dictionary, so it could fit seamlessly alongside a set of books and other items you'd typically store on top of a desk." See Sony's Q&A with the amp designer at sony.com/electronics/compact-audio-sound-system-engineerinterview.
Each speaker has a footprint of 3.75 x 6.75 inches, also conserving valuable space. My desktop holds a 24-inch monitor, two desktop PCs, and the usual assortment of office equipment, but the CAS-1 system fit right in. In fact, it fit more easily than the integrated amp and monitors I normally use. It's designed to support near-field listening at distances of 30 to 80 inches, suitable not only for desktop use but also for limited in-room use.
The amp is a simple and elegant plastic box with a metal faceplate dominated by a wide volume dial and a brass-ringed headphone jack, along with buttons for power and source select. The unique volume indicator is a white LED that, located behind the dial, is not seen directly but reflected on the side of the dial. The headphone circuitry is more than an afterthought and is contained on its own board. Your thousand bucks will buy separate DACs and amps for the speaker and headphone outputs, the speaker output using S-Master HX, Sony's own switching amp technology. Apparently, there's enough electronics packed in there to require a small heat vent on top. The high-resolution DACs support the usual lossless and lossy PCM formats up to 192/24 plus DSD up to 2.8 megahertz.
Computer-friendly USB inputs appear on both front (Type A) and back (Type B). The back panel also includes four collared binding posts, a jack for the 6-inch-long power brick, and three buttons: headphone gain high/low, Bluetooth pairing, and auto standby on/off. Conspicuous in its absence is an analog line input. This is often the input of last resort for a variety of legacy sources, so don't say we didn't warn you. Also absent are legacy S/PDIF Toslink and coaxial digital inputs. With two different types of USB input plus Bluetooth, including the option of Sony's proprietary LDAC compression (said to be suitable for hi-res listening), the CAS-1 is designed for the here and now.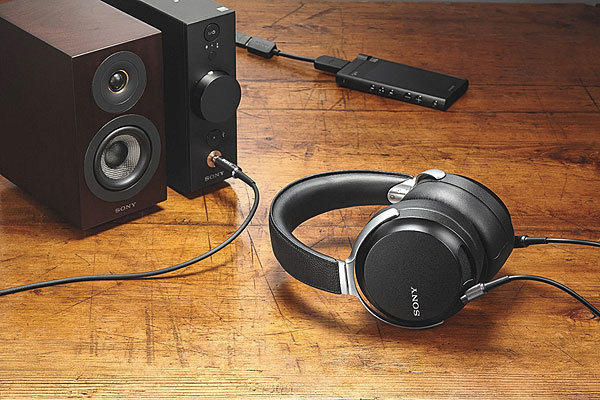 A 0.55-inch soft-dome tweeter and a 2.44-inch carbon-fiberreinforced cone woofer are on the business end of each speaker. The woofer looks as if the carbon fibers have been woven into something fairly tough. No grilles are supplied, but the tweeter does have a shiny gold accent ring. The speakers come with preinstalled rubber-tipped brass cones as feet, suggesting a nuanced approach to vibration control. A larger set is provided to tip the front of each speaker upward for close-in desktop use. The spikes float the speaker a bit above its heavy, detached, black steel base, allowing the speaker's port to fire downward into the base, dispersing bass energy around the speaker's footprint.
The painted enclosure, reminiscent of a dark reddish wood, is quietly attractive. A quick knuckle-rap revealed no glaring high-pitched resonance in the thick sides of the enclosure, which are made of the same Scandinavian birch that Sony uses for their higher-end speakers. The drivers are attached to a 0.5-inch MDF baffle. The supplied 18-gauge speaker cables have soldered tips for easy insertion into the binding posts.