Kanto YU6 Powered Speaker System Review
PRICE
$480
AT A GLANCE
Plus
Phono, line, optical, Bluetooth inputs
Subwoofer output
Wide choice of colors
Minus
USB not PC-friendly
THE VERDICT
If you're looking to plug your turntable directly into a good-looking and functional pair of speakers, the Kanto YU6 will make it work—and sound great.
Why shouldn't life be simpler? If there's one thing your studio apartment, dorm room, bedroom, or guest bedroom doesn't need, it's an audio rack with a tangle of cables. But going without music would be barbaric. So how simple do you need to get? If a bare-bones Bluetooth speaker isn't enough, a pair of powered speakers might make more sense. You'd have a stereo soundstage without the fuss of an outboard amp and rack. If you want something vinyl-friendly, that narrows the search dramatically. The Kanto YU6 is one of the few powered speaker systems with a built-in phono stage. Add line, optical, and Bluetooth inputs, and you've got an economical but versatile little music maker.
Born in Canada about a decade ago, Kanto offers three powered speaker systems, two powered subwoofers, speaker stands, and audio cables. Along with the YU6 ($480 list, but widely discounted to $390), the systems include the smaller YU4 ($390) and YU2 ($249). (You can check current promotional pricing for all models with retailers listed at kantoaudio.com/authorized-resellers.) The top two models include phono preamps and Toslink optical inputs, while the bottom model has a USB jack that accepts direct input from a computer. All have subwoofer outputs with 200-hertz low-pass filters. The idea is you dial down the high-pass filter on your sub until blending is achieved; the speaker always outputs a full-range signal, and the sub is simply filling in below the speaker's capabilities.
Each cabinet of the YU6 has a 1-inch silk dome tweeter and 5.25-inch Kevlar cone woofer in a rear-ported 0.75-inch fiberboard enclosure. There is no grille to protect the tweeter—not unheard of but something to keep in mind if you have toddlers with inquiring fingers. Rubber feet are supplied but not attached. The left speaker is the active one, so that's where you'll find the front-panel control knob and status LEDs. Twist the knob to adjust volume, press it to cycle through inputs. On the back is the RCA stereo input, which is switchable between phono preamp use (for moving-magnet cartridges only) and analog line audio. A second analog input comes in the form of a 3.5mm minijack, and there are two optical inputs, which should allow the Kantos to double for TV viewing if fed by the set's optical output (and presuming the TV's audio menu has been adjusted for stereo PCM output). The USB jacks on the YU6 and YU4 are for charging only, which seems like a missed opportunity; only the lowerranking YU2 has a computer-friendly USB input for streaming from your digital music library. The Bluetooth 4.0 input includes the higher-quality aptX codec, though you'll need an aptX source to take advantage of it. Most Android phones and current Windows and Macintosh laptops are compliant, but iOS devices are not.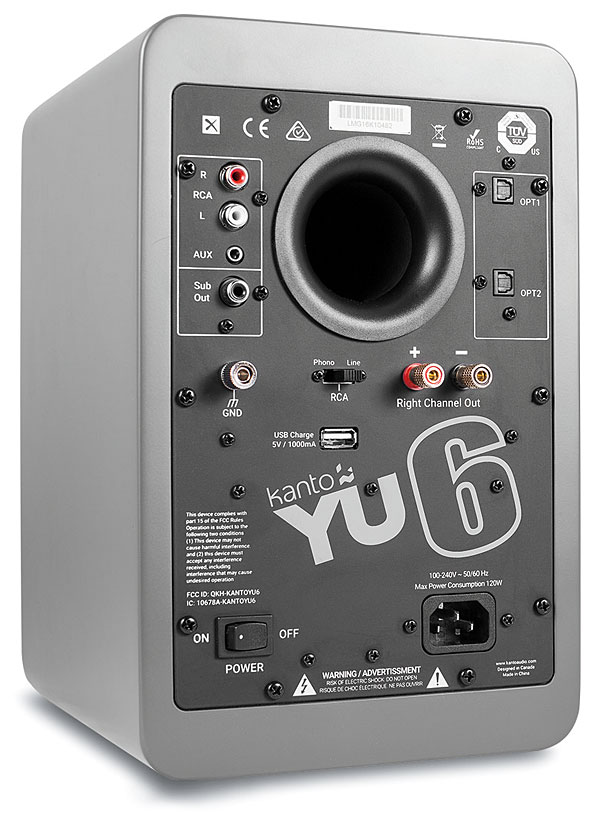 Built into the left side is a stereo Class D amplifier (50 watts RMS total per channel) with an internal power supply (no awkward brick in the power cable). The active left speaker's gold-nut binding posts are outputs that feed the passive right speaker's inputs using the included 16-foot length of 16-gauge zip cord with soldered tips. If you're handy with a wire skinner, you might shorten that to taste or substitute another cable (the binding posts also accept banana plugs). An interconnect cable with 3.5mm mini-plugs at both ends is provided to patch in your mobile device. My review sample of the YU6 came in matte gray and looked pretty darned good. Other options include matte or gloss black, matte or gloss white, a sporty gloss red, and 100-percent solid bamboo. The matte and gloss finishes are painted, not vinyl. The look and feel are great for the price.
The remote adds to functionality with bass, treble, and balance controls. Each of those controls includes up, down, and reset buttons—so if you get confused about the settings, you can return to their midpoints. That's a nice touch. Each input gets a separate button, so you can directly select any source without cycling through others. Additional controls include power, volume, mute, and three transport keys. Controls are intelligently organized by size, shape, and layout. It's a good remote. Someone put some thought into it.
I set up the two Kanto speakers on an unused desk, on either side of a Micro Seiki BL-21 turntable. I call it Micro Junior, the weightier BL-51 being Micro Senior. It has a Shure V15MxVR/N97XE cartridge, basically a V15 body with an M97xE replacement stylus. Despite the proximity of the turntable and speakers, their acoustical and mechanical coupling didn't prevent the turntable from tracking properly—though when the woofers were woofing up a storm, vibrations reaching the cartridge smudged imaging a little. I was going for maximum simplicity with this setup, but it's generally best to keep a turntable and speakers on separate furniture or stands and away from one another to the extent possible. For extra credit, investigate turntable platforms and other vibration-control products.
First the Analog
There are more gross variations among phono source components than among digital ones, so anything I say in this section is as much about my turntable, cartridge, and specific vinyl pressings as it is about the Kanto. Seated in the middle of the room with the speakers 2 feet from the wall, I found the soundstage jolly convincing. What I heard was a warm but open sound with natural vocal timbre, a slightly reserved but not heavily anesthetized top end, and enough bass from the 5.25-inch woofers to set every surface in the room a-humming. Unless you really want to shake the floor, you might let the subwoofer output go unused. In my room, the YU6 was musically self-sufficient.
I plunged the system into the deep end of the pool with the Led Zeppelin album unofficially called Zoso—played loud. It had in fact been a long time since I rock and rolled, and I liked the fact that the silk dome tweeters didn't overstate the prominent cymbal smashes on "Rock and Roll." The drum sound was gratifyingly big. My fingertips could feel the bass and drums not only through the desk on which the system sat but even through my keyboard on the other desk across the room. The Kantos took the treasure chest of tone that is "Stairway to Heaven" and flung it open wide, from the warm low hum of the electric piano to the graceful twang of the 1959 Telecaster used for one of rock's greatest guitar solos.