B&W Zeppelin and Zeppelin Mini iPod Sound Systems
When I profiled the
B&W Zeppelin and Zeppelin Mini
iPod sound systems in my Ultimate Gear blog, I got several requests for a real review. So I contacted B&W, which sent me both units to play with, and I'm happy to report that they both live up to the company's considerable reputation—once you get the settings right.
Features
Introduced in 2007, the Zeppelin's name derives from its ovoid shape, which is designed to minimize diffraction of sound from the drivers. The case itself consists of a highly damped constrained layer sandwiched between a stiff polymer inner layer and a heavy stainless-steel outer surface, resulting in very little vibration to color the sound of the drivers and amps.
The dock sits atop a curved, spring-loaded metal bar that emerges from beneath the case, maintaining a small space that lets it accommodate iPods of different sizes and allows you to gently grasp the player while operating it. (The Zeppelin has no controls of its own other than a power button and volume rocker; everything is done from the iPod.) The dock uses the iPod's analog output, meaning it will work with any version of the player.
A central 5-inch Kevlar-reinforced paper woofer is flanked on either side by a 3.5-inch glass-fiber midrange and 1-inch aluminum-dome tweeter. The woofer is powered by a 50W digital amplifier, while a separate 25W amp powers each mid/tweeter pair through a passive crossover. All three amp channels incorporate proprietary DSP to fine-tune the response of each driver and actively adjust the balance between them in relation to the volume level.
The woofer's bass extension is enhanced by twin rear-firing ports, and the tweeters benefit from a modified tapered-tube waveguide first developed for the amazing Nautilus, resulting in a frequency response that's spec'd to be down by 6dB at 47Hz and 22kHz. Also on the back is the power connector, an 1/8-inch analog/optical-digital aux input, an S-video and composite-video output to display video and photo files on a TV, and a USB 2.0 port for firmware upgrades.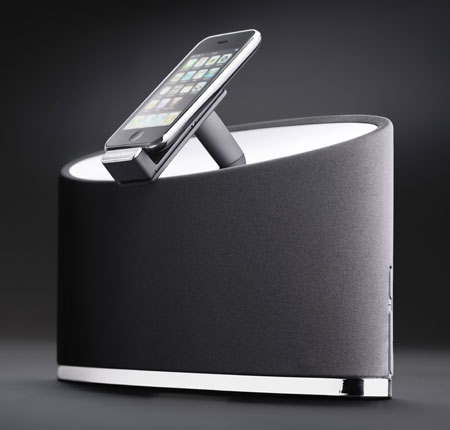 After the success of the Zeppelin, B&W introduced a smaller version called the Zeppelin Mini, which offers similar DSP and digital amplification. Unlike the original Zeppelin, the Mini uses the iPod's digital-audio output, which means it's compatible only with the iPhone and iPod Touch, Classic, and Nano (second generation or later). The dock is mounted on a short arm that extends from the unit's shiny top, and the attached iPod can be swiveled from portrait to landscape orientation to watch movies on its small screen.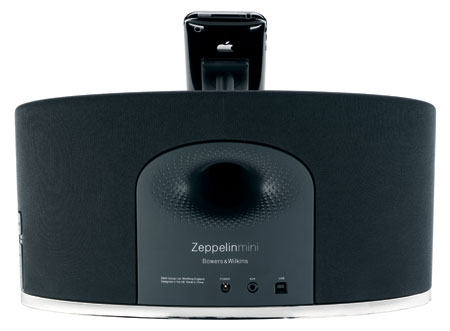 With only two 3-inch full-range drivers, each powered by an 18W digital amp, the Mini achieves an impressive frequency response that's spec'd to be down by 6dB at 38Hz—even lower than its larger predecessor—and 20kHz. This is due in no small part to a similar DSP engine and specialized vent on the back, which B&W calls a Flowport. Also in the rear is the power connector, an 1/8-inch analog-audio aux input, and a USB 2.0 port that not only facilitates firmware updates, it lets the Mini stream audio from a computer and synchronize music files between the computer and iPod.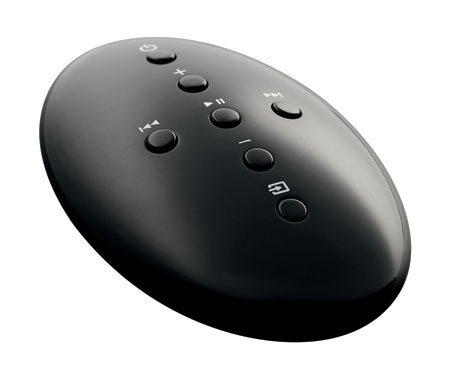 As with the Zeppelin, the Mini has power and volume controls, and you can control it directly from the iPod. In addition, both models come with a small, ovoid remote that can control the power, volume/mute, and track skipping, which is very handy from across the room.
Real-World Performance
Setting up the Zeppelin and Mini could not have been easier—plug them in, dock the iPod, select a playlist, and listen. I used a 32GB iPod Touch, graciously loaned to me by B&W's Greg Williams since I don't have an iPod that is compatible with the Mini, and it was loaded with an eclectic mix of rock, pop, jazz, and classical music in both lossy and lossless formats.