Test Report: Focal Little Bird 2.1 Speaker System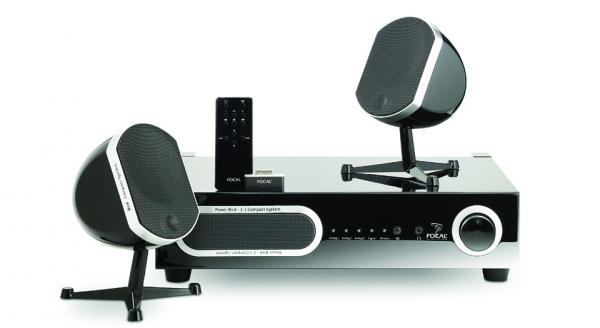 Focal has flipped me the bird. The company is hardly the first to have done so (even just among audio manufacturers) and is unlikely to be the last. But none before has done so quite as elegantly or enjoyably.
Okay, I'm not talking about the medial-digital salute: I'm talking about the Focal Little Bird, the French maker's new . . . hmm, what shall we call it? Desktop audio system? Mini-monitor 2.1 array? Ipod playback solution?
Focal's Little Bird is all of these and more. At bottom, the French firm's Bird models (there are three variants) consist of a pair of desk-stand or wall-mount micro-monitor speakers and a superbly elegant, 2-channel integrated amplifier that happens to have an active subwoofer built into it.
This sounds like a revolutionary, even bizarre approach — until you recall that about a zillion different "computer speaker" designs of the past 20 years follow the same functional pattern. But few have ever achieved Focal's visual and tactile class, or matched the Little Bird's sonic results.
Setup
The smallest of the Focal flock, the aptly named Little Bird 2.1 speaker system consists of a left right pair of roughly cantaloupe-size half-spheres (the Little Bird satellites) and a single slim, strikingly finished component, the Power Bird. This features just one control, a volume knob, plus a mysterious grille that dominates the front panel (it's the subwoofer vent) and a 6-inch speaker cone firing downward from the bottom panel. For their part, the Little Bird satellite speakers are a two-way sealed design using, of course, Focal's own drivers. (Background time: The company originated as a manufacturer of high-quality transducers.)
Focal provides two styles of stands, either of which can serve as a tabletop/shelf-stand or wall-mount, as well as wall-mount hardware for the Power Bird. There's also a small remote that lets you control volume and step through the amp's inputs. (It also includes Menu and cursor keys, which are a bit puzzling, as the system has no display.)
Actual setup is pretty simple: Connect the satellites to the Power Bird using the plain "zip" cords provided, and plug it in. If iPod/Phone is your lifestyle, you're pretty much done: Focal includes a wireless transmitter that docks to any 30-pin iPort, and a USB transmitter for laptops and such is $89. These use the CD-quality Kleer wireless digital-RF link to beam your music to a receiver built into the Power Bird. Those of us who still remember the Wired Era will be comforted to find one digital and three analog stereo inputs around back, along with a Bass Level knob and a set of DIP switches to configure the Focal Power Bird, which is common to all three Bird systems, for the appropriate model.