Audioengine A2+ Wireless Speaker System Review
PRICE
$269
AT A GLANCE
Plus
Warm yet detailed sound
Ultra-compact form factor
Bluetooth streaming
Minus
No front panel volume control
USB input support maxes out at 24/48
THE VERDICT
The A2+ combines audiophile-friendly sound with the convenience of Bluetooth to create a broadly appealing compact speaker package.
Audioengine is well-known for making affordable powered and passive speakers that are compact enough for desktop use. Like several of the company's previous offerings, its most recent model, the A2+, is a petite powered speaker with multiple connectivity options, including wireless aptX Bluetooth streaming. What makes it stand out from other Audioengine speakers? The price: at $269, the A2+ is the least expensive powered Bluetooth model in the company's lineup.
Other than being affordable, there's lots to like about the A2+. Build quality is exceptional for a speaker at this price, and Audioengine offers satin black, high-gloss red, and high-gloss white finish options.
The A2+ system's left-channel speaker contains a 2 x 15-watt RMS (30-watt peak) class-AB amplifier and links to the right- channel extension speaker via an included 6.5-foot length of speaker wire. Cabinets are vented by a slot located near the bottom of the front baffle, and the driver array consists of a 2.75-in aramid fiber woofer and 0.75-in silk dome tweeter. Connections and controls are located on the left speaker's back panel and include stereo RCA and mini-jack inputs, a mini USB input (the built-in DAC can decode up to 24-bit/48kHz files), and a stereo RCA subwoofer output. Lastly, there's a volume knob that also powers the system on/off.
Setup and Use
The system's ultra-compact form factor made it a natural fit for my desktop. I first plugged in the external power supply and connected it to the left speaker, then placed both speakers on a riser to elevate their tweeters to ear-level. The distance from the wall behind my desk was 8 inches. Sources included a MacBook Pro running Roon for playback and connected directly to the USB input plus the same computer feeding data to a 24-bit/192kHz-capable Meridian Explorer DAC. I also tried a Bluetooth link to confirm the specified 100-foot range (confirmed!).
No remote control is included with the A2+, though I didn't find that to be a problem. I did lament the lack of a front-panel volume knob. Sometimes you want to reach out and make quick adjustments when listening as opposed to fumbling for a software volume slider. Input switching is automatic, or, to be more precise, multiple inputs on the speaker can be active at once, letting you handle source selection externally.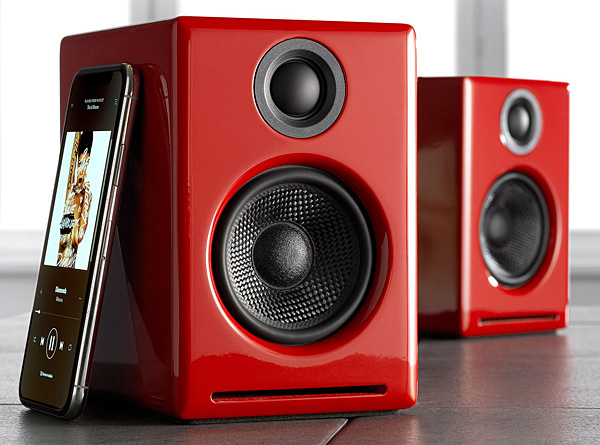 Performance
I started off my listening session by streaming a 24-bit version of Marissa Nadler's "For My Crimes" from Qobuz, at first via the speaker's USB input, and then using the Meridian DAC. Noise with the analog input active proved vanishingly low. Nadler's guitar had a clear, glistening quality, and her voice sounded at once warm and textured. The speaker's pinpoint imaging allowed the song's strings and background vocals to spread wide across the soundstage, and I could hear a distinct sense of layering between these background elements and the vocals.
Listening next to a 16/44 Tidal stream of Brad Mehldau's "Little Person," the piano had a similarly warm, yet detailed presentation, and the song's lightly brushed cymbals displayed just the right amount of sizzle without coming off as edgy. Despite the speaker having tiny 2.75-inch woofers, I heard more than a suggestion of low end; the sound could best be described as well-balanced.
Playing another 16/44 Tidal stream, Mussorgsky's Pictures at an Exhibition: The Great Gate of Kiev, as performed by the Cleveland Orchestra conducted by Oliver Knussen, the system's sound could get a bit congested at high volumes, but it overall proved capable of conveying an orchestral performance with good density and spatial detail.
Conclusion
Audioengine's A2+ is the kind of desktop system that lends itself to long listening sessions. Its sound is warm and inviting, yet clear, making it a good match for acoustic music. And while the lush, spacious sound put out by the A2+ makes it an obvious choice for audiophiles, features such as Bluetooth and a USB computer input also make it a fine option for a less fussy listener.