Definitive Technology Incline Speaker System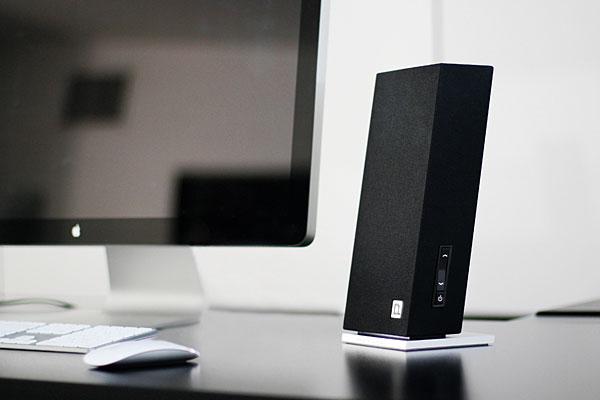 PRICE
$399
AT A GLANCE
Plus
Spacious bipolar sound
Ample bass for a desktop speaker
Stylish look
Minus
Slightly edgy midrange at high volume levels
THE VERDICT
Def Tech's desktop speaker succeeds in bringing dynamic hi-fi sound to the home office.
Most early examples of desktop computer speakers were funny-looking, bad-sounding, cheaply constructed things. There were exceptions (models from Audioengine come to mind), but these tended to be rare. Although things have improved somewhat since then, any new desktop speaker trying to earn some respect still has its work cut out for it.
Definitive Technology has taken up that challenge with its first desktop speaker, the Incline. One glance, and the source of its name becomes obvious: The tall, tower-like speaker is designed with a 9.5-degree upward tilt. While the tilt gives the slab-like Incline a distinctive look, the real reason for it is to direct sound at the listener's ears when the speakers are sitting on a desktop. High frequencies are more directional than the rest of the audio band, so if speaker drivers aren't directed at your ears, the sound you'll hear will be relatively dull. The tilt also minimizes reflections from the desk's surface, which could further muddy the sound.
Here's something else about the Incline that differentiates it from other desktop speakers: It's a two-way bipolar design (not surprising, given Def Tech's long history of making bipolar speakers that radiate sound from both the front and rear), with a 2-inch full-range driver on the back to augment the sound of its front-firing 0.75-inch tweeter, 4-inch bass/midrange driver, and 4-inch passive radiator. The Incline is biamplified, with two individual 20-watt amplifiers in each speaker. Sound quality is also helped along by built-in DSP.
Along with having a bipolar radiation pattern, the Incline shares the family look of other Def Tech speakers, with a black mesh sock covering its cabinet. The speaker rests on a solid machined-aluminum base, and its side-mounted power and volume control knobs are also made from aluminum instead of plastic.
Setup
I placed the Inclines on my desk, with the pair spread fairly far apart to maximize soundstage width, then ran a USB cable from my Mac to the right speaker's back-panel USB port. Other connections include a 3.5mm stereo analog input, an optical digital input, and a subwoofer output. When the subwoofer output is utilized, the Incline's DSP compensates to create a rolloff on the Incline of around 80 hertz—the crossover setting you should select on any sub you attach to the system.
Def Tech recommends that you use the Incline's USB connection to utilize its built-in 44.1-kHz/16-bit USB DAC, which is bound to sound better than your computer's analog output. The Incline also has an "audiophile" mode that disables the computer's volume control in favor of its own. I used it for the majority of my listening but found the setup—a process that involved holding the power button and looking for flashing LEDs—a bit confusing. I also didn't love having to rely on the Incline's relatively coarse volume controls, which attenuated gain in 1-decibel steps.
Performance
Before I even started to listen to music with the Inclines, I ran a low-frequency sweep test tone and was surprised to hear it reproduce bass below 40 Hz in my room—not bad for a desktop speaker! When I played a techno track, DJ Sasha's remix of Hot Chip's "Flutes," I got immediate, dramatic confirmation of the Inclines' low-end abilities. The synthesized bass line sounded full and not at all truncated, while the kick drum beats came across as punchy and dynamic. When I put my hands on the surface of my desk, I could feel bass vibrate directly into my bones, even as the sturdy Inclines sat completely still.
Next, I listened to Mazzy Star's "California" from the band's recent release, Seasons of Your Day. The song's breathy female vocals sounded crisp and three- dimensional, and I could clearly hear details like the texture of the strummed acoustic guitar strings and the faint mellotron-like keyboards that drift in at the song's midpoint. This track also showed off the Inclines' soundstaging abilities: When I listened with my eyes closed, the wide presentation far exceeded the confines of my desktop. It was as if I was sitting on my couch listening to a pair of towers positioned 10 feet away.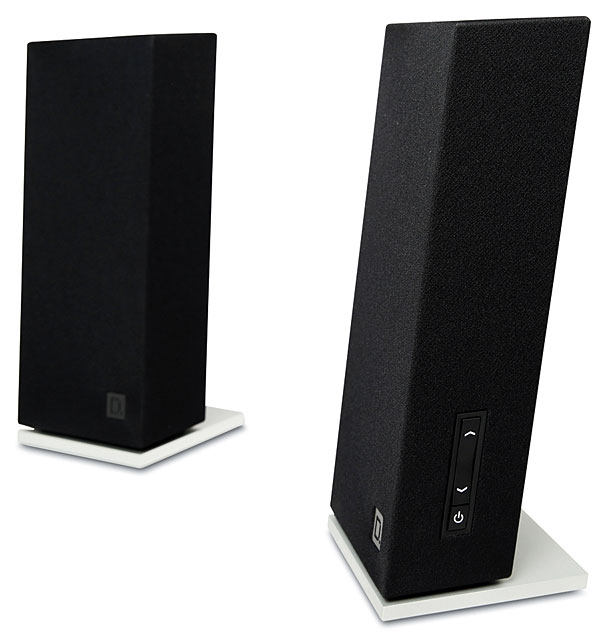 I checked out another cut, the title track from Brian Eno's Small Craft on a Milk Sea. The taut, tense-sounding guitar sat on the surface of the mix, while liquid-sounding keyboard layers emanated from deep within the virtual space that the Inclines created. Nice.
To sum up my impressions of Def Tech's latest offering, I'd say its strengths are in delivering dynamic sound with unusually powerful bass for a desktop speaker without a separate subwoofer. Like other bipolar speakers I've heard, it also creates a wide, deep stereo image. My only misgiving was that when they played music loud, the mids could sound slightly edgy—something that was mostly apparent on acoustic tracks with vocals like "California." When I listened at a more typical, desktop-appropriate volume, however, the edginess subsided.
Conclusion
Def Tech's first foray into desktop audio is bound to satisfy fans of its speakers; it's like you're getting a scaled-down version of the company's bipolar towers. The main sonic benefits here are the ones you'd expect from a traditional Def Tech design: spacious sound with wide-ranging dynamics. Add to that the Incline's great looks, and you have a very appealing, unusually powerful desktop speaker system.