JBL One Series 104 Powered Reference Monitors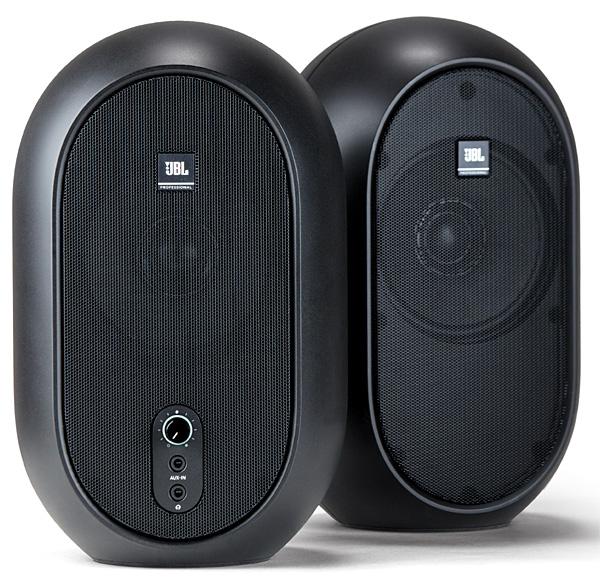 PRICE
$129/pair
AT A GLANCE
Plus
Clean, dynamic sound
Compact form factor
Great value
Minus
Limited connection options
THE VERDICT
JBL's desktop monitors deliver crisp, distinctive sound in a compact and affordable package.
When shopping for desktop speakers, the line between consumer and pro gear can sometimes get blurred. That's because the differences between compact powered bookshelf speakers (consumer) and desktop monitors (pro) ultimately aren't that dramatic. Generally, it comes down to features: consumer gear is more likely to provide things like Bluetooth and phono inputs and a subwoofer output, while pro gear eschews such frills. Another key difference can be the sound: while consumer speakers are voiced to simply sound good, pro versions are designed for "accuracy." But does accurate necessarily equate to good? Let's listen to the JBL One Series 104 Powered Reference Monitor ($129/pair) and find out.
Features and Setup
JBL's 104 is a compact pill-shaped speaker housed in a sturdy black plastic cabinet. At just under 10 inches high and 5 inches deep, it's compact enough to fit on even a narrow desk or be easily shuffled from room to room. The system consists of an active unit containing a 2 x 30-watt class-D amplifier that links to a passive speaker via standard speaker wire (included). Its driver complement consists of a 1-inch soft dome tweeter coaxially mounted in a 4.5-inch contoured woofer, all of it hidden behind non-removable metal mesh grille. Importantly, the power supply is built-in, meaning no annoying wall-wart.
Inputs on the active speaker's back panel are located above a power on/off button and include stereo RCA and ¼-inch TRS balanced jacks, the latter providing compatibility with pro-style USB desktop audio interfaces. Plastic clip-type speaker wire connections are used for linking the monitors, though that's to be expected in a product at this price point. The active speaker's front features a stereo mini-jack input for connecting a portable device and a mini-jack headphone output. There's also a volume adjustment dial up front that's conveniently backlit so it can be easily accessed in dim lighting.
JBL's setup instructions specify that the speakers should be set up at arm's length and toed-in toward the listening position. Following that guidance, I propped them up on a four-inch shelf above my desk's surface so that the center of the coaxial drivers would also be vertically aligned with my ears. I then made a connection to the speaker's stereo RCA input using a Meridian Explorer USB DAC. Music used for my evaluation was mostly uncompressed audio streamed from Tidal, though I also checked a few live concert clips on YouTube.
Performance
Listening to the JBL 104 system, it was very easy to hear the differences between it and the more conventional "audiophile" compact speakers they replaced on my desktop. There was a striking sense of clarity to the sound, along with precise imaging that allowed me to easily sort out individual instruments in the mix. When I streamed "Woodstock" by jazz supergroup Hudson, for instance, drummer Jack DeJohnette's cymbals projected cleanly to create a vivid sense of front-to-back depth. The tone of his kit was notably crisper than what I'm used to hearing, but it wasn't harsh or fatiguing. Considering the small size of the speakers, Larry Grenadier's double bass displayed reasonably good extension, and the low end they did manage sounded taut and tuneful.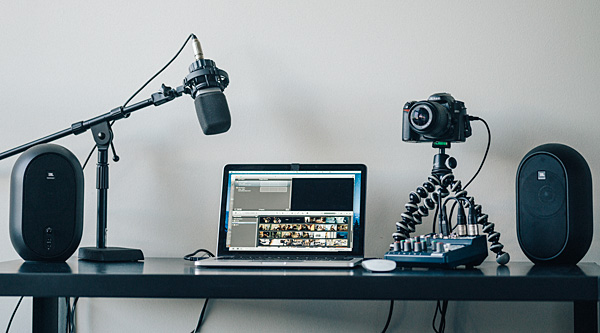 Turning to tracks with vocals, I next played singer-songwriter Aimee Mann's "Stuck in the Past." The typically dry sound of Mann's vocals could get slightly edgy when I pushed up the volume, but I otherwise appreciated the cleanly rendered layers of instruments and dynamic presentation. Following up with "Apologies,"a more densely mixed track by English neo-psych band The Proper Ornaments, it was easy to sort out the different levels of reverb applied to the vocals and guitars. The enhanced presence the JBLs lent to the snare drum sound made it clearly "pop" in the mix, but not so much that it distracted from the song's warm, atmospheric qualities.
The most striking example of the 104's capabilities came when I played "Duty Cycle," a techno track by producer John Tejada. The bouncing bassline had a stable presentation with good impact, and the various electronic layers that drift in and out were clearly rendered. A classical choral work that I listened to, Arvo Pärt's Da Pacem Domine, sounded less appealing, however, with the JBL system's ultra-clean presentation making the track come across in a somewhat antiseptic manner.
Conclusion
Does accurate sound good? In the case of JBL's One Series 104 Powered Reference Monitors, the answer is a (mostly) unqualified yes. The rock, jazz, and electronic tracks I listened to were crisp, dynamic, and engaging enough to make me sit straight up in my office chair. Classical music tracks were less impressive, but that genre often benefits from a more warm and romantic presentation. Either way, at $129, the 104 is a steal, especially if you want basic, no-frills powered desktop speakers that deliver accurate sound.