Serene Audio Talisman Desktop Speaker Review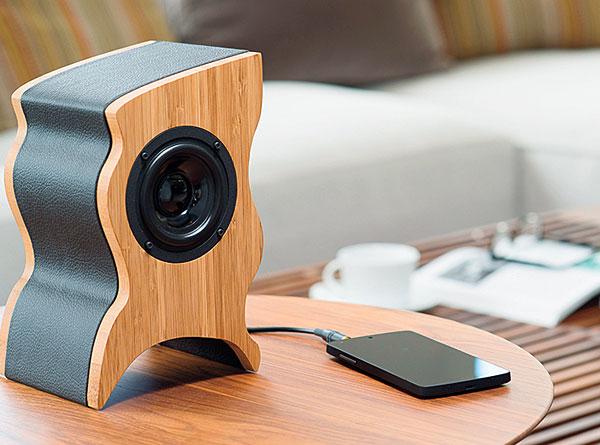 PRICE
$395
AT A GLANCE
Plus
Striking design
Excellent build quality
Impressive sound
Subwoofer output (for gamers and bass hounds)
Minus
A remote control would be nice (for some applications)
THE VERDICT
The extraordinary Talisman speakers take desktop music to a new level.
The decision to feature Serene Audio's Talisman in our Premiere Design section (November) was a no-brainer. We've seen lots of unusual speakers over the years but nothing quite like the squiggly lines of Sia Rezaei's imaginative design. You might hate it, but I find it inspiring. And it's a desktop speaker that's only 8 inches tall. I don't know about you, but I spend way too many hours pecking away in front of a computer, usually with Pandora playing in the background through a pair of cheap (no excuses, I know) computer speakers. The promise of great sound from visually striking desktop speakers appeals to me, so I asked Rezaei to send me a set of Talismans.
As I removed the speakers from their custom-fitted bamboo carton, I was struck by the fit and finish of these amazingly compact speakers. Hand-built in a workshop in picturesque Vancouver, British Columbia, the cabinets are made of three-quarter-inch-thick bamboo and wrapped with upholstery-grade faux leather. It's a classy look.
Inner Beauty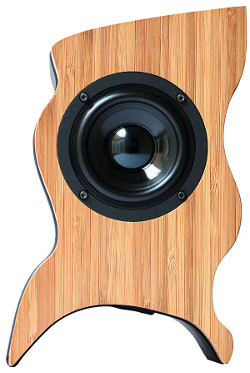 Rezaei, a self-avowed "audio geek" who has been building speakers since he was a kid, set out to build an "audiophile-worthy setup" for his desk. It was a trial-and-error process that produced a couple of "less than worthy" iterations that he ended up giving as gifts to what he described as less discerning listeners. He ultimately settled on a crossoverless design (detailed on sereneaudio.com) that couples a carefully chosen 3-inch driver with a homegrown DSP-controlled amplifier in a ported enclosure.
Using a single full-range driver results in a more coherent sound that is projected evenly in space, according to Rezaei, who explains how and why he uses DSP in a Note to Audio Purists on the company Website: "If you are a purist reading this, the word DSP might give you shivers! After all, DSP is a device that manipulates the signal, and the purist in you argues any manipulation of the signal is evil. To be honest, that's how we felt. However, DSP is a tool, and like any tool, if utilized properly, it can do wonders. We have carefully used DSP only to help the speakers stay true to the original mix, and not to try to 'improve' or 'enhance' it."
Back at the Desk
Rather than subjecting the Talismans to the quirks of my prehistoric desktop computer, I equipped my Windows 7 laptop with the outstanding AudioQuest DragonFly v1.2 USB digital-to-analog converter and downloaded AIX Records' superb Ultra HD-Audio Sampler from iTrax to set the stage for what I hoped would be a stimulating listening session. Setting up the speakers was a simple matter of connecting the power cable to the right speaker, running a cable between the Talismans, and connecting the speakers to the DragonFly using the supplied minijack cable.
I clicked on the play button and leaned back in my chair. Within seconds, I knew these were serious speakers. I closed my eyes and let the AIX sampler run its course, impressed by Laurence Juber's shimmering acoustic guitar rendition of "Strawberry Fields Forever" and Lowen & Navarro's laid-back "Cold Outside," not to mention Carl Verheyen's Stevie Ray–esque blues romp on "Lone Star" and the enchanting orchestral textures of Ravel's "Pavane for a Dead Princess" (Zdenek Macal conducting the New Jersey Symphony Orchestra). With minimal effort, I had just created a desktop system capable of full-bodied, nuanced sound that you just don't expect to hear from "computer speakers." Impressive.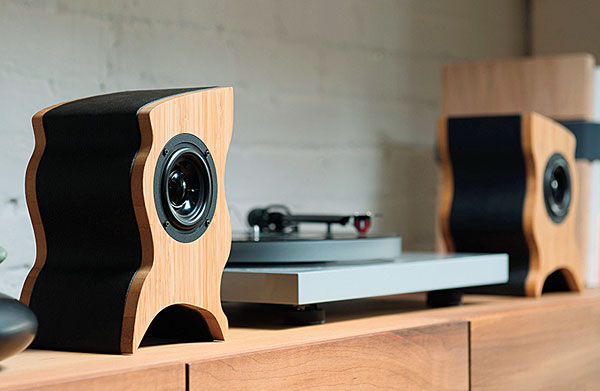 Ah, but there's nothing that says the Talismans can't be used for a compact, secondary music system, so I moved them onto a cabinet in my living room and jacked in my iPod. Again, I was impressed by sound that was spacious and well balanced, with surprisingly robust bass for speakers of this size. I can't say that what I heard sounded as smooth as those sparkling 96-kilohertz/24-bit AIX recordings (all FLAC), but it was more than decent as I ran through a medley of deep tracks ranging from Titanic Love Affair's "Breakin' Down the Walls" (1991's Titanic Love Affair) to Tokyo Rose's brilliant "You Ruined Everything" from 2003's Reinventing a Lost Art. Titanic's signature guitar crunch was deliciously intact, as was the reverberant crack of the snare and the layered vocal/guitar buildup leading to the emotional bridge of "You Ruined Everything." At times I found myself craving more bass, which is precisely why Serene provides an autodetecting subwoofer output—it will hold special appeal for gamers.
Serene Audio's Talisman is an extraordinary-looking and -sounding speaker guaranteed to transform ordinary desktop listening into a musical adventure.