SVS Prime Wireless Speaker System Review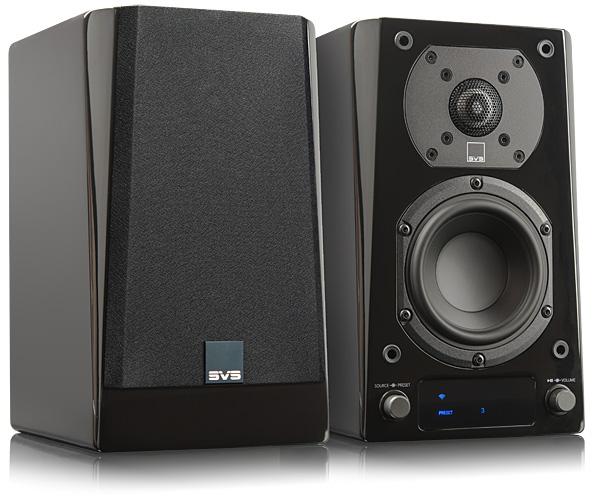 PRICE
$600
AT A GLANCE
Plus
Neutral, open sound
DTS Play-Fi high-res and multiroom options
Extensive wired and wireless connectivity
Dedicated subwoofer out
Minus
Limited bass output begs for a subwoofer
THE VERDICT
SVS breaks the mold with a surprisingly versatile and great-sounding wireless speaker package.
SVS, a company that made its name selling high-performance/high-value subwoofers direct to consumers via the web, has since gone on to build similarly gifted and affordable full-range speakers. Audiophile sound quality that doesn't break the bank is in the brand's guiding DNA. So, it should come as no surprise that SVS's debut wireless product makes an audiophile statement in both its design philosophy and sonic personality.
Perhaps the most obvious defining characteristic of the new Prime Wireless Speaker System is that it's a system, consisting of a stereo pair, and not just another standalone tabletop or portable speaker. It is modeled after the classic desktop system, in which one of the satellites contains the amplification for both speakers and sends the opposite channel signal to a passive mate through an umbilical connection. In this case, the right-channel master provides the brains and brawn, while the left speaker gets life through a thin-gauge 10-foot cable with a four-pin connector on either end.
Among the master speaker's many features is a Stereo/Mono switch that allows this self-powered unit to play alone, and SVS will happily sell you just that speaker for rooms that warrant it. But here's the kicker: the powered wireless speaker without its mate costs $500, while the full system goes for just $100 more. The message from the company is clear. Music, even from a lifestyle system like this, is meant to be heard in stereo, and it is that experience SVS intends to hang its hat on. Can you dig it? I can.
Features and Setup
You get a substantial and well-featured package here for your six Benjamins. The speakers, based on the design of SVS's well-reviewed Prime Satellite, measure approximately 10 x 6 x 7 inches (HxWxD), and weigh in at about 9.6 and 8.8 pounds, respectively, for the active and passive satellites. They exhibit typically solid SVS build quality and are finished in a nice piano gloss-black. They're small enough—barely—for a near-field desktop installation, but large enough to place on stands or on your furniture if you intend to fill a room with sound.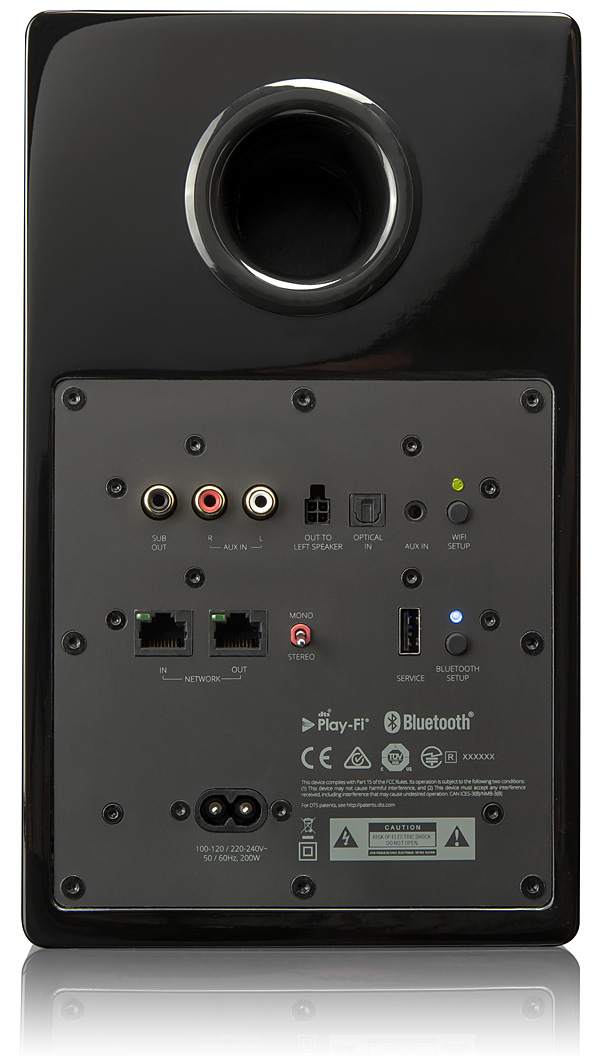 To that end, inside each is a 1-inch aluminum dome tweeter and 4.5-inch polypropylene midrange driver. The tweeter (protected by a screen should you remove the grilles) features a diffuser ring to help open the soundstage. Class-D power amps provide 50 watts to each driver; a hearty 200 watts total for a bi-amplified system with carefully tuned active digital crossovers. There's a flared port on the back of each speaker to bolster the bass.
For the wireless/multiroom audio connection, SVS licensed the DTS Play-Fi platform. It allows Wi-Fi streaming from app-integrated music services, including most of the usuals—Amazon, Spotify, Pandora, iHeart Radio, SiriusXM, Napter, and Tidal, among others—as well as a few lesser knowns such as Deezer. The Play-Fi app's optional Critical Listening Mode supports hi-res audio signals up to 24-bit/192kHz for files streamed via a wireless or wired connection...and the Prime Wireless system is equipped to take advantage of those streams with its built-in 24/192 DAC. Bluetooth, a second wireless option, is of the higher-quality AptX variety should your source device support that.
Adding versatility are analog stereo RCA and 3.5mm minijack input connections on the back panel, along with optical digital audio suitable for a TV or game console. There's also a dedicated RCA subwoofer output that automatically detects a sub's LFE connection and activates an 80Hz filter. A USB port is strictly for service or charging/powering a phone or accessory such as SVS's wireless subwoofer transmitter ($120, not included). There's an Ethernet input for a wired network connection and a helpful loop-through Ethernet output.
Two push-or-spin knobs on the front panel flank a modest LED display that indicates which source connection is in use. The right knob spins for volume or track play/pause with a push. The left knob spins for source selection when you choose anything but Play-Fi, which you'll always boot from the Play-Fi app on your device (iOS or Android) or desktop (Windows only).