Cleer Crescent Wireless Smart Speaker Review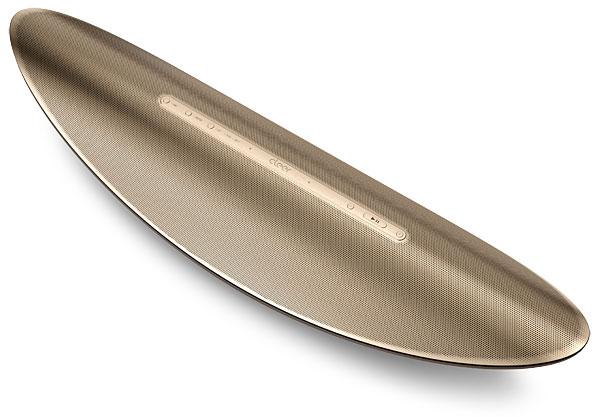 PRICE
$700
AT A GLANCE
Plus
Striking design
Excellent build quality
Good sound quality
Minus
Sound modes shift tonal balance, create exaggerated effect
Tone controls accessible only through the Google Home app
No remote control
THE VERDICT
The Crescent doesn't come cheap but it has a lot going for it: distinctive looks, smart speaker chops, and good sound.
"Aladdin's lamp" popped into my head as I lifted the 12-pound Crescent speaker out of its box. Between its champagne finish and arcing profile, it's a distinctive design you'll either love or hate. My wife cringed when she saw it sitting on the cabinet in my office. Me? I think it's pretty cool.
The latest in a series of smart speakers from San Diego-based Cleer, the Crescent is well equipped and ready to stream via Apple's popular AirPlay platform or Google Chromecast, which lets you "cast" Tidal, Pandora, Spotify, or any one of dozens of other services from your phone/tablet/PC to the Crescent. The speaker also supports Spotify Connect allowing subscribers of that service to stream directly via Wi-Fi.
Behind the metal grille that stretches across the top half of the speaker are eight 1.6-inch drivers arranged in gentle arc. Sitting just behind the array is a pair of 3.3-inch woofers, angled upward and facing in the opposite direction. A relatively sparse control strip runs along the top edge of the speaker with buttons to turn the microphone on and off, engage one of three listening modes, select an input (Bluetooth, AUX, OPT), control playback, and adjust volume. Around back, a recessed area along the bottom edge has a LAN (Ethernet) port, analog (minijack) and digital (optical) inputs.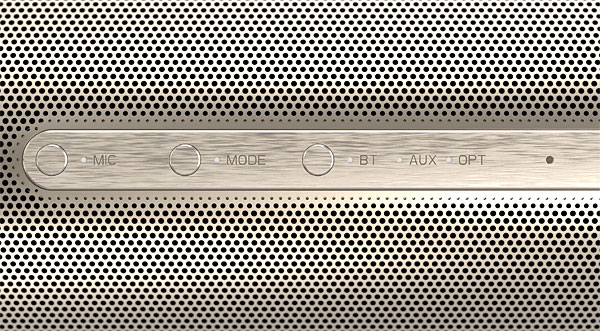 The microphone is your entry into the world of Smartspeakerdom. Turning it on awakens the onboard Google Assistant so you can query the web, adjust volume, and control playback with voice commands prefaced by "Hey Google." I have to admit, I liked the convenience of adjusting the volume while sitting my desk and being able to ask a question instead of typing it into my PC's search bar.
The Crescent has three listening modes that use beamforming digital processing to progressively expand the sound stage: Stereo Widening, the most restrained option, expands the soundstage "beyond the speaker's physical placement," 3D mode "surrounds the listener in three-dimensional audio" regardless of speaker position, and Room Fill "creates an ultra-wide sweet spot to engage listeners in every corner of the room." There' no normal stereo mode, per se, though I found the Stereo Widening effect to be fairly reserved as it reached beyond the speaker.
Setup is pretty straightforward. You must download the Google Home app to set up the speaker and you'll need a Google account to use Google Assistant. The rest is a simple matter of connecting to your Wi-Fi network and following a few prompts in the app.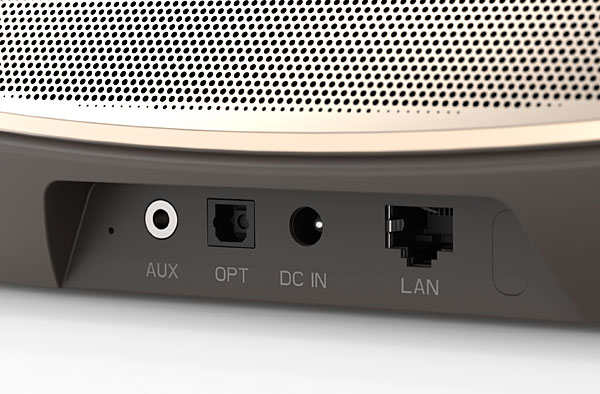 I put the Crescent on a 4-foot filing cabinet in my 12 x 12-foot home office. First stop on my musical journey was Easy Listening Radio on Pandora, where Eric Clapton's "Wonderful Tonight" from 1977's Slowhand was playing in Stereo mode. Not bad, considering the free version of Pandora streams AAC+ at 64 kbps. Clapton's semi-gruff voice was surprisingly full and open and his signature guitar refrain was clear and reasonably well defined. But this was more the exception than the rule as Pandora sound quality varies from decent to something less with many songs of that era sounding confined and boxy, even shrill at times.
Moving on, I streamed classical, acoustic folk, jazz, funk, rock—you name it—on Amazon Music, Spotify, and Radio Paradise (RP), where I stopped to marvel at the clarity and presence of Buddy Holly singing "Heartbeat" in 1958 (From the Original Master Tapes), the second to last single released during his all-too-short life. It was mind-blowing. Streaming in the equivalent of CD quality, Holly's voice was "in the room," backed by his rockabilly guitar, surprisingly robust bass, and a realistic-sounding cowbell.
I did most of my listening in Stereo Widening mode, which delivered the most natural sound. While the 3D and Room Fill modes did a great job of creating a spacious presentation, they also changed the tonal character of the music. You might like these modes, but, with a few exceptions, the effect was too exaggerated for my tastes. I also found myself wishing for a remote so I could toggle through the settings without having to walk up to the speaker.
For one last hurrah, I connected my PC to Cambridge Audio's DacMagic XS USB digital-to-analog converter (DAC) and ran a cable to the Crescent's analog input to enjoy a wide-reaching selection of 24/96 hi-res downloads, stopping to rock out to "Lone Star" by Supertramp guitarist Carl Verheyen. His squeaky clean Strat was appropriately twangy or fat and raucous when he hit the distortion pedal, punctuated by the powerful (and realistic) crack of the snare drum. On the whole, the character of the sound wasn't perfect—it could be boomy and a bit strident a times—but it was still darn good for a single-speaker solution.
Cleer's Crescent has a lot going for it: distinctive looks, smart speaker chops, and good sound. Though it doesn't come cheap, it's worth a listen if you're looking for an all-in-one speaker solution in this price range.