Wireless Wonders: 7 Wireless Speakers Reviewed Raumfeld One S
Raumfeld One S
PRICE
$249
AT A GLANCE
Plus
Big sound for a tiny speaker
Easy-to-use app
Minus
Complex setup for stereo pairing
THE VERDICT
Great small-speaker dynamics and a friendly app recommend the One S.
Raumfeld speakers hail from Germany, so it comes as no surprise that the One S ($249) has a more streamlined Euro look than the other speakers in our test (Raumfeld calls it "Bauhaus-inspired"). Like the others, the One S is the first in a series of wireless models that get increasingly powerful, bass-capable, and pricey, culminating in Raumfeld's Stereo L floorstanding towers ($2,399/pair).
Back to the modest One S: It has a two-way coaxial driver with a 4-inch woofer and a 0.75-inch tweeter, powered by a 35-watt amp for the woofer and a 15-watt amp for the tweeter, both of which are Class D. A pair of side-mounted 3.2-inch passive radiators helps to augment bass. The 5-inch-high by 7-inch-wide speaker's silicon-encased cabinet is resistant to moisture and mess, allowing it to be placed in a bathroom or on a kitchen counter. There's an optional wired LAN input, as well as a USB input that can access audio and stream it to other connected speakers on the system. Raumfeld speakers are hi-res capable, with support for streaming FLAC and WAV files up to 192/24. Supported music services include Tidal, Spotify, and SoundCloud (with Google Cast due this spring).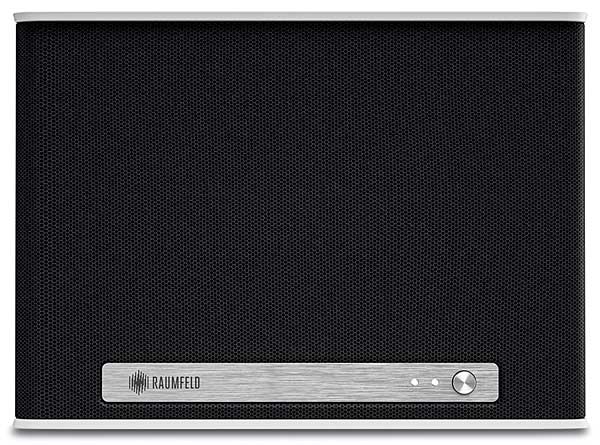 With the Raumfeld app, initial setup was easy, and so was setting up a second speaker zone. I liked that the app has its own software "volume knob," which you can use to independently adjust volume for each zone, along with overall volume for grouped zones. The One S can also be paired for stereo, though this requires a multi-step process that is not intuitive, and for which I couldn't find any documentation online. Fortunately, I found a YouTube video that stepped me through it—a good thing, since the One S stereo pairing delivered surprisingly kick-ass sound, with even more dynamic bass than it managed in single-speaker mode and an expansive, enveloping soundstage.
Listening to just a single One S on the Beach House track, the One S's presentation was dynamic, with ample (though not pumped-up-sounding) bass. Overall, the Raumfeld had excellent definition for a small speaker—not as smooth as the Sonos, but less compressed and restrained. The One S was also able to handle loud volumes gracefully, with vocals coming across as natural throughout its full volume range. On the Floating Points track, cymbals were shimmery and displayed a good range of overtones. With this and other tracks, the One S was easily able to fill my room with sound.
I had no complaints about Raumfeld's app in day-to-day use; it has a clean, Sonos-like layout that's easy to navigate. Switching between speakers was a breeze, and the app had good integration of its music services, as well as local content stored on iPad or USB stick. What I really liked about the app, however, was the previously mentioned analog-style volume knob. It was engaging to use and made me nostalgic for the days when real physical knobs were still a necessity.
Specs
3.6 in woofer, 1.1 in tweeter
Inputs: USB, Ethernet
Dimensions (WxHxD, Inches): 7.1 x 5.1.2 x 4.3
Weight (Pounds): 2.2
Related: What You Need to Know About Wireless Multiroom Music Systems