10 S&V-Approved Gifts from $200 to $800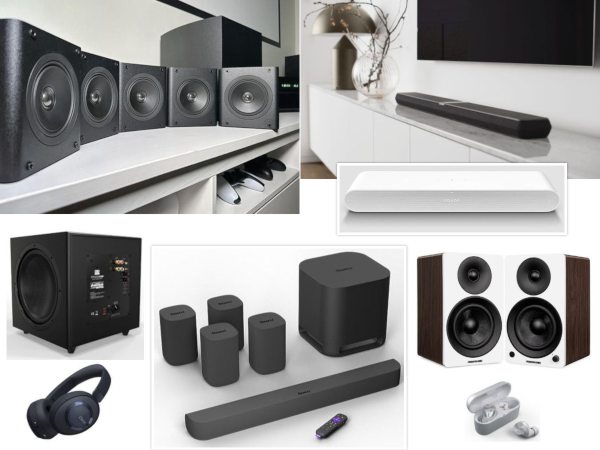 Okay, now we're really getting down to the wire. Christmas is 10 days away and it's awfully late to be still thinking about holiday shopping…yet I know I'm not alone. The good news: There's still time to squeak in a few last-minute gifts and there are some really sweet deals to be had. Adding to last week's
holiday gift list
, here's another 10 potential gifts to give (and get) — all Top Picks, vetted and approved by
Sound & Vision
reviewers — 11 if you count our just-posted Top Pick: Bowers & Wilkins' excellent
Px8 noise-canceling wireless headphones
. This week's picks range in price from $230 to $800 and are presented here from least to most expensive with current discounts noted. Happy last-minute shopping!
For the Discerning Listener
Technics EAH-AZ60 Noise-Canceling True Wireless Earbuds: $230
These certainly aren't the cheapest earbuds you'll find in the vast sea of wireless heaphones, but they are one of the best sounding models, making them a perfect gift for the discerning music lover. It may come as a surprise that the brand that gave us the iconic
SL-1200 turntable
, also makes earbuds. Indeed, the Technics EAH-AZ60 noise-canceling wireless earbuds live up to a stellar reputation that has been cultivated over more than 50 years. Priced just above the comparable
Jabra Elite 85t
'buds that that triumphed in our 2021 face-off, the AZ60s are resistant to water, compact and comfortable to wear for long periods of time, and designed to provide more than 7 hours of continuous listening pleasure on a single charge. Noise control is adjustable as is the useful Ambient mode and a companion app puts an equalizer at your fingertips so you can customize the sound just the way you want it.
That's all well and good, but how do they sound? "Superior" is the word Technics uses to describe sound quality. They're not wrong. The AZ60's deliver a "level of hi-fi-ness" not often associated with earbuds. Listening to a variety of music — from folk to guitar-based rock to electronica — Al Griffin praised the ''buds for their lifelike sound, deep bass, and enveloping soundstage: "I found myself quickly immersed in the music, with the AZ60's relaxed, yet detailed sound."
AT A GLANCE
Plus
Great sound quality
Impressive noise cancellation
Compact form factor
Long battery life
Minus
Somewhat pricey compared to other true wireless earbud options
Full Review Here (posted 3/8/22)
Simple Streaming
Fluance Ai41 Bluetooth Speaker System: $250 (on sale for $212 as of this writing)
The Ai41 Bluetooth speakers from Canadian speaker specialist Fluance are a great gift for someone in need of a simple yet excellent sounding wireless speaker system. The Ai41 replaces and improves upon the outstanding Ai40, one of our
Top Value Picks
in 2019. Like its predecessor, the Ai41 is a two-way bookshelf design built for Bluetooth streaming that mates a 5-inch woofer with a 1-inch silk-dome tweeter in an attractive cabinet just shy of 11 inches tall. Though it looks almost identical to its predecessor, there are notable differences. For one, the Ai41 is a ported design, whereas the Ai40 was sealed. The system also packs more power (90 watts vs. 70 watts total) and boasts a set of stereo RCA analog inputs plus an optical digital input and a subwoofer output with an 80Hz low-pass crossover, whereas the Ai40 provided only RCA inputs.
Instead of an app, you get a compact remote that puts everything you need at your fingertips, including a feature missing on many of today's wireless speakers: bass and treble controls. Most important, the Ai41 conveys vocals with lifelike presence and is able to play loud and clear without turning multilayered music into mush. If you're looking for a turnkey stereo setup you can have up and running in minutes, you can hardly go wrong with Fluance's impressive Ai41 speaker system. As of this writing, the speakers can be had for $211 on amazon.com with delivery in time for Christmas.
AT A GLANCE
Plus
Excellent, full-bodied sound
Cosmetically appealing design
Sturdy build
Remote control with tone controls (!)
Minus
No multiroom Wi-Fi streaming
Full Review Here (posted 12/16/21)
Full-Size, Fully Featured
Cleer Alpha Noise-Canceling Headphones: $250 (on sale for $200 as of this writing)
The top model in Cleer's line of wireless over-ear headphones, the Alpha is an excellent choice for the music lover who appreciates full-size 'phones that sound great and provide effective noise cancellation. Though the San Diego-based company has been around for a decade, we only learned of them a couple years ago when we reviewed the
Enduro 100
wireless headphones, which blew us away with their 100-hour battery life.
The Alpha's bring app-control, smart noise cancellation, and Dirac Virtuo spatial processing into the fold, while maintaining a respectable 35-hour battery life. They're ready to take on any travel adventure with a foldable design, rugged build quality, and adjustable ambient-sound mode, which lets you mix in varying levels of external sound (essential when you need to hear announcements while walking through a bustling airport). The 'phones are also comfortable to wear thanks to the foam-padded earcups and headband and provide a handy conversation mode that lowers the volume so you don't have to remove them when the police officer is tapping you on the shoulder.
Sound quality is every bit as impressive as the Alpha's arsenal of useful features, which is topped by noise cancellation that adjusts automatically to external noise levels and Virtuo processing that creates a more expansive and realistic listening experience. Audio engineer-turned-reviewer Leslie Shapiro observed that music sounded rich and full when noise cancellation and spatial processing were both engaged: "Cueing up George Ezra's acoustic version of 'Anyone For You,' the guitar had a clean yet warm, tone, and there was nice separation and detail in the subtly doubled vocals on the second verse." All in all, Cleer's Alpha offers great value at a reasonable price. As of this writing, the headphones are $200 on cleeraudio.com with delivery in time for Christmas.
AT A GLANCE
Plus
Soundstage-widening Dirac Virtuo processing
Adjustable ambient sound mode
Smart noise cancellation
Solid build quality
Minus
Overly sensitive touch controls
Bass lacking in certain modes
Full Review Here (posted 5/25/22)
Simple Soundbar
Sonos Ray Soundbar: $279
The Sonos Ray is the perfect gift for anyone who will appreciate a hassle-free path to vastly improved TV sound quality. At $279, it's the brand's least expensive model, coming in almost $200 less than the excellent Atmos-ready
Beam
(Gen 2) we reviewed last year. Like the Beam, it's an all-in-one affair (the
subwoofer
is optional) but it doesn't support Atmos surround sound or voice control. Instead, you get a strikingly simple soundbar that sounds good and is small enough to fit on a shelf or under almost any TV, making it ideal for dorms, bedrooms, and other secondary spaces. There's no remote — you control the Ray through the excellent Sonos app and it has an infrared (IR) receiver so you can use your TV remote to adjust the volume.
Setup couldn't be easier as the Ray offers only an Ethernet port and optical audio input, which of course rules out support for 7.1, Dolby Atmos, Dolby Digital Plus, and other formats. The bar does, however, support stereo PCM, Dolby Digital 5.1, and DTS Digital Surround in addition to streaming via AirPlay 2 (sorry, no Bluetooth). The company's proven Trueplay automated room tuning technology is also on tap (you'll need an iPhone to set it up) along with a handful of other useful features, including loudness, bass, and treble controls (through the app) and Speech Enhancement and Night Sound presets.
The moment reviewer Leslie Shapiro fired up the Ray, she was impressed the clarity of the sound — especially on voices. And coming from a professional recording engineer that's saying a lot. "There was none of the harshness or brash high-end that plagues budget speakers and the guitar [on "New Song" by Maggie Rogers] sounded natural and transparent." Watching the sci-fi film Needle in a Timestack, she noted that the swirling sound effects created a sense of movement and space that extended beyond the edges of the soundbar. The Ray is an affordable entry into the Sonos ecosystem — one that excels in meeting the most basic requirement for any soundbar: dialogue clarity.
AT A GLANCE
Plus
Fantastic vocal clarity
Small footprint
Forward-firing design for easy placement
Minus
Trueplay tuning app only for iOS
Basic surround processing
Limited connectivity
Full Review Here (posted 10/12/22)
Atmos on the Cheap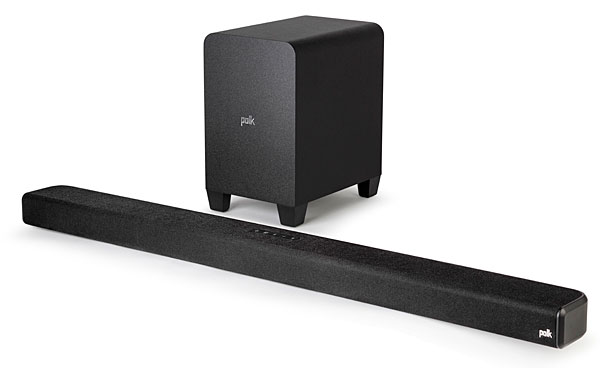 Polk Audio Signa S4 Soundbar: $399
With a separate subwoofer and Dolby Atmos surround-sound capability, Polk's Signa S4 is one of the least expensive Atmos-enabled soundbars money can buy. It elevates performance a notch or two beyond the all-in-one Sonos Ray soundbar, making it ideal for the movie lover on your list who has yet to upgrade the sound of their TV. It's a pretty basic 3.1.2 setup comprising a compact wireless subwoofer and slender, 41-inch soundbar featuring three left/center/right driver complements and two up-firing height speakers. The system supports Bluetooth streaming and provides an eARC-compliant HDMI connection along with a USB port and optical digital and 3.5mm analog stereo inputs — connections you need to greatly improve the sound of any TV. You also get a few useful "voice adjust" settings to prevent dialogue from getting lost in the mix, whether you're watching a movie or listening to music.
While it may be unrealistic to expect a system of this caliber to immerse listeners in a full-on 3D bubble — you'll typically need more speakers and a bigger budget to achieve that — the S4 excels at transforming ordinary TV and movie viewing into an engaging experience reviewer Rob Sabin described as "highly listenable" with warm, palatable sound and punchy, defined bass. "The best experience came from tracks that made good use of the height channels, such as "We Don't Talk About Bruno" from Disney's animated feature Encanto. The vocal counterpoints that emerged from different parts of the soundstage were distinctly separate in the S4's rendering." Though not perfect, the Signa S4 is capable of surprisingly spacious sound — better than what you might expect from a soundbar in this price category.
AT A GLANCE
Plus
Atmos height effects from a high value soundbar
Easy to set up and use
Small, well-integrated subwoofer
Good sonics for TV and movie watching
Minus
No expandability for surrounds
No network connection for music
No level adjustment for height channels
Better for movies than music
Full Review Here (posted 4/13/22)
Also see 10 S&V-Approved Holiday Gift Picks, which includes three items that can be had for $250 or less:
Apple TV 4K (3rd Generation) Streamer ($129 and $149)
Monolith By Monoprice Belt-Drive Turntable ($250)
Apple AirPods Pro (2nd Gen) Noise-Canceling Wireless Earbuds ($249)