10 S&V-Approved Holiday Gift Picks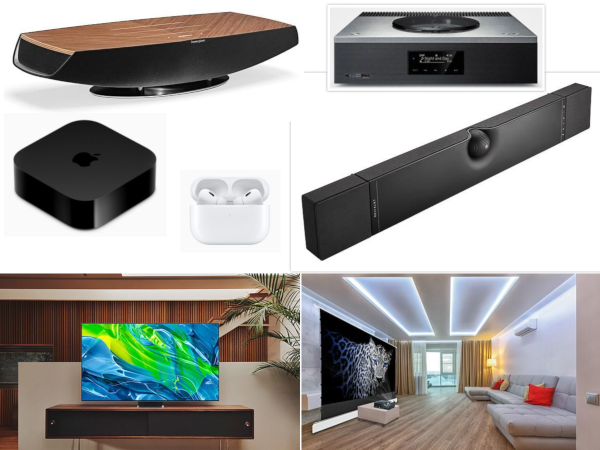 Yes, we know… You haven't finished your holiday shopping. You're not alone and if you're like me, you haven't even started. Yet, the clock keeps ticking: 16 days 'til Christmas with only days left to order online and ensure gifts get where they need to be in advance of the Big Day. In the spirit of helping you (and me) check an item or two off the 'ol shopping list, here are 10 potential gifts to give (and get) — all Top Picks, vetted and approved by your friends at
Sound & Vision
— 11 if you count our just-posted Top Value Pick: the
Monolith THX-certified 5.1 minispeaker system
.
Best OLED TV
Samsung QN65S95B 65-Inch QD-OLED 4K TV: $1,900
If you or that special someone on your shopping list need to replace an aging TV with a new top performing model that is reasonably priced, keep reading. With the S95B, Samsung has found a new way to build OLED TVs that takes an already great display technology and makes it even better. Without getting too technical, microscopic quantum dots — the "QD" in QD-OLED — are combined with blue OLEDs to enhance color and increase brightness without the filters conventional OLED displays use to separate white light into red, green, and blue. The result is a state-of-the-art TV that surpasses the picture performance of traditional OLED TVs in obvious ways.
The S95B offers almost all of the features you would expect in a top-tier Ultra HDTV, including built-in streaming capability via Samsung's Smart TV Hub, four HDMI 2.1 inputs with eARC capability, support for Alexa and Google voice assistants plus a standard remote handset, built-in TV tuners to receive high-def and interactive 4K over-the-air broadcasts, and compatibility with the HDR10, HDR10+, and HLG high dynamic range (HDR) formats. The exception is Dolby Vision, which is not supported. The set also provides a Gaming Hub, four picture modes (including Filmmaker), a full set of picture adjustments, and an Ambient mode for loading and displaying artwork and other calming visuals.
In a word, image quality is superb, especially with HDR material. Veteran reviewer Tom Norton summed it up this way: "Harry Potter and the Deathly Hallows Part 2 is about as tough a test as I know of for shadow detail and bright highlights...I've never seen it look this good before." As of this writing, the 65-inch S95B is available for $1,800 and the 55-inch model for $1,500 on samsung.com.
AT A GLANCE
Plus
Superb HDR
Outstanding contrast
Wide viewing angle
Minus
No Dolby Vision
Frustrating menus
Full Review Here (posted 11/9/22)
A Must-Have Streamer for Apple Devotees
Apple TV 4K (3rd Generation): $129 (64GB), $149 (128GB)
The new Apple TV 4K is an affordable gift fans of Apple will appreciate. As the company's most compelling and feature-rich streaming box yet, it's a must-have item for anyone with an iPhone or other Apple device. In keeping with its predecessor, sound and picture quality remain excellent but the new box is noticeably smaller and boasts a significantly faster processor for more seamless operation. It also now supports the HDR 10+ high dynamic range (HDR) format championed by Samsung.
Setup is a cinch with an iPhone — you can even use the phone's camera to adjust color balance — and Siri functionality has been improved. In addition to more precisely controlling playback by voice, answers to queries such as "what actors are in this movie?" are now displayed in a window on the side of the screen that does not interfere with what's on the main screen. The third-generation Apple TV 4K is a no-brainer for anyone who lives in the Apple universe. As of this writing, Amazon is offering the 128GB model for $140.
AT A GLANCE
Plus
Lower price than any recent Apple TVs
Excellent sound and picture quality
Now supports HDR10+
Agnostic "Watch Next" suggestions
Supports Dolby Atmos for movies and music
Minus
Scrub fast-forward and rewind can be squirrelly
Limited Siri commands
Netflix integration remains minimal
Full Review Here (posted 11/3/22)
World's Best Soundbar
Devialet Dione Atmos Soundbar: $2,499
For the space-constrained enthusiast who needs but doesn't want a "lowly soundbar," this remarkable product is just what the doctor ordered. It's rare that a reviewer will proclaim a speaker, let alone a soundbar, the best he's ever heard, yet such is the case with the Dione, an amazing all-in-one system from Paris-based Devialet, maker of the utterly unique
Phantom
line of compact speaker systems. Okay, at $2,499 Dione is anything but cheap but, boy, does it deliver. And it does so in a way that will leave you stunned as you look around for additional speakers and a subwoofer.
Dione is a feature-rich 5.1.2-channel Dolby Atmos system with 17 drivers — including eight (!) woofers, upfiring units for Atmos front height channels, side-firing surround drivers, and a central Orb that houses its center-channel speaker — in a sleek enclosure almost 4 feet wide but still slim enough to fit below the screen of a table-mounted TV. The cool thing about the Orb is that an internal gyroscope detects whether the soundbar is being placed on a table or mounted flat against the wall and reassigns the system's drivers accordingly. Among the bar's many features you'll find the versatile Devialet app, which provides quick-but-effective automated calibration, and wireless connectivity via Bluetooth, Apple AirPlay 2, Spotify Connect, or a UPnP (Universal Plug and Play) network server.
The moment you fire it up Dione makes its presence know, especially in the bass department. Veteran reviewer and former S&V editor-in-chief Rob Sabin admits to being "astonished" by what he heard and felt when he fed the system a 20Hz tone. Aiding and abetting every aspect of the soundbar's performance is 950 watts of class-D amplification and an arsenal of custom signal monitoring and processing designed to achieve max SPL without distortion and project well-defined virtual speakers into the room, among other things. Bottom line: Whether you're listening to music or watching a blockbuster movie, this soundbar will blow your mind. As Sabin put it: "Movie soundtracks were outright balls-to-the-wall fun on the Dione and extraordinarily detailed, balanced, and dynamic" as the soundbar reached its volume limits with no detectable distortion or edginess. "If you've been listening on any other soundbar, you won't believe what you've been missing."
AT A GLANCE
Plus
Stupendous bass without an external subwoofer
Outstanding timbre and dynamics
Easy to use via HDMI-CEC or Devialet app
Minus
No remote learning for optical connections
No voice integration
No DTS decoding
Full Review Here (posted 9/7/22)
Cheap but Good Turntable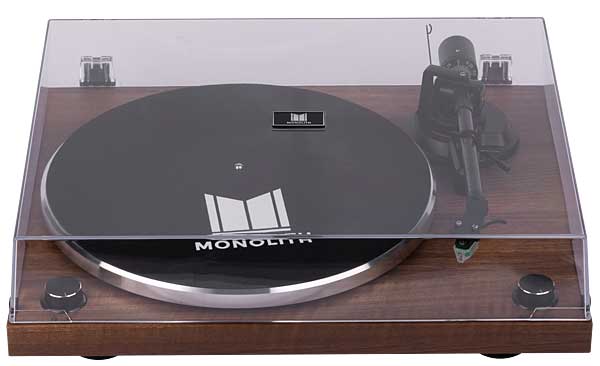 Monolith By Monoprice Belt-Drive Turntable: $250
With the resurgence in vinyl showing no signs of letting up, there's a good chance someone on your holiday shopping list is either looking to dip their toes in the LP waters or maybe upgrade from one of those cheesy suitcase turntables to a better performing, though not prohibitively expensive, model. Enter Monoprice with yet another big-bang-for-the-buck addition to its Monolith Series of "affordable audiophile gear."
While it is possible to spend less, the belt-driven Monolith turntable is an excellent entry-level model — one that sounds good and offers a host of hookup options, including USB and Bluetooth in addition to the usual switchable phono/line-level option. The table arrives partially set up and is fitted with an Audio-Technica AT-VM95E phono cartridge, arguably the best cartridge you can buy for less than $100.
Turntable aficionado Michael Trei was taken aback by how good the Monolith sounded. Listening to the song "Laura" from The Poll Winners album Straight Ahead (Contemporary S-7635), he wrote: "I normally expect budget turntables to sound a bit thin and wimpy with music like this, but on the Monolith the sound was surprisingly full-bodied, with a nice rich tone from Ray Brown's acoustic bass and a clean yet vibrant tone from Barney Kessel's electric guitar. The general sonic balance leaned a bit toward the warm and soft side of neutral, but the overall impression was engaging and enjoyable."
AT A GLANCE
Plus
Quality turntable at a budget price
Excellent pre-mounted cartridge
Versatile hookup options
Minus
Setup is a bit fussy
Inaccurate speed as shipped
No analog cable included
No leveling feet
Full Review Here (posted 7/28/22)
Badass Subwoofer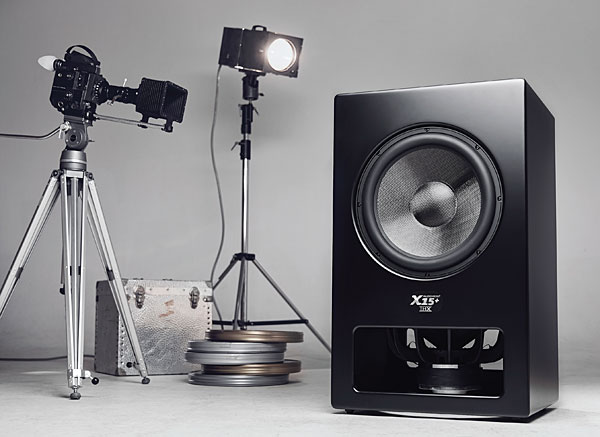 M&K Sound X15+ THX Dominus Certified Subwoofer: $5,999
Given the price and enormity of this gift, it is more than likely one for the bass lover within. (Come on, you know you deserve it...) With a 700-watt (RMS) class-D amplifier and dual 15-inch custom drivers arranged in the push-pull configuration M&K founder Ken Kreisel introduced three decades ago, it is the subwoofer to beat. The X15+ is one of the first to achieve
THX Dominus Certification
, meaning it's guaranteed to reach THX levels in rooms up to 6,500 cubic feet while maintaining a flat frequency response and low distortion.
THX moniker aside, M&K has a storied history as a maker of reference-quality speaker systems and audio innovator, having invented the satellite/subwoofer speaker concept and introduced the first self-powered subwoofer back in the mid-'70s. As resident bass guru David Vaughn put it, "If you've never listened to a system with an M&K sub first-hand, it's something you need to experience…M&K models have a unique and extremely precise sound." Though Kreisel is no longer involved in M&K, the company continues to honor his principles, as evidenced by the impressive performance of its newest subwoofer.
Running through his usual battery of torture tests, Vaughn marveled at the precision and accuracy of the bass he heard — and felt. He was particularly impressed with the sub's ability to shrug off everything he threw at it and produce measurable output below 17Hz. In terms of sheer performance, he called the X15+ the best subwoofer he's tested in his two decades of reviewing audio products. If you're looking for the last word in bass from a sub that goes extremely deep and plays extremely loud in the largest of rooms, the M&K comes highly recommended.
AT A GLANCE
Plus
Deep bass response with extremely high output
Impeccable build quality
THX Dominus Certification
Minus
No built-in parametric EQ or room correction
No control app or handset
Full Review Here (posted 5/18/22)