Monolith M518HT 5.1 THX Sub/Satellite System Review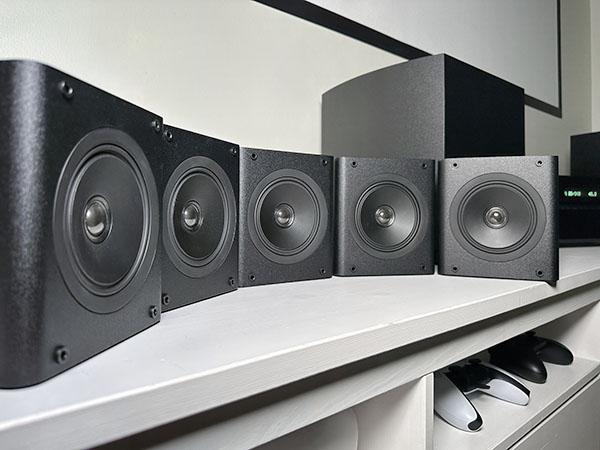 PRICE
$799.99
AT A GLANCE
Plus
Compact
Clear and precise sound
Wall mountable
Tunable subwoofer EQ
Minus
4 ohms impedance
Low sensitivity

The Verdict
This 5.1 HTiB speaker system combined with a suitable AVR offers a high-performance yet compact alternative to soundbars. The concentric driver satellites provide pinpoint imaging that results in cohesive surround-sound envelopment. Even with stereo music you get a listening experience that defies expectations for a system this small in size and cost.
Home Theater in a Box Done Right
The classic HTiB—an all-in-one subwoofer/satellite speaker system—was long ago supplanted by soundbars as the go-to upgrade for TV audio. But a solid HTiB system, with the speakers properly placed and paired with the right AVR, is a great way to get superior surround-sound on a budget—so long as the components are high quality.
With this 5.1 THX-certified system, Monolith by Monoprice offers gamers and movie lovers an HTiB that's got what it takes to create realistic sound fields, it is able to immerse the listener in three-dimensional aural panoramas. The standout feature is the use of concentric drivers for the satellites, with the tweeter located in the center of the woofer. This makes each speaker behave as a point source, which results in focused sound.
Features & Specifications
This is a 5.1 speaker system consisting of a powered 8-inch, down-firing, ported, DSP-controlled subwoofer and five passive two-way 4.5" concentric-driver satellite speakers. The mid/woofer section uses a polypropylene driver while the 20mm tweeter is a silk dome. The complete system carries a THX Certified Compact rating. The satellite speakers are spec'd at 80Hz to 20kHz +/-3 dB with 81 dB sensitivity. The speakers are quite small, measuring 6.0 x 6.3 x 5.9 inches and weigh 4.2 pounds each.
Monoprice equipped the satellites with a keyhole hanger, so you can hang one on a wall with a single screw. There is also a threaded hole on the bottom of the speaker that lets you use other types of mounts. The limitation of the keyhole approach is you cannot aim the speaker when it's on a wall, it has to face straight forward. You'll need to buy an additional bracket in order to aim them. The terminals are basic spring-loaded "5-way" posts that accommodated the 12-gauge speaker cable I used.
The subwoofer is powered by a 150 W RMS amplifier and offers three EQ settings: EQ1, EQ2 and THX. You can purchase the sub on its own for $349.99, which puts the price of the five speakers at $450, or $90 each.
Including the sub, the system is rated at 30 Hz to 20 kHz response, but the bass extension actually depends on the sub mode you use. EQ1 is the "extended" mode, it is rated at 24 Hz to 200 Hz, while EQ2 is what's used for the official specs, 30 Hz to 200 Hz. Meanwhile THX mode is rated at 34 Hz to 200 Hz but offers the most output. The sub has variable phase and lowpass filters, the latter with a range of 40 Hz to 160 Hz. The sub features stereo RCA inputs and direct pass-through stereo RCA stereo outputs.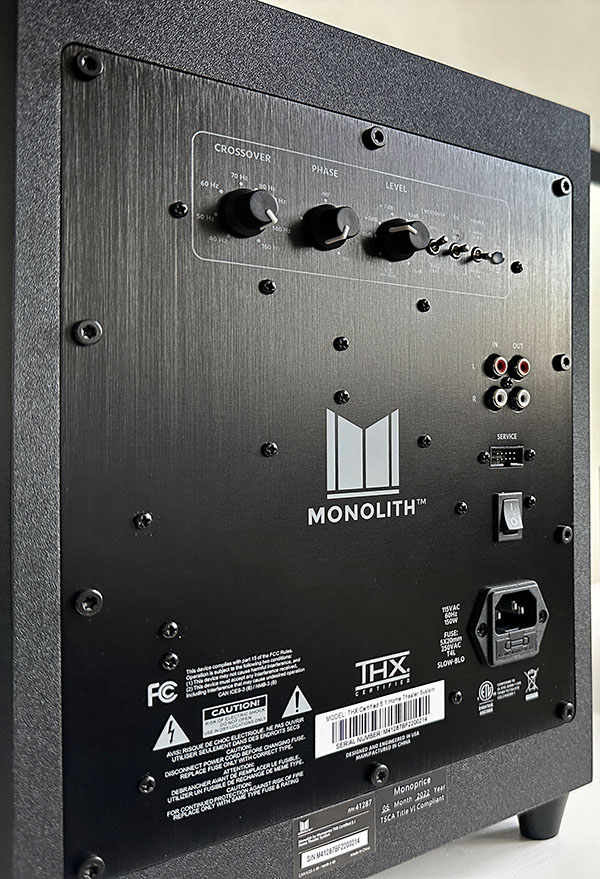 Setup
I ran the Monolith system just as I would any other speaker system I review, as the main surround-sound system in my living room. Rather than drill holes in the wall to mount the speakers, I put the center channel on a TV stand that's located under my living room's projection screen with the left and right channels on their own speaker stands. For the sake of convenience, I placed the rear channels directly on top of my existing tower surround speakers.
This loft is a large space to fill with sound, it measures 20 x 30 x 13 feet (WxDxH). The THX rating of this system is "Certified Compact" which means it only achieves THX reference performance in a much smaller space (1000 cubic feet or less), and with a listening position within 8 feet of the screen—I'm about 11 feet from the screen. Given that my room is 7800 cubic feet, I'd need THX Certified Dominus gear to achieve reference levels. But here's the thing, I almost never listen to anything at reference levels, much less above reference. What I'm looking for out of a system like this is not simply how loud it'll play, I'm much more interested in the overall audio fidelity it delivers playing at comparatively modest output levels.
Because this speaker system is sold without amplification, and is meant to work with any 4-ohm compatible AV receiver or multichannel amp and processor, inevitably one of the variables in the sound it delivers is going to be room correction. For this review, I used two AVRs: A Denon AVR-X8500h that's equipped with Audyssey MultEQ XT32, and an Onkyo TX-NR6100. I ran the correction routine on the Denon using the MultEQ-X PC app, which allowed me to scrutinize the resulting measurements of each speaker, taken from 20 different locations.
The real surprise in the setup is how the satellites all achieve their rated frequency response, dutifully playing near-flat to 80 Hz before the measured response starts dropping, and also easily extending up to 20 kHz without a lot of dips and bumps in output. By studying the slopes, I could also see that the speakers retain good off-axis response. This matches up with an in-room, subjective impression that these speakers have good dispersion characteristics, consequently you can stand off to the side and the system retains its tonal balance.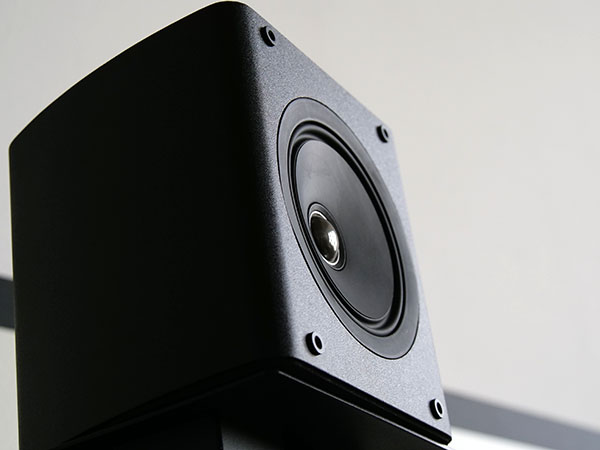 I recognize that someone shopping in this price range will likely look for an AVR of similar cost, hence the Onkyo AVR. It's a 7.2-channel design that supports 4-ohm speakers, with 8K HDMI and eARC and Dolby Atmos plus DTS:X, including virtual height channel Atmos that works with the 5.1-channel speaker layout. This AV receiver is rated THX Certified Select, which means it's officially one step above the speakers in terms of capability. The proprietary AccuEQ room correction system is more limited than Audyssey MultEQ XT32, but what I learned is the Onkyo provides a good result as well, it's very similar to the Audyssey correction.