Artcoustic DF75-55 X2 On-Wall Speaker System
The fine art of disguise.
No one likes to look at speakers. (You and I don't count.) Thus the quest by many manufacturers to find the Holy Grail of speakers: the totally invisible wall-o'-sound. Unfortunately, the invisible stuff I've seen so far has been pretty uninspiring and by no means anything you could call close to high performance. At present, short of an acoustic miracle, we're stuck with speakers that are going to be seen, be they in-wall, on-wall, floorstanding, or whatever.
There is an alternative to "invisible," however, and that's to disguise the speakers as something distinctly non-speakerish. Several companies have gone down this path, but the disguise was usually more important than the sound quality. Rather than camouflage their speakers as plant stands, light sconces, or sitting dogs (I'm not making that one up), a Danish speaker company, Artcoustic, stays with the on-wall form factor but creates speakers that look like picture frames. While that's not an earth-shatteringly new idea, Artcoustic's particular implementation is noteworthy.
First of all, Artcoustic starts off with a legitimate attempt to make great-sounding speakers. The use of rigidly constructed cabinets combined with drivers specifically designed for small-volume enclosures results in speakers that are non-resonant, an especially important aspect in an on-wall speaker. Then Artcoustic adds a touch of Danish-design flair and turns what would be a nondescript-looking rectangular on-wall speaker into something that easily tricks your eye into believing that you're looking at a picture frame.
For the larger speakers, the edges of the cabinet form a frame, with the grille functioning as the "picture." The smaller speakers don't have frame-like edges. Instead, the printed grilles completely cover the front of the speakers, resulting in a very contemporary, unframed look. Solid-color grilles are available, but part of the beauty of this type of speaker design is the ability to choose from an astounding variety of available images and designs. In addition to a choice of eight standard color screens, plus a growing collection of art images, Artcoustic will put just about anything you want on the grilles, including print fabrics, photos of your favorite rich relative, or maybe those photocopies of your butt cheeks you made during a particularly dull moment at work. Just as with real picture frames, you can have different images on different speakers. You can also order different grilles and change them out depending on your mood.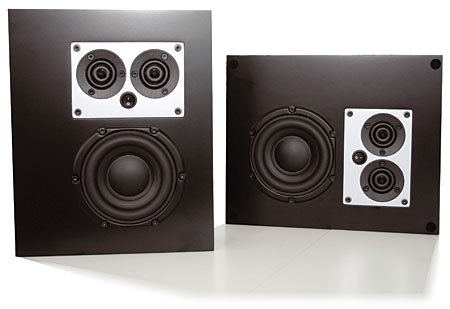 I've known about Artcoustic for a while; and I assumed that, like most makers of lifestyle-oriented products, they put much fanfare into the cool appearance and gave little attention (or cost) to the innards. That was before I received a pallet of Artcoustic speakers that I needed to unload, unbox, and hang on the wall. My back quickly convinced me that Artcoustic wasn't in the game solely for appearance's sake. The Artcoustic folks decided to give me the full treatment, sending out three DF75-55 X2 speakers for the front LCR channels, a pair of Diablo Sub Panels (each with its own dedicated 300-watt, PA-300 amplifier), and a pair of Artcoustic Diablo Monitor X2 speakers for the surround channels.
The DF75-55 X2 is a 2.5-way speaker with a pair of 10-inch woofers and two "twin rippled" dome tweeters. It's much larger than the average on-wall speaker, measuring approximately 30 inches high by 22 inches wide. It's a little over 5 inches deep, but the way the approximately 1.5-inch-wide "frame" around the speaker extends out slightly from the edges of the main cabinet gives the illusion that the speaker is much thinner on the wall than it actually is. The DF75-55 X2 is quite a bit heavier than most on-wall speakers, but it's still about as simple to mount on the wall (with the provided steel brackets) as it is to hang a picture frame, albeit a 40-pound one.
The Diablo Monitor X2 speaker uses the same two tweeters but matches them with a single 5.5-inch woofer. It's about half the size of the DF75-55 X2 and features a grille that spans the full width and height of the speaker. Brackets on the back allow you to hang it either horizontally or vertically. At 9.9 pounds, it's definitely more back friendly. Both the Diablo Monitor X2 and the DF75-55 X2 include a "lift switch" that changes the tweeters' output by 4 decibels.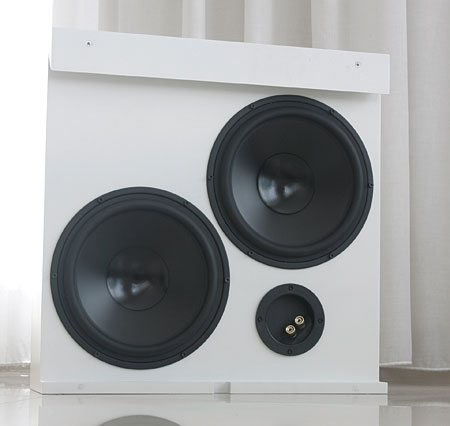 The Diablo Sub Panel is a 20-by-20-by-6-inch grille-less rectangular box that uses two 10-inch woofers in a sealed cabinet with a passive crossover that you can set at either 120 or 60 hertz. It isn't designed to mimic a picture frame, but it's made to either hang vertically on the wall or sit horizontally on the floor. The Sub Panel doesn't have built-in amplifiers. Instead, each sub includes an external PA-300—a slim, rack-mountable 150-watt-rated stereo amplifier that's capable of 300 watts in bridged mode.
After I installed the Artcoustic speakers and subwoofers and took a good look at the drivers behind the grilles, I wasn't surprised that the system sounded really good—better, in fact, than any of the other on-walls I've listened to. Granted, these are the most expensive on-wall speakers I've sat in front of, but that's somewhat missing the point. The important thing is that Artcoustic chose to take a great-sounding speaker and make it look like a picture frame rather than the other way around.
The tweeters in the DF75-55 X2 and the Monitor X2 are ultra-crisp, clear, and revealing. In the final battle scene of The Chronicles of Narnia, as the White Witch's palace begins to melt, every single drop of water that slowly releases and splashes on the ground was distinct and focused. Because the speakers are so ideally matched in this regard, the surround field is smooth as silk. It's readily apparent on the Blue Man Group's Complex DVD-Audio. During "Sing Along," the vocals in the front and surround channels blended splendidly.
Even though the Diablo Sub Panel doesn't have quite the deep extension that you'd get with a similarly priced floorstanding, undisguised powered subwoofer, I thought it was quite impressive. It provided a wonderful extension of the DF75-55 X2s (as well as the Monitor X2s when used with them exclusively) in both subtle and not-so-subtle situations. An example of the latter was during the same Narnia battle, in which numerous large creatures pound the earth in a most believable way. John Gorka's Writing in the Margins CD provided a glimpse at their more subtle abilities when the Sub Panels fluidly reproduced Gorka's acoustic guitar and vocals from upper to lower frequencies.
While the Diablo Monitor X2s can't compete fully with the DF75-55 X2s, they are a fine bookshelf-sized speaker. Artcoustic says the larger speakers are designed for medium to large home theaters and screening rooms, and the Monitor X2s are intended for small to medium home theaters. In my opinion, for someone who is very conscious of appearances and has a modest-sized room and a plasma or LCD on the wall, five Monitor X2s and a Sub Panel would make a killer system. I can easily see the larger DF75-55 X2s being used in a larger room with a motorized drop-down acoustically transparent screen. They'll provide plenty of output and look great when the screen disappears.
So, many factors come into play when you start looking for a home theater speaker system. There's no one perfect system for any particular person. For myself, I can't say that the Artcoustic would be my first choice for a loudspeaker system—but at present, I'm not worried about concealing the speakers, either. Nonetheless, I know a few people whose decorating tastes and sensibilities are definitely beyond mine, to whom I would feel extremely confident recommending this system. The overall simplicity of the Danish design, the broad availability of creative grille images and patterns, and the exceptional sound quality make this Artcoustic system a work of art.
Highlights
Have grilles custom printed with your own picture or design
Impressive match of fronts, surrounds, and subwoofers
Speakers are as easy to hang as a (heavy) picture frame