PSB PWM-1 On-Wall Surround Speaker System Review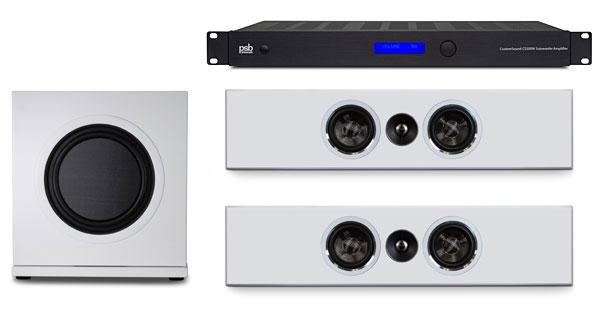 PRICE
$6,193 (as tested)
AT A GLANCE
Plus
Dynamic sound for on- wall speakers
Versatile installation options
Solid build quality
Minus
Sub pricey compared with standalone units
THE VERDICT
PSB's classy but low-profile PWM1 on-wall speakers and CSIR SUB subwoofer won't attract attention, and they're not meant to. An excellent choice if you want a great-sounding speaker system for movies and music that won't take over your room or your life.
A common notion among audiophiles who dismiss on-wall speakers is that speakers need to be positioned well out into a room in order to get big, spacious sound. But that kind of thinking misses the point. For many, on-wall speakers can be an excellent option if you don't want to dedicate your living room to a hi-fi or home theater audio system, but also expect dynamic and enveloping sound that's a step above what you'd get from in-wall speakers.
While there are plenty of on-wall and in-wall speakers made specifically for the custom installation market, I usually prefer offerings from established audiophile speaker manufacturers, especially ones known to combine performance with value. That description fits PSB perfectly, and for many years I have used the company's now sadly discontinued Synchrony One speakers as my real-world reference when reviewing products for Sound & Vision. Given PSB founder Paul Barton's superb track record with standard speakers for hi-fi and home theater, I was eager to hear what he could achieve with models designed specifically for installation up against a wall.
PSB's PWM1 (Performance Wall Mount 1) speaker is the smallest of a new three-model range of on-walls designed to blend visually with flat-panel TVs. The PWM1 is closest in height to a typical 50-55-inch TV, while the PWM2 and PWM3 match larger screen sizes. Both the PWM2 and PWM3 are three-way speakers with additional drivers for higher output. The PWM2 has dual woofers and mid-range drivers, while the seven-driver PWM3 features an additional woofer pair for even greater power handling. All three models are available in a modern-looking black or white satin finish, with color-matched fabric grilles that attach using hidden magnets to maintain a smooth look.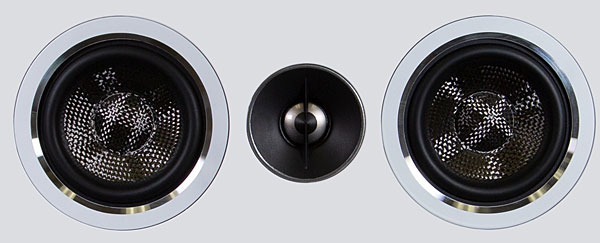 PSB felt that a full set of five PWM1s would be plenty to deliver the surround-sound goods in my medium-sized 15-foot by 12-foot room. At 14 pounds, the PWM1's cabinet feels dense and stiff, and it has a narrow slit-like port on one of the end panels. The driver array consists of a pair of four-inch carbon fiber cone woofers flanking a one-inch titanium dome tweeter mounted in a shallow waveguide. Four inches may sound small, but PSB says the woofers were designed to take full advantage of the internal volume and port tuning of the PWM1's cabinet to optimize sensitivity, bandwidth, and power handling capability. The back panel features dual sets of five-way binding posts to permit bi-wiring or bi-amping, although I kept things simple with single cable runs all around. While most installations will have the PWM1s that are used for the front channels arranged closely around the edges of a TV screen, for my test I decided to spread them out further to enhance stereo imaging and soundstage width.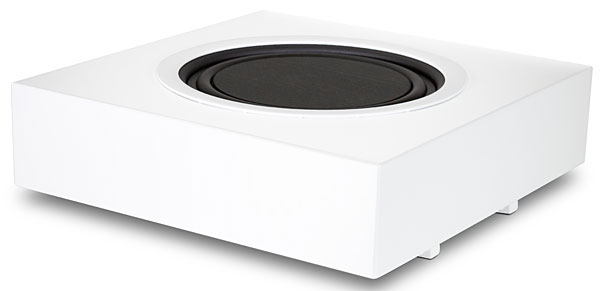 As with any decent surround setup, a subwoofer was needed to add bottom-end heft. PSB sent along one of its CSIR SUB on-wall subwoofers, a wall-hugging model that matches the stealthy look of the PWM1s and is similarly available in black or white. The CSIR SUB is designed to take advantage of room boundaries to increase output and can be installed in several different ways depending on your setup. The included bracket allows you to literally hang it on the wall like a picture frame. If you don't want to drill holes in your wall, a floor pedestal lets you install it upright on the floor, which is how I used it. A third option is to lay the CSIR SUB which has a slim five-inch-deep profile that makes it easy to squeeze under furniture or into a corner, flat on its back firing upwards.

Two key design choices account for the CSIR SUB's slim form factor. First, it uses a special shallow long excursion 10 inch-woofer with a flat foam core sandwich surface. Second, it's a passive unit with no space given over to an amplifier—a built-in feature on most other subwoofers. To drive the CSIR SUB, I paired it with PSB's CS 500W dedicated subwoofer amp, a class-D model that delivers a hefty 500 watts into four ohms. The amp is designed to sit in your A/V equipment rack with other electronics components, connecting to the subwoofer via speaker cable.