Face-Off: Noise-Canceling True Wireless Earbuds Jabra Elite 85T
Jabra Elite 85T
($230)
jabra.com
Jabra's Elite 85t provides highly effective ANC plus the company's excellent HearThrough ambient sound mode. The accompanying Sound+ app contains a variety of sound and control customizations, and both the buds and case are compact and lightweight enough for comfortable wear and carry.
Jabra's buds have a neutral response out of the box, and the detail and above- average soundstage allow it to nearly reach the acoustic heights of the Bose QC and JBL Club Pro+, the two top sonic performers in our test. You can adjust the Elite 85t's sound as desired with a five- point EQ for three situational sound modes (My Moment, Commute, Focus), or via six music presets (Neutral, Speech, Bass Boost, Treble Boost, Smooth, and Energize, which boosts both bass and treble). You also get a variety of noise-masking nature "soundscapes" including pink and white noise.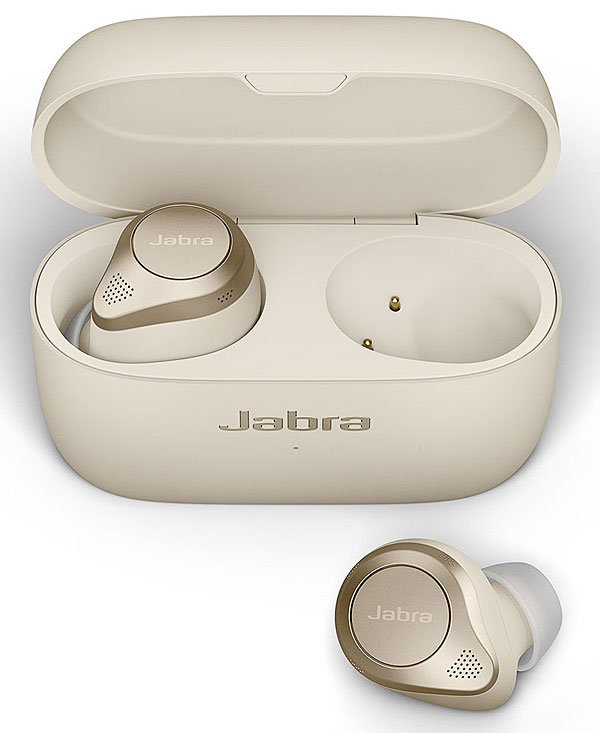 Slip these buds in, activate the Elite 85t's ANC, and, like turning off a light instantly blackens a basement, you'll experience an extreme aural shift to eerie near-silence. Airplane cabin noise virtually disappears except for a low engine hum and vaguely distant-sounding voices, and that's without music playing. With music playing and ANC set to maximum—you can adjust the noise-canceling level along a sliding scale— barely a glimmer of the outside world is left to intrude on your reverie. And when you enable Jabra's Elite 85t HearThrough ambient mode, nearby voices come through loudly and clearly.
When you first insert the Elite 85t, you're guided through a MySound hearing profile test to determine which frequencies you can and can't hear, and the app then optimizes music playback for your ears. A MyFit feature then makes sure the buds are creating an isolating seal to optimize bass response and ANC effectiveness.
The Jabra Sound+ app offers extensive audio adjustments plus a full range of playback and call control customization that can be assigned to single, double, or triple bud-taps. My one quibble is the lack of an easy ambient sound mode music pause/play option: If you turn on HearThrough, music continues playing for some reason even though you can't hear it. (Note to Jabra: A single-click ambient sound/pause play would be a welcome app update.) On the plus side, the Elite 85t does have handy on-bud volume control.
With ANC on, you get up to 5.5 hours of playback from a single charge, plus 19.5 hours of additional recharge playback time. Single-charge playback rises to 7 hours plus 24 more hours via recharges with ANC off. It takes a hefty 3 hours to recharge totally depleted buds and case, and 3.5 hours via convenient Qi wireless charging, and 15-minute quick-charging will get you an hour of listening time. An app-based Find My Jabra feature can locate your buds on a map, and you can pair the buds with up to 8 devices (most models don't even allow two devices to be paired). Also, the Elite 85t's right earbud can be used as a mono monitor, and they feature IPX4 water protection plus a two-year warranty.

I used the Jabra Elite 85t buds, each of which weighs only a featherweight 2.5 grams, for several multi-hour listening jags and never felt any in-ear discomfort. Small, medium, and large silicone ear tips are provided to give you the most comfortable noise-sealing fit. At 2.55 x 1.62 x 1.12 inches, the Elite 85t case is one of the smallest I've yet seen and is easily pocketable.
The Verdict
The Jabra Elite 85t's combination of sound quality, noise-canceling effectiveness, features, comfort, and value make it the best all-around bud in our test.