Face-Off: Noise-Canceling True Wireless Earbuds Samsung Galaxy Buds Pro
Samsung Galaxy Buds Pro
($200)
samsung.com
Samsung's Galaxy Bud Pro provides excellent sonics and noise-canceling, plus a raft of cool features and functions such as the ability to amplify ambient sound and make voices nearly twice as loud. But there's one catch: The Samsung buds need to be paired with a Samsung Galaxy smartphone.
Along with the Jabra 85t, the Bose QC, and the JBL Club Pro+, the Galaxy Buds Pro provided top-tier sound quality among the buds that I auditioned for this roundup. You'll experience a wide soundstage, plenty of definition, and clean bass that's not overly enhanced.
The Galaxy Bud Pro's noise- canceling capabilities fell just below the Jabra and Bose models. With ANC set to High, some airplane cabin noise and chatter still crept into my music listening, but amplified ambient noise is why you'd want the Buds Pro. You get four ambient noise levels: Low, Medium, High, and Extra High, with low delivering the same sound level you'd get without buds on and only a minimum of muffle. At Extra High, the Buds Pros can double as hearing aids, though that setting will also shorten battery life.
Though it's packed with features, I felt I had to knock a point off the Galaxy Buds Pro's features rating since none of its best functions are available for iOS. You'll need a Samsung phone running the latest Android and Samsung One operating systems in order to access all of the fascinating functions buried within Samsung's Wearable app. You can customize single, double, and triple on-bud tap controls, pass Buds Pro pairing from Samsung device to Samsung device, experience 360 Audio with Dolby Head Tracking, enable dual recording with both your Galaxy Phone and the Buds Pro simultaneously capturing audio (handy for interviewing), and locate the buds where you last left them using SmartThings Find. And that's just a taste of the features that are available.
Battery life is about average: around 5 hours on a single charge plus 13 hours with case charges with ANC or ambient sound on, and 8 hours plus 20 hours with case charges in Normal mode.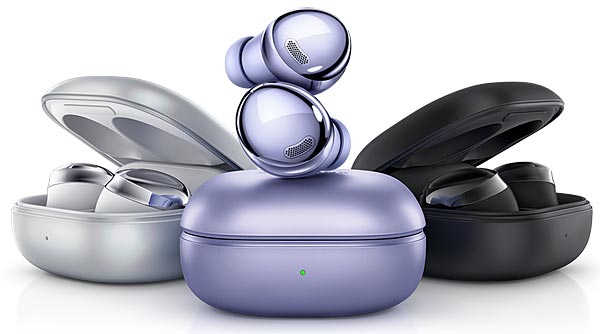 With its IPX7 rating, Samsung's Galaxy Buds Pro is practically waterproof. The tiny buds are thumb-sized, and because they're also a little slick they can easily slip out of your fingers. Once you choose from the small, medium, and large silicone ear tip options, Samsung recommends you insert and twist the buds into your ear canal to get a solid, sound-isolating seal. The Galaxy Buds Pro buds are light, compact, and comfortable, and they remain securely ensconced once inserted. At 2 x 2 x 1 inches, the round Buds Pro case is a similarly compact design that allows for comfortable pocketing.
The Verdict
If you're an owner of a Samsung Galaxy smartphone, Samsung's Galaxy Buds Pro is without a doubt the bud you should buy.