Sudio E2 Noise-Canceling Wireless Earbuds Review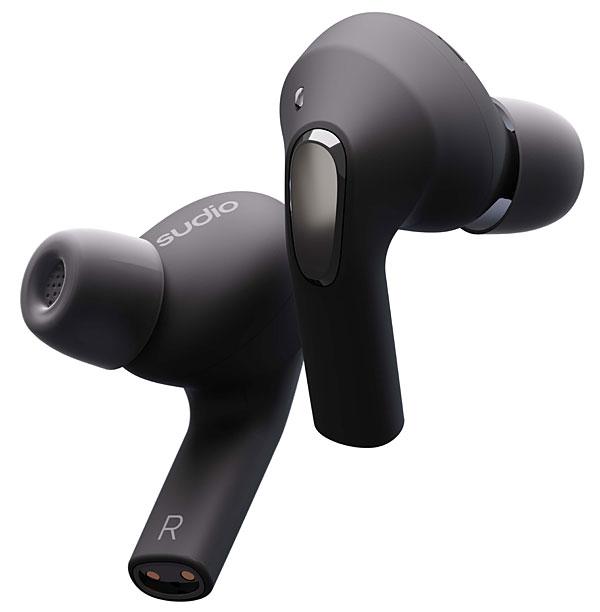 PRICE
$129
AT A GLANCE
Plus
Good overall sound quality
Dirac Virtuo improves and expands the sound
Super comfortable for long listening
Minus
App is glitchy
THE VERDICT
Dirac's Virtuo processing makes the affordable and already good sounding Sudio E2 earbuds sound even better.
We get pitched on new "true wireless earbuds" every few days from brands we know and don't know. In a sea of sameness, or at least perceived sameness, it's a category that begs for differentiation so our ears perked up when Dirac, the Swedish company known for its high level of expertise in audio processing, reached out with an offer to review earbuds from Sudio, a Swedish brand we never heard of. Turns out the Sudio E2 earphones are among the first to include Dirac Virtuo, a new type of spatial processing that aims to create "an immersive sound experience with enhanced sound quality."
Features And Setup
The E2 earbuds look ordinary and, apart from Virtuo, offer a fairly common set of features that includes active noise cancellation (ANC), the choice between direct tap/touch control and app control, a charging case with a magnetic lid, and IPX4-level resistance to rain, sweat, and even direct splashes when you're near the pool (just don't jump in with them on). Wireless connections are made through Bluetooth 5.2 and the E2 uses six microphones — three per earbud — to handle calls and suppress noise.
Feedback and feedforward ANC with a microphone on the inside and outside of each earbud is used to reduce noise across a "wider [than usual] range of frequencies." You can turn ANC on and off and activate a Transparency mode that is effective at allowing ambient sound to come through when you need to be more aware of your surroundings. Two of the six microphones are reserved for phone calls and work with Sudio's VividVoice beamforming technology, which filters out ambient sound to ensure clear voice communication. It works — I had no trouble making and taking calls with the E2s in place and call quality was consistently excellent.
Controlling the E2 earbuds by touch is pretty straightforward once you get the hang of the tap/touch-and-press method used to play/pause tracks (tap on either earbud), skip tracks (two taps on the left earbud to go back, two taps on the right to skip ahead), raise or lower the volume (three taps on the right or left earbud, respectively), turn Virtuo processing on and off (touch and hold the left earbud for 2 seconds), cycle through ANC Off/On/Transparency (touch and hold the right earbud for 2 seconds), and power down the earbuds (touch and hold either earbud down for 5 seconds). To answer (or reject) a call, you tap (or touch and hold) either earbud.
You also have the option of using the Sudio Personal Sound app to control the earbuds from a mobile screen with a bonus: an equalizer offering six presets, the ability to create and store your own custom EQ curves, and a Personal Sound Profile mode that generates a custom profile based on your hearing acuity. Except for Balanced (flat), which I used for most of my listening, I wasn't too keen on the other EQ presets but being able to create a custom setting and tweak the bass and treble on the fly was useful. The app is easy to use, though I found it to be quirky. The onscreen ANC control panel didn't work when music was playing and playback would sputter when the app lost its connection and had to be reconnected. At times I had to restart both the Sudio app and music app (and on a few occasions my phone) to get the music flowing again.
Battery life is rated for up to 6.5 hours on a single charge, 5.5 hours with Virtuo processing engaged, and 4.4 hours with Virtuo and ANC switched on plus another 20 to 30 hours (ANC on and off, respectively) using the case to recharge the 'buds. It takes an hour to bring the earbuds and case to a full charge and there's a 10-minute quick-charge mode that provides about 2 hours of playtime. Although I didn't keep perfect score, these numbers are in the ballpark of what I experienced.
Performance
I used the Sudio E2 earbuds on and off for several weeks, listening to a diverse range of music in a variety of settings—around the house, out in the yard, while biking, and in the car (as a passenger). I tapped Tidal (HiFi Plus) for all of my listening to ensure a high-quality audio source and was rewarded with warm, full-bodied sound and absolute comfort, even after hours of uninterrupted listening. I remained impressed whether I was chillin' to the laid-back vibe of Beck's "Morning" (Morning Phase, 2014) with its rich acoustic guitar and glockenspiel accents, digging the soulful groove and brilliant Hammond organ flourishes on "Hear My Dear" from the Tedeschi Trucks Band's new album I Am The Moon: I. Crescent, or rocking out to the Red Hot Chili Peppers doing their best Weezer impression on "Nerve Flip" (Unlimited Love, 2022). At times, I longed for a touch more sparkle at the top end or a tad less (upper) bass so having an equalizer came in handy — I even created a couple custom presets.
Zeroing in on Dirac's Virtuo, I turned the processing on and off as I progressed through my playlist of favorite tunes. Before long, I just left it switched on. Virtuo makes everything sound better and expands the soundstage in subtle but noticeable ways. The sound is clearer, better defined and balanced, and more open and spacious. On some tracks, like The Everly Brothers singing "Autumn Leaves" (Instant Party, 1961), the effect is striking as hard-panned piano flourishes and acoustic guitar solos move up and out, creating a more spacious feel.
I didn't have a chance to test out the noise cancellation in an airplane but the E2s did a respectable job lowering the roar of wind noise and rumble of a passing Harley while driving 65 mph (as a passenger) on the Garden State Parkway. Similarly, the ANC was effective at significantly lowering the level of somewhat less intrusive sounds, such as the whir of a washing machine or the sound of gas-powered blowers and lawn mowers.
Conclusion
The Sudio E2 wireless earbuds have a secret weapon that sets them apart from dozens of seemingly similar earbuds, making them an excellent choice for on-the-go music lovers who value sound quality. In addition to active noise cancellation, you get an app-based equalizer and Dirac's excellent Virtuo processing, which makes an already good set of earphones sound even better — all at a price that is reasonable.