A Touch of Class: Meze Audio 99 Classics Headphones
PRICE
$309
AT A GLANCE
Plus
Rich, detailed sound
Solid bass
Elegant fit and finish
Light and comfortable
Minus
A little pricey
THE VERDICT
The 99 Classics check all the right boxes: They're light and comfortable, beautifully built, and sound great.
Endless fascination. That's the best way to describe my recent obsession with the 50-year-old Beatles classic Abbey Road. I've listened to the album hundreds of times over the years on a variety of formats, starting with the original vinyl pressing, yet listening to Giles Martin's tasteful and, ultimately, reverential remix is like hearing this magnificent collection of songs for the first time.
Of course, a good bit of the credit goes to Meze Audio's stylish 99 Classics, which I've been living with for the past couple of days. The company offered to send its 99 Neo headphones, which are being promoted on Amazon for $199 (regular price is $249), but mixed up the order and sent the Classics instead. There was no time to get a new sample so I stayed the course. Turns out, except for the Neo's black-textured plastic earcups and a slightly lower impedance (26 vs. 32 ohms), the models are identical. (As for the sound, Meze says the Neo's have a "slightly different signature and the same audio quality," making them a viable alternative.)
The 99 Classics are beautifully constructed with a self-adjusting headband that ensures a proper fit every time and 1.6-inch dynamic drivers housed in earcups made of solid walnut. Meze says it takes 8 hours to shape the wood for a pair of earcups, which are then sanded and finished in a matte lacquer — a process that takes 45 days from start to finish. The result is one very elegant set of headphones.
Weighing just over half a pound, the headphones are light and comfortable thanks to memory foam earpads covered in soft faux leather; I wore them for hours at a time with no hint of discomfort. The 99 Classics are available with gold or silver accents (see opening photo) and come with a nice stash of accessories: a hard-shell travel case, a generous 10-foot cable, a 4-foot cable with an in-line remote for use with your phone, an airline plug adapter, and a phone plug adaptor.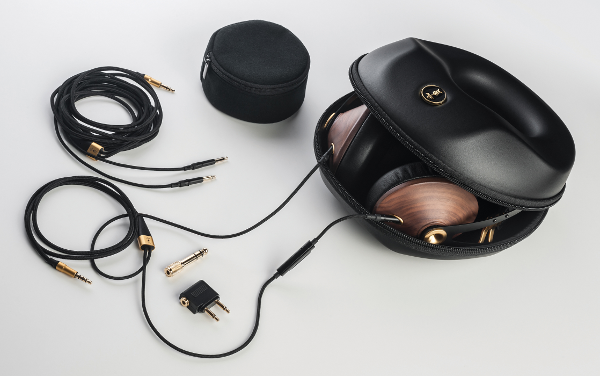 Listening to the 24-bit/96-kHz FLAC download of the anniversary edition of Abbey Road on the 99 Classics was revelatory. From the rich opening bass line on "Come Together" to the sumptuous layered harmonies and delicate harpsicord on "Because" to the intricate mix that defines the brilliant "side two" medley, the sound was open, intimate, and alive in a way I hadn't experienced before. Musical details really came to life — an organ part in "Sun King" I had never noticed, subtle guitar fills in "Come Together," and the meandering counter melody Paul plays on a moog synthesizer during the second and third verses of "Maxwell's Silver Hammer." I even noticed a glitch in the guitar solo toward the end of the outro (3:35) of "You Never Give Me Your Money" that is definitely not in the original mix.
Over many hours I listened to several different kinds of music and liked what I heard. One of the staples in my standard test arsenal is a live 24/96 recording of a jazz quartet performing in a small club. The vibraphone and sax solos were spot on against the underpinnings of a smooth, steady bass line and life-like snare hits and cymbals, not to mention the crowd chatter and applause. Holly Cole's sultry reading of "Larger Than Life" from her 2007 self-titled album was also appropriately intimate and magical.
Venturing beyond the world of hi-res, I jacked the Classics into my shiny new Samsung S10+ and opened Tidal for some CD-quality streaming. I sought out Bruce Springsteen's most recent album, Western Stars, and settled in for some laid-back listening. The overall sound wasn't quite as smooth as listening in hi-res but still pleasant, with Bruce's gravelly voice front and center against a backdrop of acoustic and pedal steel guitars and, eventually, a sweeping orchestral arrangement in "Chasin' Wild Horses" — not what you typically expect from The Boss. I savored the very un-Springsteen-like "There Goes my Miracle" with its soaring Nilsson-like chorus. I first heard this song while listening to internet radio a few months ago, around the time the album was released, and had no idea — I mean no idea — it was Springsteen. Listening up close on the Classics, his voice was positively huge, almost breathless — I could even hear him inhaling between stanzas.
All in all, the 99 Classics possess a well-balanced, easy sound that made me almost forget I was wearing headphones. If you're looking for a set of well-crafted and great sounding cans that aren't ridiculously expensive, give the Meze's 99 Classics a listen. And, if three hundred bucks is more than you want to spend, check out the 99 Neo. Meze has a 30-day return policy.