Apple AirPods Pro (2nd Gen) Review: Superior Sound and Fit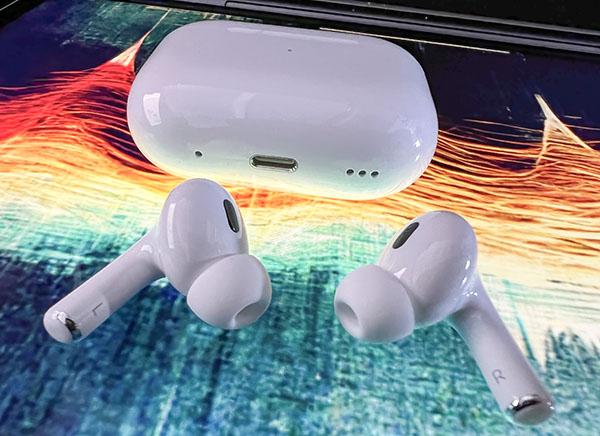 PRICE
$249
AT A GLANCE
Plus
Noticeably better active noise cancellation
Improved audio fidelity
Superior fit with four ear tip sizes
Adaptive Transparency
Personalized Spatial Audio for better immersive sound
Touch-sensitive control
Easier to find when misplaced
Minus
Requires an iPhone to set up
Touch controls occasionally fidgety
Spatial audio with head tracking sometimes lost track of my head
Uses a Lightning connector instead of USB C


THE VERDICT
Just like the originals, AirPods Pro 2nd Gen up the ante on what to expect from a pair of true wireless earbuds, including better fit, better sound quality, and superior active noise canceling capabilities.

AirPods and AirPods Pro together constitute the most successful line of wireless earbuds in the world. Now, after three years of wait, Apple offers the AirPods Pro 2nd Generation ($249). With a couple of weeks of hands-on experience, I can attest that the company's newest true wireless flagship earbuds are a technological tour de force. They represent a sizeable upgrade over the originals, even if they look largely the same. When it comes to performance and features, it's what's inside the iconic white enclosures that counts, and the new model is packed with technology that takes the AirPods experience to a higher level.

Features and Setup
Apple's newest earbuds are true wireless IEMs that feature advanced spatial audio, noise cancellation, and transparency mode functions. The AirPods Pro (2nd Generation) have a new chip, the H2, which has over one billion transistors. They also have a new higher-performance driver, a new amplifier to match it, capacitive touch-sensitive control including volume adjustment via swiping (with haptic feedback), and even a new extra-small (XS) ear tip to ensure a good fit for more buyers. These earbuds carry an IPX4 rating–you can use them to jog in the rain, but not to go swimming.

This splash-proof rating extends to the MagSafe charging case, which also got a major update. There's a built-in speaker that helps you find it, precision location tracking, and a blinking LED for when it is dark. You can also now attach a lanyard to the case. Oh, and Apple offers free custom case engraving if you buy through their store.

Battery life is slightly better than the first-generation Pros: It is around 6 hours with noise canceling enabled and 7 hours without. You can use the Apple Watch charger to wirelessly charge the case, giving you a total of 30 hours of noise cancellation playtime before you need to find a USB charger. Charging the earbuds themselves is quick, you get 1 hour of playback with a 5-minute charge.

Now let's talk about personalized spatial audio. This feature enhances the immersive audio playback capabilities of these earbuds. By modeling the shape of your ear, Apple can create what's known as an HRTF (head-related transfer function) which is key to creating the audio illusion of sound coming from the space around you, instead of just inside your head. That means these earbuds play Atmos 3D immersive sound more accurately, whether from movies or shows or even music mixed in Atmos–I tested this using both Apple Music and Tidal.

The only catch to the personalization is that you need to set up the AirPods Pro 2nd Gen on an iOS device to fully take advantage. If you don't take that step, you'll still hear spatial audio, it just won't be as seamless and precise as the optimized experience. However, the setup is just a one-time thing. After it's done, you can easily use them with non-Apple devices. They are explicitly compatible with a wide array of Apple products, ranging from Apple TV 4K to iPads and MacBooks to iMacs. When at home, I connected them to my work laptop, a MacBook Pro. And yes, I also used them with my Android phone, a Galaxy S21 Ultra. I did enjoy the easy connection and fast device switching between my iOS devices, which are an iPad Pro 13″, iPhone 13 Pro Max, and an iPhone 14 that Apple loaned me for the purpose of reviewing the headphones and accessing all the features.

One feature some had hoped for, lossless wireless audio, is not present. The reason is that Bluetooth cannot reliably support that much bandwidth, and the company does not want to offer a feature that only works sometimes. What Apple does offer is 48 kHz cinema-quality audio using Apple SharePlay, which is available on Apple TV. While it is designed so multiple people can watch a movie or TV show together, you can also use it for a solo session.

Performance
Before I get into how the new AirPods Pro 2nd Gen performs in terms of sound, it's worth noting that while they look the same as their predecessor, I found the new model stays put in a way the original AirPods Pro would not. It worked for me using the medium-size ear tip that comes pre-installed, while with the original design, none of the tips worked well enough for me to achieve a secure fit. This is, of course, a purely subjective experience. They just happen to work better in my ears, staying put even when I'm running or riding around Philly's sometimes bumpy streets on a OneWheel (a form of electric unicycle that rides like a snowboard).

Riding around a city–Philadelphia, to be precise–is a good place to start with this review. It's an experience where I leverage just about everything the new AirPods Pro 2nd Gen has to offer. When I'm dealing with busy streets and traffic, the Adaptive Transparency mode delivers on its promise to reduce super loud noises like honking cars, construction, and sirens. And yet it provides the situational awareness that comes with hearing what's around you. Believe it or not, I'd wear these earbuds on a ride even if I didn't listen to any music, because that delivers a calmer experience when dealing with urban chaos. I found this to be especially true on a trip to Manhattan, where all the noises I just described are coming at you full blast on every street corner. It's a remarkable trick, because everything sounds natural–as if you were not wearing any earphones at all.

When I go out on a ride, I'll often arrive at a park and continue on a trail. When that happens, I appreciate being able to squeeze the stem and quickly switch to noise canceling, so I can play a tune or two and serenely glide along. That's my zen, and with spatial audio the totality of the experience had me grinning. It's almost like being home and listening to a full-size surround system, except I'm out in a park enjoying the fresh air. It's the magic combo–excellent noise reduction, full range, accurate and rich sound, and the quiet of the noise canceling (it eliminates the hum of my OneWheel's motor) makes me feel like I'm truly floating.

A good fit is important for more than just keeping earbuds in your ears. It is a crucial element in delivering high-fidelity sound, especially when it comes to bass response. Moreover, the seal is key in ensuring the effectiveness of both noise-canceling and transparency modes. I ran the new Ear Tip Fit Test, which plays a brief clip of loud music and lets you know if you have a good seal by detecting noise leakage with the external mics. If you don't have a good seal, it recommends adjusting the fit or changing the tips to a different size. The point is a good fit is a key ingredient to getting the best out of these earbuds, and unlike their predecessors and many others I have tried, these Apple earbuds fit (me) like a glove.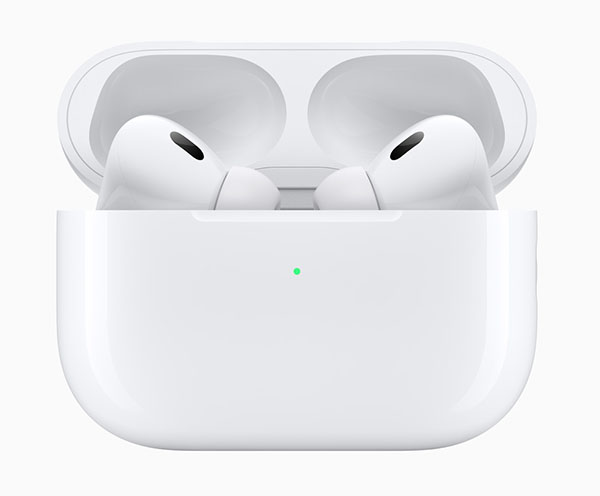 I informally tested bass response on the AirPods Pro 2nd Generation using a sine wave generator on a PC. Most of today's better high-performance headphones will play clean to 20 Hz and produce noticeable infrasonic pressure waves below that. Less capable headphones might roll off earlier or produce audible distortion with the deepest tones. Apple's latest passed the test–they tracked that tone right down to 20 Hz and still had a little bit of infrasonic reach left, seemingly cutting out at 18Hz. The fact that I could feel the pressure without hearing distortion is what's really impressive, because if you think you can actually hear an 18 Hz tone, distortion is what it often really is.

As for the high tones, I'd characterize what I heard as crystal clear and non-fatiguing. That was true album after album, like for example Air's "Electronic Performers" from the album 10,000 Hz Legend, where I heard precise placement of all the psychedelic synthesizer sounds, No, they're not as profoundly smooth and intricate as you might hear on high-quality multi-thousand-dollar full-size cans. But the difference between AirPods Pro 2nd Gen and big cans like my Audeze LCD-2 closed-back (which uses planar-magnetic technology) is surprisingly slim. The one thing the big cans have over earbuds is sheer power, they can play a lot louder. But cleaner? More precise? These things are debatable. And even though this is just an opinion, I find the personalized spatial audio so compelling that it flips the script. For albums where it is available, like the album I just mentioned, I think I prefer it.

Right after I got the AirPods Pro 2nd Gen to review, I had the pleasure of meeting Giles Martin–son of George Martin, the legendary producer for The Beatles–at Republic Studios in Manhattan. We listened to Revolver mixed in Atmos, in a room set up with a studio-quality sound system, alongside the man who mixed it. And while this is a subject for another article, the de-mixing technology used to separate out the instruments from the four-track recording was an aural revelation. Songs that once sounded small and quaint, like "Eleanor Rigby" and "Octopus's Garden," suddenly were grand, and hugely emotionally impacting. I hardly knew what was happening, but over the course of that short Beatles album, I had three instances of goosebumps and three rounds of involuntary tears flowing. What really matters is this: When I re-listen to the album now, in Atmos on the new AirPods Pro 2nd Gen, I get goosebumps again. I hear all the crazy effects, just like in the studio. The remixing is a radically different presentation–but it is also a valid one, according to Giles. He insists the artistic decisions are consistent with what The Beatles would have done if they had today's technology back then.

Of course, most music is still served up in stereo. No issues there. On one airplane flight that lasted five hours, I listened to Bassnectar's Into the Sun, The Roots Things Fall Apart and Game Theory, some Sly & Robbie on The Final Battle (Sly & Robbie vs. Roots Radics), plus a healthy dose of New Order Best Remixes and The Orb's U.F.Orb. I never heard any of the babies in the seats around me cry, and the drone of the airplane motors was almost entirely eradicated. The noise canceling on these is almost as good as the best I've experienced from full-size travel headphones by Bose and Sony. The difference is definitely not enough for me to ever go back to flying wearing full-size cans, which after a while get hot and uncomfortable, no matter how cushy and light they are. I could easily wear the AirPods Pro 2nd Gen all day. Most of the time forget I'm even wearing them. This is especially true with the Transparency mode. It's uncannily realistic. If you buy a pair, try taking them out and putting them back in while using Transparency mode. You will be shocked at how little difference there is.

What else? Well, there's the "phone call to mom" test. I know from experience that if earbuds don't have a good microphone, or maintain a clear connection, I'll hear about it. On this they get an A+ because I had no issues, even when calling from a loud airport waiting area, or outside riding around the city.

At this point, you may be wondering if I had any issues, since I'm so clearly in love with the new AirPods Pro 2nd Generation, and sure, I did. With spatial audio, when head tracking is enabled, I found that sometimes the soundfield remains a bit off-kilter. A vocal that should be perfectly centered would get stuck to the side. I eventually figured out this happened primarily when I leaned my head back when seated. However, the feature is easily turned off, and I found I prefer my spatial audio fixed, without the head tracking. The other issue I had is the capacitive-touch sensor on the AirPods' stem was not always immediately responsive. It seems to be somewhat a matter of finesse, so I think I'll keep getting better at it.

Conclusion
With its latest offering, Apple has done what it takes to reclaim the crown as the best true wireless earbuds on the market. You might find a competing pair with longer battery life, or even slightly better noise canceling. But you'll be hard-pressed to find an offering that delivers the holistic user experience of the new AirPods Pro 2nd Generation. It's the breadth of the functionality that sets them apart, especially if you are an iPhone + Apple Watch user. If you don't use an iPhone, the value proposition drops a little, but that would not stop me from choosing them over the alternatives.

As for sound quality, I think it would be tough to find anything else in the true wireless category that sounds noticeably better. But audio is a matter of preference, so I cannot guarantee you'll love the sound as much as I do. Still, the bottom line is Apple has produced its best-sounding AirPods yet. It is the totality of the features and refinements that elevate this new model above the fray. From the fit and ease of use to the audio fidelity, these earbuds deliver a user experience that speaks to how and why Apple is so dominant in this category.

It's an easy call: AirPods 2nd Generation is a stellar new true wireless option–and a Sound & Vision Top Pick.