Face-Off: Noise-Canceling True Wireless Earbuds Tribit Flybuds NC
Tribit Flybuds NC
($50)
tribitaudio.com
The performance and value of the inexpensive Tribit Flybuds NC will depend entirely on whether you find stick buds comfortable and can achieve a noise-isolating fit. Personally, I didn't find the Flybuds NC comfortable and wasn't able to make the fit work.
While the Tribit FlyBuds offer a relatively balanced sound, frequency range and soundstage are both some- what restricted, and bass barely peeks through. Some microphonics caused by the stick design can also mar the already middling sound quality.
The reasonable suppression of airplane cabin noise here is pretty much what you'd expect from $50 ANC buds. Voices are reasonably suppressed, but with their inherent microphonics, the FlyBuds don't provide total silence even in totally quiet ambient environments. Controls include basic on-bud taps for play/call navigation and toggling ANC through On, Off, and Ambient modes. There's no customization app— not a shock considering the price. Also, there's no on-bud volume control and removing a bud doesn't auto-pause music playback.
The Tribit FlyBuds have superior battery life: 10 hours on a single charge with ANC off plus 30 hours play time with case recharges, and 8 hours plus 24 hours with recharges with ANC on. A 10-minute quick charge provides 90 minutes of playback.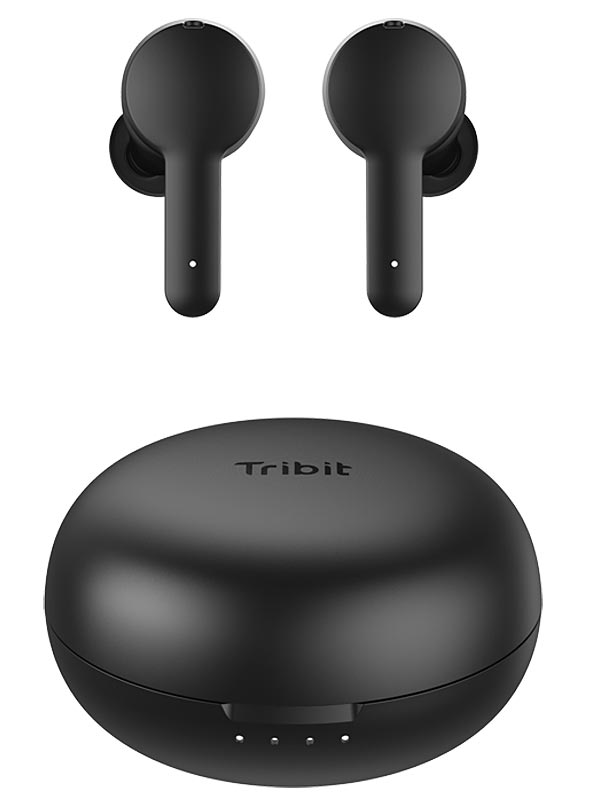 Tribit supplies you with a surprisingly large selection of five silicone "eargels," but all of the tips are somewhat shallower than the ones included with other buds. As a result, I found it difficult to achieve a satisfactory seal. Even when using the largest-sized eargels for the best noise-isolating fit, the FlyBuds, like all stick buds, felt loose and produced microphonics. The buds get stored in a round case that's 1.25 inches thick, which is a bit chunkier than the slimmest cases we've run across.
The Verdict
Depending on if you have smaller ears, you might be able to achieve the necessary noise-isolating seal to make the inexpensive Tribid FlyBuds NC effective for music playback and ANC performance. If not, definitely look elsewhere.