Face-Off: Noise-Canceling True Wireless Earbuds Ausounds AU-Stream Hybrid ANC
Ausounds AU-Stream Hybrid ANC
($189.95)
ausounds.com
Sticker shock is an apt description of what I felt after auditioning these AU-Stream buds. Nothing about their performance, features, or functionality matches up to other models in their general price range, though if they were half the price, I could recommend them as
a perfect option for listeners with smaller ears.
With its emphasis on bass, the AU-Stream's sound will appeal to younger ears hungering for deep- sounding beats. Bass is appropriately pounding on modern music mixes, but less so on classic rock and older tunes. While the soundstage is tight, voices sound a bit subdued, so you'll need to turn up the volume to hear a satisfying, full-throated vocal performance.
The effectiveness of Ausounds' hybrid noise- canceling is middling. With no music playing, airplane cabin noise is reduced to what sounds like an air conditioner on low, and nearby voices become muted but still decipherable. As with most ANC buds, playing music drowns out most remaining ambient noise. With the Monitor ambient sound mode selected, conversation is understandable but sounds muffled, as if it were coming through a thick face mask.
There is no companion app to modify the AU-Stream's functions and features. Tap controls are limited to play/pause, answer/end call, skip track, and enable voice assistant. You can also use them to cycle through the Off, On, and Monitor noise-canceling modes, though to do so you need to tap-and-hold a bud for three seconds twice in a row and pause the music so a voice-over can tell you which ANC mode is active—an overly complicated sequence. Removing a bud from your ear also does not auto-pause music playback, which I found to be an annoying oversight.
You get 5 hours of single-charge ANC- assisted listening—an average amount—plus a below-average 9.5 hours of additional ANC playback with case recharges. For non-ANC listening, single-charge playback is a slightly above-average 8.6 hours plus an additional 15.4 hours with recharges, while a 15-minute quick- charge yields an impressive 3 hours of playback time. The AU-Stream buds are also IPX5 water-protected and their case can be charged via a USB-C cable or wirelessly on a Qi pad.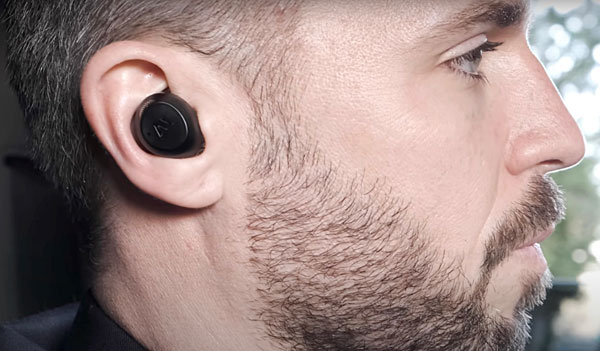 AU-Stream's biggest caveat is their smallish silicone ear tips. The "large" tips are sized more like the medium tips included with most other buds, which makes these buds more appropriate for those with smaller ear canals. I usually require large tips and found it challenging to achieve a sound-isolating seal. The buds themselves are small, weighing a barely-there 0.23 ounces, and once properly seal-fitted remained comfort- able for several hours of wear. Ausounds' tiny pebble- shaped case, meanwhile, measures a mere 2.5 x 1.5 x 1.25 inches and can be easily stashed in a pocket.
The Verdict
The Ausounds AU-Stream delivers deep bass and decent ergonomics, but it's too expensive overall for what you get.