Face-Off: Noise-Canceling True Wireless Earbuds Bose QuietComfort
Bose QuietComfort
($279)
bose.com
The QuietComfort (QC) earbuds carry on Bose's tradition of noise-canceling proficiency, pairing ANC with near-audiophile sound reproduction to create one the best-sounding bud options we've heard to date. But compared with the Jabra Elite 85t, our top choice in this test, the Bose buds come up short in several ways. The QCs aren't as light or comfortable, and their fit isn't as firm. They also offer few controls and no sound customization while priced $80 higher than the Jabra.
I've only heard a handful of other true wireless buds that can match Bose's sound quality. Music displays a full frequency range with loads of detail and wide dynamics, and the soundstage is spacious. For portable listening, the QC buds have few sonic peers among the wireless ANC bud bunch.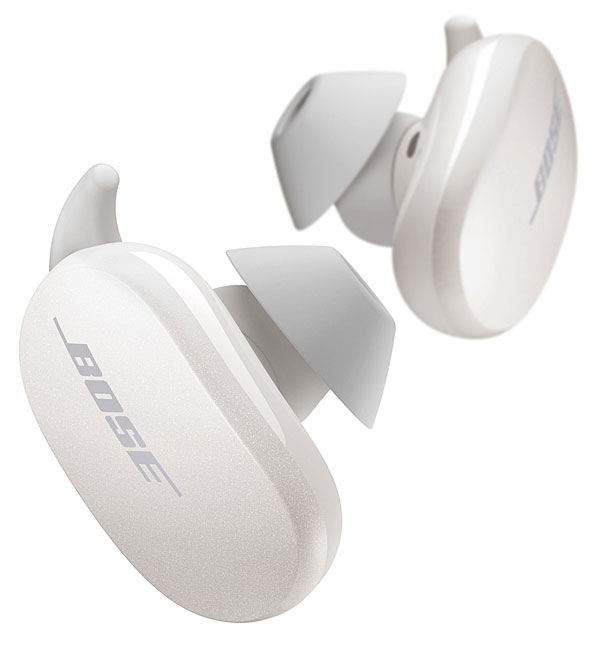 If the Jabra's noise cancellation in this test rates a 5, the Bose QC gets a 4.99: I heard a smidge more whisper in airplane cabin engine hum, but wind noise was dampened far more than by the Jabra. Once music playback begins, all external sound disappears, and you can adjust the QC's ANC level from 1 to 10 depending on your environmental situation. The QC also bettered the Jabra at ambient noise handling, with only a negligible difference between "live" sound and Bose's ambient (no ANC) setting.
Bose's limited on-bud controls and customization features include double- tapping the right bud to pause playback and sliding a finger up or down to raise or lower volume, respectively. A Shortcut mode lets you touch-and-hold the left bud to either skip forward a track or hear a voice-over announce remaining battery level. Double-tapping the left earbud cycles through three "favorite" ANC levels, which you can set from 1-10. The practical shortcoming for this function is that you simply can't tap to instantly turn ANC on or off to hear ambient sound; instead, your best option for listening to announcements is to remove a bud to automatically pause music playback.
Bose says you'll get 6 hours of listening on a single charge but doesn't say if this is with ANC on, off, or somewhere in between. You get 12 additional hours of listening from case recharges—a low amount even for buds priced half of what Bose asks for the QC—although a 15-minute recharge nets a hefty 2 hours of additional listening time, and total bud/case recharging takes just 2 hours.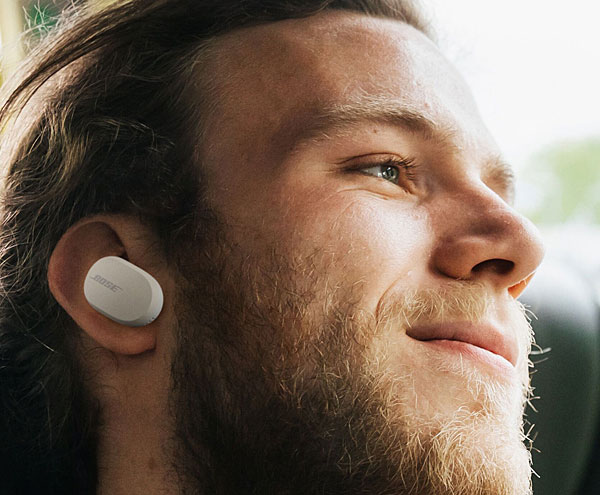 The Bose QCs are IPX4 water-protected. Instead of having the usual round silicone tips, they have oval ones with attached ear wings to keep the buds in place. Obviously, comfort depends on your ear canal shape and size. I usually use large ear tips but had to step down to the Bose QC's middle #2 bud/wings to create a comfortable, noise-isolating fit. If you find even large ear tips to be too small, the Bose QC is your bud.
The otherwise lightweight 0.3-ounce QCs extrude from your ears a bit further than other buds, and thus feel a bit off-balance. As a result, they were more prone to accidental dislodging than I expected. Overall, the Bose buds proved comfortable for hours-long listening sessions, but their fit just felt looser than with the other buds I tested.
Bose's case for the QC is awkward. At 3.5 x 2 x 1.25 inches, it's nearly twice the size of the Jabra Elite 85t case, so forget squeezing it comfortably into your pants pocket. It's also equipped with an annoying latch that seems designed to keep it from accidentally opening (not a problem I know of with wireless bud cases) that I often found myself needing to pry open. Like the Jabra Elite 85t, Bose's case can be wirelessly recharged.
The Verdict
The Bose QCs are among the best-sounding buds that we auditioned for this test and offer top-notch noise cancellation, but they're also bulky and pricey.