The Mighty Technics SL-1200
Coveted by audiophiles and DJs, the iconic turntable is still going strong half a century later.
It's rare for any piece of audio gear to remain in production for more than a few years, let alone a turntable that not only survives but continues to evolve for the better part of five decades. The Technics SL-1200 turntable and its many iterations have been in production for 43 of the last 49 years — the exception being a hiatus between 2010 and 2016 when Matsushita/Panasonic suspended the Technics brand — an extraordinary feat by any measure.
The origins of the SL-1200 date back to 1970 when Technics introduced the world's first electronic direct-drive turntable, the SP-10. Instead of using a belt system to rotate the platter, it used a low-speed motor connected directly to the platter to spin the record, eliminating belt vibrations and variations in speed that produced audible fluctuations in pitch (a.k.a. "wow and flutter"). The SP-10 required an outboard tonearm assembly and became a favorite of radio stations and recording studios for its ability to spin up to speed almost instantaneously and maintain that speed without variation.
Technics followed up in 1971 with the SL-1100, a more compact consumer-focused turntable featuring a die-cast body and integrated tonearm that caught the attention of DJs in the earliest days of hip-hop. By 1972, Technics was well on its way to perfecting its direct-drive design and setting a standard in turntables that endures to this day when it introduced the SL-1200, a high-performance table featuring a rugged die-cast aluminum platform, heavy-duty platter, and high-torque motor that sold for $350 (the equivalent of about $2,200 today).
The original SL-1200 quickly found favor among DJs who appreciated its pitch adjustment dial — embraced for beat matching — and signature strobe light, which made it possible to fine-tune rotational speed with the help of the distinctive dots engraved into the edge of the platter. The DJ community also loved that the 1200 could its reach its full rotation speed in just half a turn and had a vibration-absorbing base to ensure skip-free play in a super-loud club setting. Add to that powerful torque and stable rotation, and the first SL-1200 was in many ways a dream come true for the budding DJ community — even though the best was yet to come.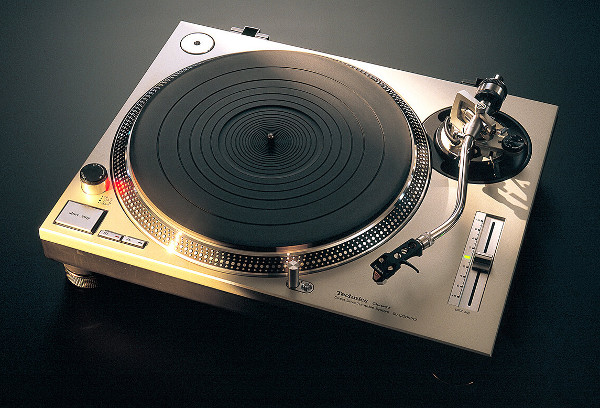 In 1979 — the same year Sony wowed the world with the Walkman — Technics rolled out the SL-1200MK2, a turntable aimed squarely at the DJ market. Even though the original SL-1200 had become the standard for DJs spinning records in the seven years that followed its introduction, it was not specifically designed for that community. When you think about it, the disco craze that propelled much of the DJ activity in the '70s didn't peak until late in the decade — around the time Technics announced the MK2.
On the Technics SL-1200 Series Heritage page (see link at the end of the article), the company says it was a "miraculous coincidence" that the first-generation SL-1200 was packed with so many functions that DJs wanted. "The pitch adjustment was provided to control of rotation irregularity but DJs found a unique way to use it for controlling BPM (beats per minute)." Technics, it seems, was actually surprised to find the 1200 being used as a "musical instrument."
Determined to get the MK2 right, Technics studied the DJ community, sending staff to clubs in Chicago to witness the scene firsthand and talk with DJs to better understand their needs. A number of advancements were born out of those encounters. Among them, the use of a quartz-lock system to achieve more accurate rotation control, a prominent slider (or fader control) to simplify pitch adjustment, and the use of special rubber feet to enhance vibration absorption. And in an effort to further perfect the performance of its direct-drive design, Technics developed its own integrated circuits (ICs) to make the mechanism more responsive.
In the years that followed, Technics introduced a dozen or so versions of the SL-1200, including the $4,000 "Grand Class" SL-1200G comeback model and, a couple years later, the more reasonably priced $1,699 SL-1200GR reviewed by our own Michael Trei in 2018. The newest version of the vaunted SL-1200 is the SL-1200MK7, introduced in 2019. It sports a black finish and sells for $1,000.
Match Made in Heaven
As you might imagine, any of the SL-1200 models introduced over the years are coveted by audiophiles and DJs and command top dollar, especially if it's an MK2 that's been upgraded and customized like the stunning example shown here. No one knows this better than the audio specialists at NJ-based SkyFi Audio, the shop behind that MK2 makeover. They are constantly on the lookout for vintage Technics tables.
They hit the jackpot a few months ago when they scored a matched set of SL-1200MK2 with sequential serial numbers. The tables were purchased in 1985 by a semi-famous DJ living in Europe who beat the living hell out of them (in a good way). Despite the obvious wear and tear — most notably in the area directly below the pitch control — SkyFi's Elliott White says, except for a set of replacement RCA cables and ground leads, the tables are all original and in surprisingly good condition. Both came with their original feet, official Technics dust covers, and 45 adapters, which are often lost or misplaced during transit.
Adding to their already rare status, the tables are also "MK2-A-XA" models, meaning they were available only from Japan and have a line-voltage switch for selecting 110-120 or 220-240 volts.
As a testament to the workhorse nature of the SL-1200, White confirmed that both models are still in spec and registering perfect drive speeds at 33 and 45 rpm. "The "Start-Stop" buttons are also the smoothest I've ever seen or touched, indicating heavy use, yet they both work perfectly and feel just right in terms of their tactile 'click' response," he marvels.
SkyFi hasn't yet settled on its restoration plans, which could go the way of a "made-to-order" restoration along these lines or a simple mechanical/cosmetic refresh. In the case of an all-out custom restoration with a refurbished tonearm, Sumiko cartridge, new LED platter lighting, and sexy paint job (think bright red, blue, or yellow), you're probably looking at around $7,000 for the pair, observes SkyFi owner Fernando Zorrilla. It all depends on how far you go with the upgrades and modifications.
What makes the Technics SL-1200 so special and sought-after all these years later?
Zorrilla and White point to the table's bullet-proof build quality and ability to spin records in a loud club or party environment without having to worry about skips or jumps. "It's an absolute classic for very good reason," White explains. "It's built like a tank so if you drop it, or someone spills a drink on it, you simply pick it up, wipe it off, and it'll keep playing.
"And in terms of design and function, everything just works and is laid out perfectly for fast play, fast switching, and fast mixing. Ask anyone who's familiar with the SL-1200 and they'll tell you it has an amazing feel. You don't have to think about what to do with the controls basically ever."
Further Reading
Technics SL-1200GR Turntable Review
Technics SL-1200G Turntable Review
Official History of the Technics SL-1200 Turntable
The Consumer Electronics Hall of Fame: The Matsushita/Technics SL-1200
Guide to Technics 1200 Turntables
The Evolution of the Technics SL-1200 Turntable - An Interactive Timeline