Enter the (Nakamichi) Dragon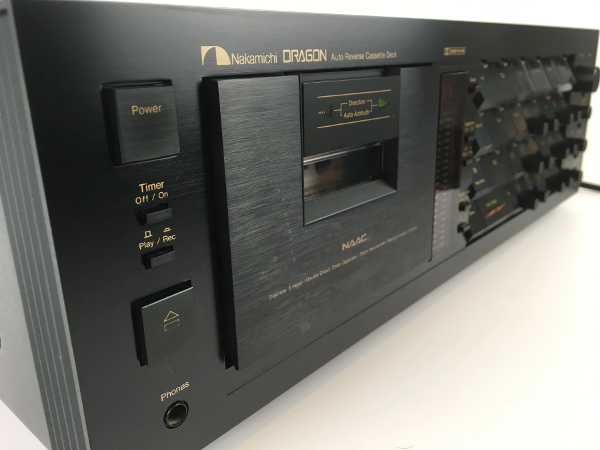 It's always interesting to see what new treasures turn up at New Jersey-based vintage hi-fi specialist SkyFi Audio. There's certainly no shortage of gear to drool over — like the 1963
Fisher SA-1000 tube amp
. Or the Nakamichi Dragon we spotted on the "just arrived" list.
Talk about classic.
This mother-of-all-cassette decks sold for a cool $2,499 ($6,681 in today's dollars) when it debuted in 1982 and enjoyed a spectacular run that lasted through 1993.
In a definitive 1983 test report published by our predecessor, Stereo Review, tape guru Craig Stark called the deck's record-playback "impeccable" and concluded: "The Nakamichi Dragon is the finest cassette deck we have yet tested. No doubt there will be challengers for that title, but they will be up against a real fire-breathing champion when they appear." (You can read Stark's full report here, with a thoughtful foreward by former S&V editor-in-chief Rob Sabin.)
SkyFi Audio owner Fernando Zorrilla says the recently acquired Dragon actually came from the legendary New York City hi-fi dealer, Stereo Exchange, SkyFi's joint-venture partner. "They get calls every day," he explained. "'Hey, we're moving. Hey, we don't use this anymore.'" This particular deck came from a doctor in New York City who hadn't used it in quite a while.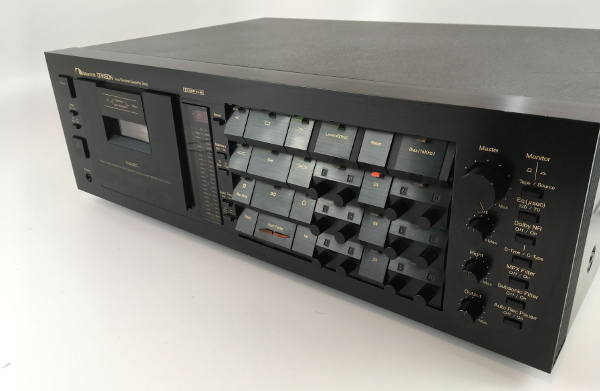 But Zorrilla revealed secret as we chatted about the iconic tape deck. "With the Dragon, in particular, a lot were sold to our local market. It was the best and most expensive tape deck at the time and the [New York/New Jersey/Connecticut)] tri-state area has a lot of them."
So many that — would you believe — SkyFi actually stockpiles them.
"We have like six or seven Dragons, all just waiting for refurbishment," he casually revealed as my jaw dropped. "We accumulate them over time and then knock them all out in the shop at one time."
When the time is right, the innards of these gems will be completely overhauled by SkyFi's crack technicians. All belts, pinch rollers, forward and reverse wheels, etc. will be replaced and all moving parts tested and lubricated to ensure like-new operation. As for the exteriors — especially the front panel with its multitude of buttons, switches and knobs — they will likely remain untouched, except for a thorough cleaning. (More on this in a moment.)
"One thing that's ubiquitous about our Dragons is none of them work," Zorrilla said. "Zero percent — unless they've been serviced recently. Any Dragon or Nakamichi tape deck from that era that's been sitting more than 10 years is not going to fire up."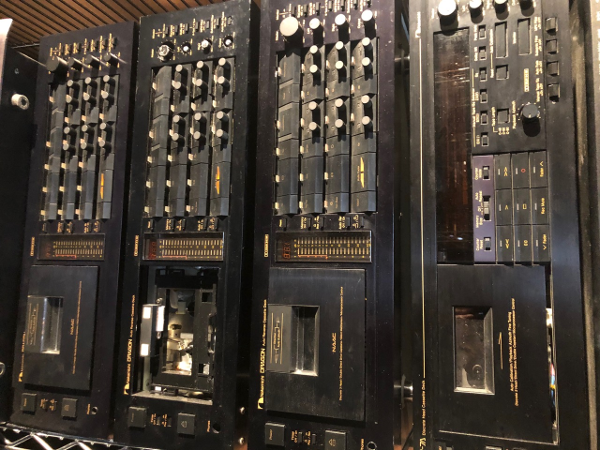 Not all that surprising when stop to consider the complexity of this mechanical marvel with its belts, bushings, tape wheels, and countless moving parts. "The old rubber disintegrates so you'll find a pile of tar at the bottom of unit," Zorrilla explained.
Back to the Nak's striking black exterior… "The Dragons we acquire are prized possessions so they're usually very well kept," Zorrilla said. "A couple of them have a missing button — which is impossible to find — but for the most part they're in fabulous condition."
So how much does a refurbished Nakamichi Dragon go for in 2020?
"We tend to sell them for anywhere between two to three thousand dollars," Zorrilla said, much of that owing to the extensive labor required to restore the intricate mechanical workings behind the world's greatest cassette deck.
For more information on SkyFi and its current offerings, visit skyfiaudio.com
Related:
Ultra Rare Find: Nakamichi Dragon CD Changer